06 July 2008 - We had purchased apple bananas back at the market near our lodge in Kula, and were advised to let them ripen for a few more days before we ate them. Since I didn't think we'd be able to take them on the plane to Oahu that afternoon, we instead ate them our last morning in Maui.
The bananas were starting to get quite a few brown spots on the outside (which the Kula lady told us was a good thing), so we dug in. They were delicious. The flesh was subtly orange and the texture was still quite firm. I could definitely see why they might call these apple bananas. The flavor of the banana was much … fruitier than a regular banana, and I could imagine that the extra fruit flavor was vaguely apple-like. No matter what you call them, they were really good, and I would like very much to snag some more in Oahu.
We ate at Moose McGillycuddy's for breakfast (after a fruitless search for a bakery in Lahaina). Sean had pancakes and I had french toast – both ordered largely as suitable delivery devices for the extra fantastic coconut syrup. We took the slow road back to our hotel, snagging a few last photos along the way, and then saddled up for our flight to Oahu. The first of the photos below is of the biggest and oldest banyan tree on Maui, found in Lahaina Park. The second is of a cute lingerie shop called Aunty Panty's.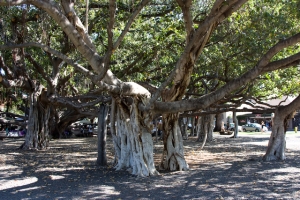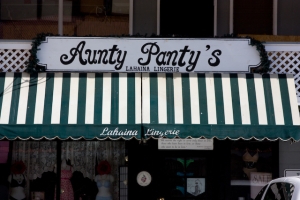 Our flight from Maui to Oahu was mostly uneventful. We forgot to leave the key in the rental car when we turned it in Maui, but that was easily remedied by leaving the key with the rental car folks in Oahu. Sean and I had been sort of exhausted and leaning toward the path of least resistance after the collar bone incident in Maui (and the news that our sick cat wasn't eating properly (oh, and the camera incident)), so we didn't run around and take in the sights and photograph the island as much as we ordinarily would have. Sean, in true vacationer spirit, had resolved to get off his duff and get back to photographing in Oahu. Given that, naturally his out-of-print, not-yet-read Oahu photography book would be left at the ticketing desk in Maui, forgotten in the confusion of getting bags checked and boarding passes distributed. Incredibly enough, the folks at go! found the book, packaged it up, and sent it on the next flight to Oahu for us to pick up later that night. So, instead of trying to see a movie on the beach, we were driving back to the airport to fetch his book. (But hooray, we got his book back!)
Dinner that evening was at Puka Dog. We had originally seen the restaurant on an Anthony Bourdain show and decided then and there that we'd have to try it out. The hot dog buns get impaled on metal spikes (shown below) that toast the bun on the inside. Then a variety of sauces get dumped into the toasted hole, followed by a lovely polish sausage link (theoretically, we could've gotten veggie dogs, but we didn't). Also shown below is the neat-o surfboard menu that walks you through the ordering process. Sean had a Polish sausage dog with hot sauce, coconut relish, and lilikoi mustard. I had a Polish sausage dog with hot hot sauce, papaya relish, and lilikoi mustard. They were very tasty – probably much tastier than they had any right being.