03 July 2008 - Sean and I woke up early in the morning and went out to Venus Pool (known to the Hawaiians as Waikoa Pond). We had read that you could no longer take the trail to the pool because it was on private land and that instead you had to sort of walk down the stream bed till you reached the pool.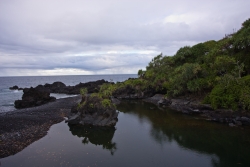 When we got there, the trail wasn't clearly marked (to know what to avoid), and as we were figuring out how to get down from the bridge into the stream bed, we ran into a lovely couple (and their adorable dog) who helped us out with how to get to Venus Pool and then led us all along the ridge above the beach and told us about the area and their place in it. They run sort of a rental house in Hana. We drove by their property, the Hana Aloha Hale, and checked it out later on the web – it seemed very nice, and I expect that it would have been a fair bit more cost effective and probably more personable than where we stayed. (We stayed at a spa resort, the Hotel Hana Maui, that was ridiculously gorgeous, but maybe a bit prissy-poo for me.) These folks were very nice, and we definitely appreciated their assistance. Sean and I had been wondering if people ever got used to the beauty of the area. These two let us know that they take a sunrise walk along their ridge every morning. It still makes me smile to think about it.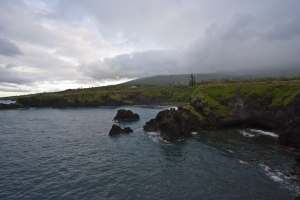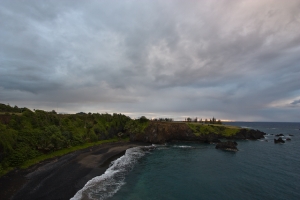 We got back to the hotel and noshed on the complimentary banana bread and coffee for breakfast before heading out again. We took a walk down to Hana Bay from our hotel and listened to the waves break on the shore and watched the crabs play on the rocks until we felt so serene we were pretty sure we'd both go to sleep. To combat the sleepiness, we headed back up to the hotel to check out and meet up with the rest of Sean's family. On the recommendation of one of the hotel staff members, we headed over to a lunch truck along Hana Bay for food. Sean had the fish tacos and I had a fish sandwich. Both of them were undeniably delicious. Also at this lunch truck were a deeply aromatic array of freshly baked breads. We didn't partake of any of them (since we'd just had the banana bread that morning), but it was sheer force of will that allowed us to walk away without purchasing something more. Then we puttered around Hana Bay a little more. We walked a little ways back toward a sort of hidden red sand beach. The ascent became very steep, and since I was in sandals I would have very easily slid out of, I held the camera gear while Sean plunged onward with the little point and shoot camera in his pocket. Harry, after a half-moment's consideration, followed suit. They came back with a few nice pictures and in the mean time, the rest of us watched the crabs play a little more.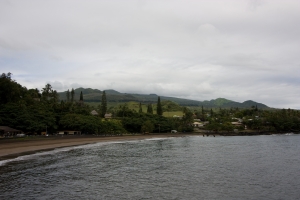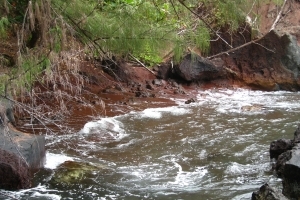 Next we went a bit further down the road to Hana to visit Oheo Gulch inside Haleakala National Park. Oheo Gulch is home to the alleged Seven Sacred Pools (of which there are more than seven and none of which appear to be in any way sacred). The place is absolutely beautiful but horrendously popular (meaning crowded, which I don't care for at all).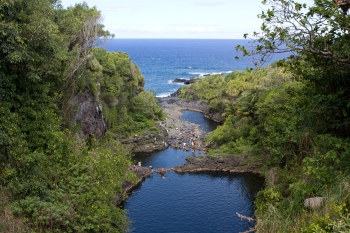 From here, we drove on to Palapala Ho'omau Church to see the grave of Charles Lindbergh. The church is simple and quiet and has a ridiculously large banyan tree out front. The grave site is correspondingly simple, and the view from the corner of the cemetery out to the ocean is really incredible.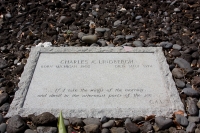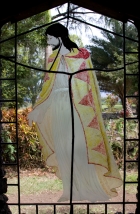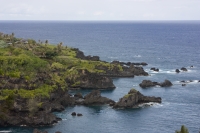 A little worn out from our very active day, we enjoyed an uneventful journey to our next hotel, Kula Lodge. Our dinner at Kula Lodge was actually one of the better ones we've had. Sean and I each had Maui onion soup, which was heavenly – rich flavorful broth, sweet onions, and light on the cheesy crouton (which I find can sometimes overwhelm the soup). I had spinach salad w/ strawberries and goat cheese and red onions and lilikoi (passion fruit) dressing. Sean had fantastic bolognese pasta. This bolognese was one of the better I had tasted. Instead of being the heavy super-meaty creature we all know and love, it was actually sort of spicy and bright and <gasp of delight> drizzled with truffle oil. I might have suffered the tiniest bit of food envy as I poked around at my leafy greens.
We set our alarms for very early the next morning and did our best to go to bed before we felt like it to prepare for our pre-dawn excursions on Mount Haleakala.