02 July 2008 - Our Big Island trip had been pretty hectic, so we took it easy the next morning and headed over to the Kona airport to hop our flight to Maui. I guess I hadn't really thought about what sort of aircraft we'd be flying in, but it was a small propeller plane. I was again in the front row, so I got to see tons of neat stuff, not the least of which was the fun instrument panel. The flight was nice, and it was fun picking out the islands as you flew into Maui. We were treated to a very nice view of the Molokini crater (where we'd be snorkeling in a couple of days).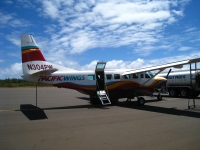 We landed safely, acquired our car, and drove to Paia Town for lunch. We ate at Paia Fish Market where a nice man excitedly recommended the ono burger. Ono is Hawaiian for either "good" or a type of fish (what the Hawaiians call an ono, everyone else calls a wahoo). In this case, it must have meant both. Our fish sandwiches were DIVINE – thick meaty fish topped simply with some lettuce and cheese and a nice tartar sauce. We also tried Tiger sauce (some kind of hot sauce made in New Orleans) that was fantastically good on our ono burgers.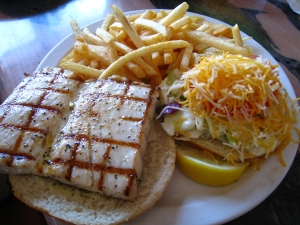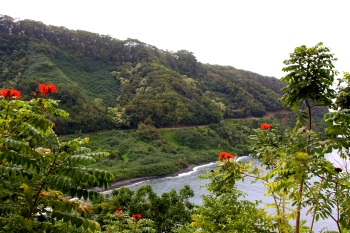 Comfortably full, we hopped back in the car and began trundling along the Road to Hana. The road is just as narrow and curvy and full of one-lane-bridges and places where you must yield to oncoming traffic that you can't actually see around the one-lane-wide hairpin curve as all the books and on-line articles say it is, but it is also every bit as beautiful! Our one disappointment was that the numerous waterfalls along the route were sort of unimpressive since summer is the (relatively) dry season and there hadn't been much rain to feed them. Generally speaking, one side of the road was a hillside covered with dense tropical vegetation, and the other side was more vegetation and then a cliff-side drop off to beautiful ocean in more varieties of blue than I have adequate adjectives to cover.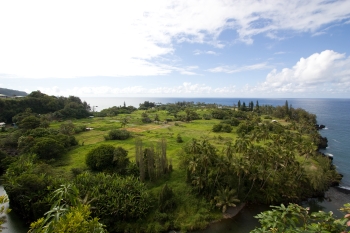 You could truly stop at least once a mile and admire some new and interesting site. So as not to feel rushed, we limited ourselves to only a handful of stops (especially since the waterfalls weren't much to look at). First we stopped to hike up into the dense forest and look at pretty bamboos and gingers in full flower. Next we stopped at several viewpoints to look at the Keanae Peninsula, and drove out Keanae Road as well (we just can't get enough of these crazy black lava-rock beaches). Then further along the road to Hana, we drove down the short, even more narrow Nahiku road to admire even more tropical vegetation (the variation was seemingly endless) and an amazing view of the cliffs along the shoreline. Last we stopped in at Wainapanapa State Park to take a look at a black sand beach (without the pressure of the failing sunlight this time) and a ruggedly beautiful sea arch. Finally, it was on into Hana town, and since the sun was now setting fast, we decided to check into our hotel and relax for the night.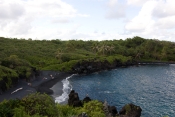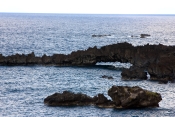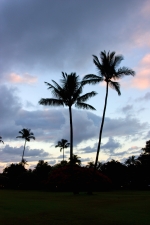 Hana itself was gorgeous. Of all the cities we had stopped in so far in the islands, it was by far the loveliest. That night, we decided to keep things simple and ate at the restaurant in the hotel. While we waited for our table to be ready, we sat around the bar and had fruity drinks. I had the (world's strongest) mai tai, Sean had the pina colada, Helen had the lava flow (a pina colada with strawberry syrup), and Darci had the pineapple juice with Malibu rum which was floated with additional dark rum. The drinks were delicious. Our food was okay but probably overpriced for the quality. Sean had a burger for dinner and mac nut pie for dessert. The mac nut pie was kind of like pecan pie but with macadamia nuts in place of pecans (Sean loved it so much, I wasn't sure I was going to get to score a bite). I had pomegranate-orange-guava basted ribs. They were tasty, but I couldn't even come close to eating them all. I also got to try the purple Maui sweet potatoes. They were a deep almost navy-tinged purple and had a flavor that was somewhat different than a traditional mainland sweet potato (though I'm having trouble describing specifically how they're different). Lack of descriptors aside, I'd be quite content to have some more of them before we had to leave Hawaii.
We went back to our ultra-lavish spa resort (Hotel Hana Maui) for the night and decided a late night swim was in order. After the swim, we decided a late night bath was in order. And then we crashed soundly.