I punked out and didn't really cook too much for dinner tonight. Consequently, I figured I had enough energy to make dessert. I had eggs that I needed to use up before they went bad, so I figured I'd try a souffle recipe I have been wanting to make. So for dessert this evening, we had Hot Grand Marnier Soufflesfrom the December 2003 issue of Cooking Light.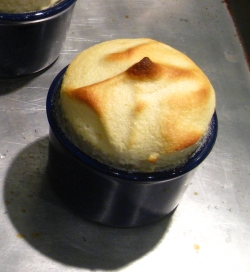 I actually love making souffles. It fascinates me how a couple of egg yolks can be whipped into something lemony colored and thick. I am constantly bewitched by the way a few slimy egg whites can become a big bowl full of fluffiness and structure. I like watching the batter climb its way up the sides of the ramekins as it's baking. Plus, they taste good!
Mine may not be quite as pretty as the ones on the Cooking Light website, but they're pretty enough, and I figure it's good for folks to see that you can make beautiful food without a food stylist. (Also, hooray, I finally harangued my spouse into taking some photos!)
These were particularly interesting. They weren't too sweet (which I like), and the Grand Marnier definitely made its presence known. The souffles were subtly orange-flavored and had the lightest edge of alcohol smell. And if all that weren't enough, they are also low in calories, having maybe 130 calories or so per serving (I halved the recipe and made 4 6-oz souffles).