I am notorious for trying out a new recipe, loving it, and then moving on to the next new recipe, never preparing the first one again. It drives Sean crazy. I'm constantly asking him what he wants for dinner, but because he rarely eats the same thing twice (I know, poor guy), he doesn't have time to develop favorites. Well, I've encountered a dessert recipe that I just can't quit baking – Strawberries and Cream cake.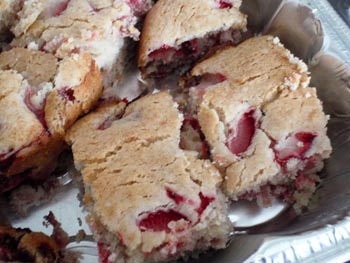 Apologies for the image quality - this is the only photo that even remotely would've worked
My online friend Jessie at The Hungry Mouse provides a constant stream of incredible looking recipes and photos, and a couple months ago, she posted a recipe for Strawberries and Cream cake. I've made no secret about my unholy love of strawberries, and with this cake's simple preparation, this seemed like an outstanding way to make use of them.
The cake is a great example of simple springtime cooking. Throw a handful of ingredients together in a bowl and mix, dump it in a cake pan, and bake. That's it. It can be made from start to finish in less than an hour. Plus the flavor is wonderful. The cake itself is subtly sweet and allows the strawberry flavor to shine. And the texture is incredibly moist. It travels well, and I've had occasion to bake it for dinners and potlucks galore.
I only made one small alteration to The Mouse's recipe – the addition of some vanilla, but otherwise the recipe is all hers.
STRAWBERRIES AND CREAM CAKE
_adapted from _[_The Hungry Mouse_](http://www.thehungrymouse.com/home/2009/03/30/strawberries-cream-cake/)
¾ cup sugar
4 tablespoons butter, room temperature (plus more for preparing pan)
1 egg
¾ cups heavy cream
1 teaspoon vanilla
2 cups flour
2 teaspoons baking powder
½ teaspoon salt
2 cups strawberries, sliced
Preheat oven to 375 degrees (F).
Cut a round of parchment that fits into the bottom of a 10-inch round cake pan. This is best done by taking a square piece of parchment and folding it in half twice so you have a small square. Then fold it in half along the diagonal to create a long triangle. Then twice more fold that triangle in half along its long side so that it continues to get thinner and thinner. Measure approximately 5 inches from the point to the jagged edge of the triangle and cut that jagged edge straight across at the 5-inch mark. When you unfold the parchment, it should be an approximately 10-inch round.
Butter the bottom and sides of a 10-inch round cake pan. Place the parchment round into the bottom of the pan – it doesn't have to fit perfectly.
Beat the sugar and butter together until thoroughly mixed. Add the egg in and again beat until combined. Finally add in the cream and the vanilla and yet again, beat until the mixture is completely combined.
In a separate bowl, mix together the flour, baking powder and salt. Add this flour mixture to your wet mixture, in two batches if necessary to keep the flour in the bowl while mixing. Beat just until the mixture comes together. It will be very thick.
Fold the strawberries gently into the dough. It may seem like there are too many, but the proportion of strawberries to batter is perfect.
Spread the batter into the prepared cake pan. You'll need to press it down and smooth it out with a rubber spatula.
Bake until the top is golden and a cake tester inserted into the center of the cake comes out clean – 30 to 35 minutes.
Cool in its pan on a rack. Once cool, move the cake from its pan to a plate or cutting board, slice and serve.