Have I ever told you this? About a million years ago, I unwittingly captured Sean's attention when I fed him homemade crawfish etouffee, made from crawfish I had caught during a float trip (I don't know if this is true everywhere, but "float trip" in my corner of Missouri meant "canoe trip"). And so it was with equal parts interest and nostalgia that I prepared the etouffee recipe from the most recent issue of Saveur magazine.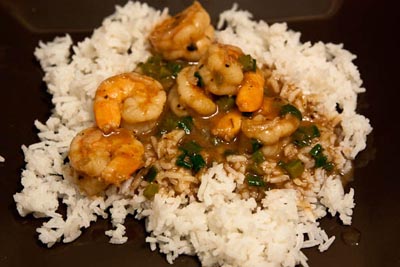 The recipe is actually pretty straightforward, but it does take a bit of dedicated time because it begins with the creation of a dark roux. Roux is nothing more and nothing less than flour cooked in oil. A roux can range in color from a light blond to a dark chocolate brown, and its thickening power in soups decreases the darker it is.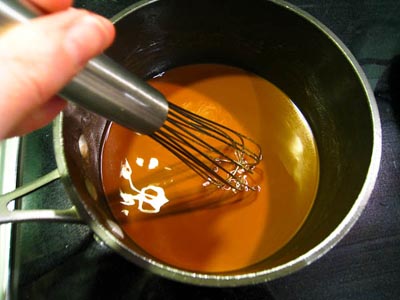 Roux part-way through the browning phase - and yes, my camera was lined up next to my beers!
The big trick with a roux, in my semi-informed opinion, is to keep the flour moving. If the flour is constantly being stirred or whisked, it won't sit long enough to burn. I had heard a dark roux once called a "two-beer-roux." I think it was an Emeril-ism, but I don't know that it's unique to him. Anyway, my roux prep included putting wonderfully obnoxious punk music on the iPod and opening and lining up within easy reach two Abita Ambers. It worked like a champ. I had no reason to leave my roux.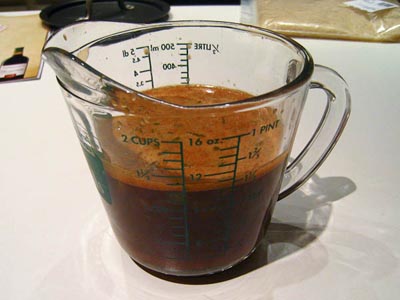 The roux-vegetable-spice mixture waiting to be added to boiling shrimp stock
For a variety of reasons, I elected to make this with shrimp instead of crawfish. The upshot of this decision was that I had sufficient shrimp shells to make a passable shrimp stock to use where the magazine's recipe called for chicken or seafood stock.
Shrimp stock in progress
I had planned to use the weight-based ratio for bones/shells to water (using Ruhlman's book, Ratio, which I was fortunate enough to receive for Christmas), but when I did that, so many of the shrimp shells were out of the water and not flavoring it that I added a fair bit more to compensate. I'm sure there's an adaptability clause somewhere that allows for this. Either way the stock, while perhaps a bit light, had a nice flavor and a positively heady aroma, so I was content with the results. And the stock recipe below yielded the exact amount of stock required for the etouffee (though I would've added a bit of water to compensate if needed).
SHRIMP ETOUFFEE
_adapted from _[_Saveur_](http://www.saveur.com/article/Recipes/Crawfish-Etouffee-1000079357)
spice mix:
2 teaspoons kosher salt
1 teaspoon cayenne pepper
1 teaspoon white pepper
1 teaspoon black pepper
1 teaspoon dried basil
½ teaspoon dried thyme
roux:
¾ cup canola oil
¾ cup flour, sifted
the rest of the etouffee goodness:
¼ cup finely chopped onion
¼ cup finely chopped celery
¼ cup finely chopped green bell pepper
3 cups homemade shrimp stock (recipe follows)
12 teaspoons unsalted butter
2 lbs large shrimp, peeled, shells reserved for stock
1 cup finely chopped green onion
cooked white rice, for serving
1. In a small bowl, combine all "spice mix" items and set aside.
2. In a 2- to 4-quart heavy-bottomed pot, heat the oil until it is just shy of smoking. Sprinkle in the flour, whisking constantly, and cook for thirty seconds. The mixture will bubble vigorously, and the smell will almost instantly become rich and nutty. Reduce the heat to medium-low and cook, whisking or stirring constantly, until the roux is the color of milk chocolate, about thirty minutes.
3. Add the onions and cook stirring constantly until onions are cooked, about five minutes. Remove from heat. Stir in one tablespoon of the spice mixture and the celery and bell pepper. Continue stirring for a few minutes to allow the roux to cool slightly. The pot was sort of heavy, so I opted to transfer the roux and vegetables to a 2-cup liquid measuring cup at this point to make the next step easier.
4. In a 2- to 3-quart saucepan, bring two cups of stock to a boil over medium-high heat. Gradually add the roux and whisk until fully incorporated. Reduce heat to medium-low and continue to cook for a couple more minutes till the stock mixture is thickened and smooth. Remove from heat and set aside.
5. In a 4- to 6-quart pot melt eight tablespoons of butter over medium-high heat. Stir in shrimp and scallions and cook for about one minute. The shrimp will not be fully cooked yet; that's a good thing because if they're cooked now, they run the risk of being overcooked by the time you finish. Add remaining spice mixture and stock mixture and stir to combine. Add the remaining stock and butter and stir till shrimp is cooked through and the sauce has a glossy sheen.
6. Remove from heat and serve with the cooked rice.
SHRIMP STOCK
shells from 2 pounds of shrimp (my shells wound up weighing about 6 ounces total)
1 quart of cool water
1 teaspoon vegetable or canola oil
1 ½ ounces by weight roughly chopped onion
¾ ounce by weight roughly chopped parsnip
¾ ounce by weight roughly chopped celery
Sweat the vegetables in the oil till just beginning to soften. Add the shrimp shells and cook for a minute or two till they begin to cook. Add the water and cook at a bare simmer for about an hour. Strain out the shells and vegetables and store in the refrigerator till ready to use. I peeled my shrimp and made the shrimp stock in the morning and stored both in the refrigerator till it was time to make the etouffee that evening.