As you may have noticed, last week I wrote up a review of Veganomicon: The Ultimate Vegan Cookbook
. Yesterday evening we tried our second recipe from the book. Not yet wanting to downplay the stunning success of the first recipe we tried, I chose something fairly nonthreatening for my next effort. Filed in the "One-Pot Meals" section of the cookbook, I found Pineapple-Cashew-Quinoa Stir-Fry.
As mentioned before, Sean and I would not choose a vegan lifestyle, however, this cookbook is chock full of extremely interesting recipes, and this certainly counts among them. I prepared the recipe as detailed in the book with the following exceptions: I did not cook my quinoa with pineapple juice (I simply didn't have any handy), and I elected to use edamame, a suggested alternative, instead of the peas that were originally called for (since Sean hates peas).
Per the the recommendation in the recipe, I cooked my quinoa the night before and let it rest in the refrigerator overnight, giving me nice dry grains to use in the stir-fry. I highly advise prepping all your ingredients for this one before you start cooking. Like most stir-fries, once you get started, the dish comes together pretty quickly. The prep was maybe a little involved, but not too bad. The cooking time, on the other hand, was very quick. From the time I turned the burner on to the time I served the stir-fry couldn't have been much more than about twenty minutes.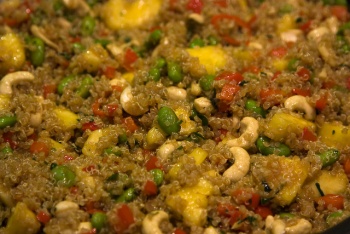 The completed dish was beautiful. The colors were vivid and the range of textures and flavors was fantastic. The quinoa was pleasant and chewy. There was a bit of heat added from a sliced up spicy pepper. The pineapple added a nice sweetness, the cashews added a pleasant crunch, and the vegetables were a perfect crisp-tender. We did indeed treat this as a complete meal, and that worked out fine for us. We had plenty for the two of us to eat plus enough leftovers for a lunch or two as well.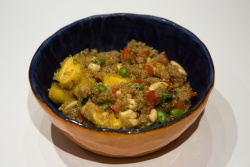 I would definitely count this as another victory for Veganomicon. We've played it fairly safe so far. Next, I'll have to try something a little more ~interesting~. Perhaps a vegan dessert – specifically something that ordinarily would require eggs. Or maybe something that by its very nature should have cheese.