These are, bar none, the strangest dumplings I've ever had the pleasure to make or eat. A couple friends recently organized a Thai-food dinner, and I was stuck for what to bring. In digging through cookbooks for inspiration, I happened upon Thai Tapioca Pearl Dumplings.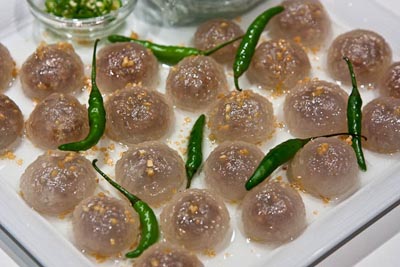 We didn't eat whole chiles - these were just strewn about for effect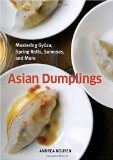 Asian Dumplings: Mastering Gyoza, Spring Rolls, Samosas, and More
by Andrew Nguyen was the cookbook in question. I've made several types of dumplings from it now (though I've still not braved her recipe for soup dumplings), and they've all turned out beautifully. And it's good that I had that kind of empirical success to back me up, because this recipe was a strange one, at least to my Midwestern sensibilities. That said, Nguyen's instructions are clear and thorough and guide the reader step by unfamiliar step through the entire process, including how to eat these sticky little dumplings.
As a side note, I did have trouble finding one ingredient on my list - palm sugar. Though Nguyen lets it be known that light brown sugar is a perfectly acceptable substitute, I was still a bit disappointed that I couldn't make this with all the proper ingredients. A bit more research after the fact yielded this little nugget of information: Indian jaggery is evidently essentially the same thing as palm sugar, and I'd have had no problem finding that at the stores I frequent.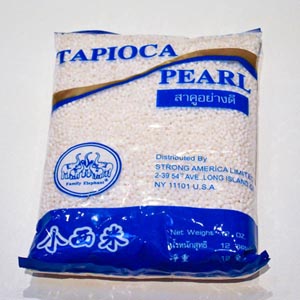 The dumpling wrappers in this recipe are made from tapioca pearls. I'm not kidding. The tapioca pearls are soaked in just-boiled water and then kneaded into a lumpy dough. Then small portions are formed into a cup and stuffed with a salty-sweet and peanut-speckled pork mixture.
Next the dumplings are steamed. This process was fascinating to me. Solid white dumplings go into the steamer. Mildly translucent white dumplings come out of the steamer. Then as they cool, the tapioca coating becomes nearly transparent. It almost makes the tapioca pearl dumplings look like little opalescent pearls themselves. Pearls filled with pork, that is.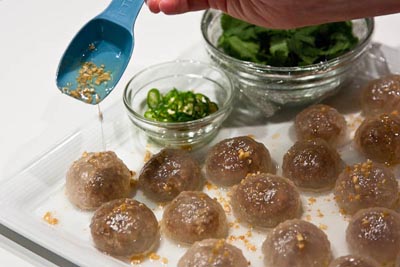 One of my favorite components of this dish was the toasted garlic oil the uber-sticky dumplings are drizzled with when they're finished. Chopped garlic is fried in a dab of oil just till the garlic is lightly toasted.
To eat other-worldly looking creatures, a lettuce leaf is topped with a dumpling, some cilantro, and a bit of Thai chile. Wrap the lettuce leaf around the dumpling and its accompaniments and enjoy. The wave of different textures from the crisp lettuce to the chewy tapioca to the crunchy peanuts to the succulent pork is briefly enjoyed before being eclipsed by the powerful flavors of the chile, cilantro, garlic, and pork filling.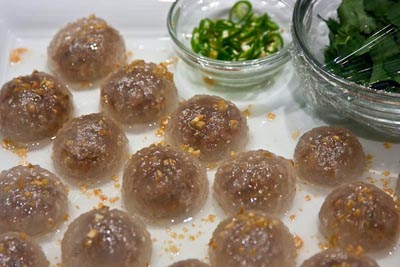 I would make these again, but there are so many other dumplings to try first that I don't know how quickly I'll get back to them. If you have Asian Dumplings on your bookshelf and want to try this for yourself, my one word of advice would be to follow Nguyen's instructions explicitly. I've done this now with every dumpling recipe I've made, regardless of my preconceived notions of how ingredients are meant to be used, and it has always served me well.