It's strange, but we actually don't eat a lot of fresh tomatoes at our house. For one, Sean steadfastly despises them. For another, while I find them tasty enough, they're rarely anything I seek out. Typically, I buy tomatoes to cook into sauce or as a cooked ingredient in something else, and consequently, I go for the paste tomatoes, typically Romas. Recently though, I got to taste the sort of tomatoes that I'd actually enjoy eating out of hand.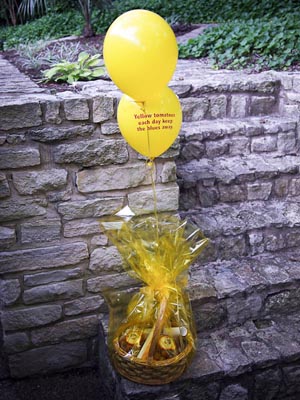 Again, Lindsay of Apron Adventures was able to offer us goodies – this time from NatureSweet. Little containers of tiny golden tomatoes were what we found once we dug through all the elaborate packaging (complete with freshly-inflated balloons). Their clever top-loading, resealable packaging underscores the fact that these diminutive tomatoes – called SunBursts – are meant to be snacking tomatoes.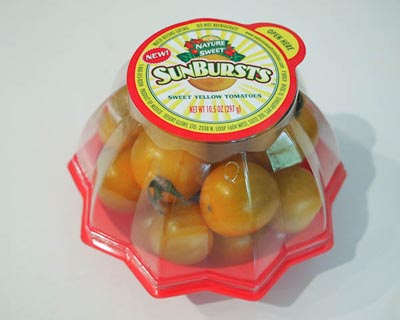 For the first few tomatoes, that's exactly what I did: peeled back the top, grabbed some SunBursts, washed them thoroughly (which I highly recommend, despite the pop-the-top-and-start-eating aesthetic), and enjoyed. They're incredibly sweet with just the right amount of tart to remind you that you are, in fact, eating a tomato. I actually very much liked eating these and would happily do so again.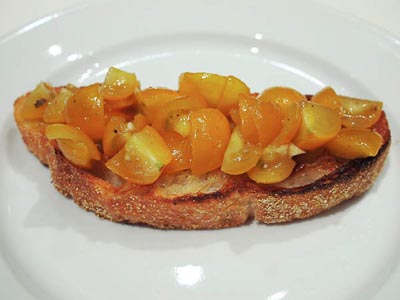 Sean, however, is a tougher customer. For him, I made a couple dishes that still used the tomatoes raw, but flavored them sufficiently that he would be willing to at least try them. First up, since I was already grilling anyway, I went ahead and buttered and grilled some slices of ciabatta. I cut up some SunBursts into eighths and mixed them with some chopped garlic and homemade balsamic vinaigrette and let them sit while I grilled everything else. Then I topped the grilled bread with the lightly marinated tomatoes to make SunBurst bruschetta. The sweet tomatoes held up beautifully to the sweet-tart and garlicky vinaigrette. Sean seemed very happy with this. (We put our grilled leftovers to good use later in the week by making flank steak and marinated tomato sandwiches.)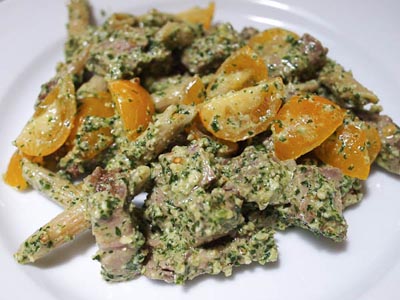 Next up, we tried them in one of Sean's favorite recipes (for which I've never before been allowed to include the tomatoes). I used this recipe from Cooking Light for Cilantro-Serrano Pesto and altered it as follows. First, I used leftover steak instead of chicken. Next, of course, I used quartered SunBursts instead of the cherry tomatoes specified. And finally, since I used whole wheat pasta, which doesn't seem to absorb as much water as "regular" pasta, I used four ounces of dry whole wheat penne rather than the three ounces specified.
I feel like this recipe was an unqualified success. The sweet tomatoes were perfect with the spicy-salty pesto and the smoky steak. I'm going to have to hunt up more SunBursts just so I can make this again. I still think Sean prefers the tomato-less version of this dish, but was certainly willing to tolerate the tomatoes, which is honestly a pretty big step.