I bought Mastering the Art of French Cooking, Volume 1 last year after reading My Life in France and falling in love with Julia Child. I've confessed it before and I'll do so again – before that, I paid very little attention to her. As a food blogger, I probably shouldn't admit that, but it's true nonetheless. Reading her incredible story prompted me to finally purchase the cookbook that by rights probably belongs on any serious home cook's bookshelf. And then I proceeded to cook almost nothing from it. Silly me! With the Julie and Julia movie out and with family coming to visit, we decided to cook up a swank French feast from her cookbook and then go watch the movie.
Our feast was actually fairly uncomplicated (important note: uncomplicated doesn't necessarily mean fast and it most certainly does not mean low fat). For the main course, we roasted leg of lamb. Beforehand we nibbled on petite camembert biscuits. We had creamed brussels sprouts alongside our lamb. (We were planning to have lovely scalloped potatoes as well, but I'm pretty sure my lame attempt at assembling this dish ahead of time and cooking it later caused its absolute and utter ruin.) After all that was said and done, we had a simple cherry clafouti for dessert.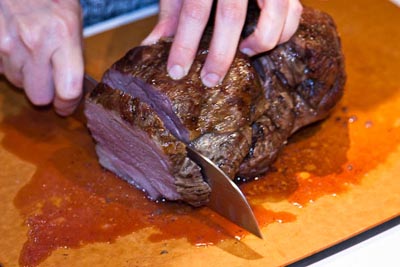 The lamb was garlicky and richly flavored. We roasted it on a bed of onions and carrots, and those roasted vegetables along with the roasted lamb drippings made a sweet, meaty sauce.
I hear the creamed sprouts were lovely. Despite my best efforts to eat them and love them, I've never developed the taste. They were kind of fun to cook. Cream cooked with vegetables (or with anything else, presumably) takes on a lightly caramelized flavor and aroma as it thickens, nicely complementing the sprouts.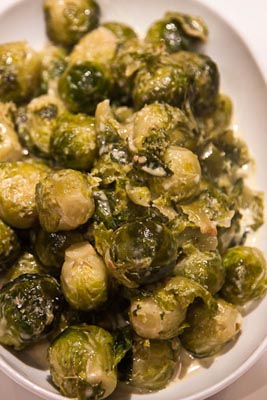 The cherry clafouti, made with fresh bing cherries, was simple and delicious. Its texture is sort of difficult to explain. Imagine a cross between a custard and maybe either a cobbler or bread pudding – only lighter. It wasn't overly sweet and would've paired nicely with a big scoop of vanilla ice cream (if you're into that sort of thing). Honestly the only tough part about making this dessert was pitting all those cherries.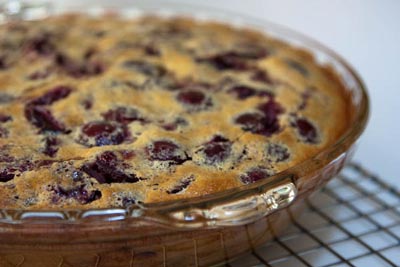 My favorite dish of the evening though, even with the very nicely prepared lamb, was the camembert biscuits. The word biscuits conjures in my mind big, fluffy buttermilk creations slathered in either softened butter or sausage gravy. These were something more subtle, refined even. They were light, flaky little morsels full of rich cheese and butter flavors. I'm guessing that my biscuits should've puffed up more, but even as they were, they were delicious.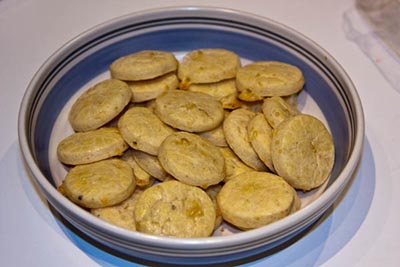 The movie, by the way, was adorable. Everyone in our group enjoyed the show. Love her or hate her, Meryl Streep did a fantastic job portraying Julia Child. The movie was based on the books My Life in France, by Julia Child and Alex Prud'homme and the semi-eponymous Julie and Julia, by Julie Powell (which I've not read) which documents her experiences spending a year working through the 500+ recipes in Mastering the Art of French Cooking and blogging about it. I think Julie Powell's story suffered from being overshadowed by Julia Child's (and lets be fair – how was that not going to happen), but I found the approach of flipping back and forth between the two women's stories (and the two eras) to examine the commonalities and differences between the two fascinating and effective.
CAMEMBERT BISCUITS (Galettes au Camembert)
_adapted from Mastering the Art of French Cooking_
8 ounces ripe Camembert
3 ounces softened butter
3 eggs (divided)
½ teaspoon salt
1/8 teaspoon black pepper
pinch of cayenne pepper
2 cups (about 8 ½ ounces by weight) all-purpose flour
Remove the "crust" from the Camembert and using a heavy fork, mash it with the butter in a mixing bowl. Beat in two of the eggs, salt, black pepper, and cayenne pepper till thoroughly combined. Add in the flour and gently mix just till combined.
Knead together a couple times till the dough is smooth. Form into a disc, wrap in waxed paper and chill until firm – 30-60 minutes.
Preheat the oven to 350-degrees (F).
Remove the firm dough from the refrigerator, roll it out to ¼-inch thickness, and cut biscuits with a 1 ½-inch round. As you're cutting them, lay them on a parchment-lined sheet pan. Beat a third egg in a small bowl. Brush the tops of the biscuits lightly with the beaten egg. This will help them brown nicely and give them a somewhat glossy sheen.
Bake in the upper third of the oven for about 15 minutes, or until lightly browned.