Liz over at The Park Bench had a laugh-out-loud funny post yesterday lauding the magical power of her boobs. It totally cracked me up, and it turns out one her magical powers is the power to inspire. This evening, when trying to work out what to do with some leftover miso paste, I was moved to cook chicken boobs … er … breasts.
This recipe is wicked simple and incredibly flavorful. If you bought a tub of miso paste and used only a few tablespoons to flavor miso soup and now are wondering what to do with the rest, there are certainly worse ways to use it up than this dish right here.
ROASTED MISO CHICKEN
2 4-6 oz boneless skinless chicken breasts
salt and pepper
2 T white miso paste
2 T chicken broth
½ T sesame oil
sprinkle of red chili flakes or ½ t chili garlic sauce - whatever you have that will lend a note of spiciness
Clean and pat dry the chicken breasts, season with salt and pepper and set aside.
In an 8"x8" glass baking dish, mix the rest of the ingredients to form a sort of runny paste. Add the chicken to the baking dish, turning to coat completely in the miso mixture and set aside to marinate a bit.
Preheat the oven to 400-degrees (F).
Once the oven is preheated, cover the pan with aluminum foil and bake it on the middle oven rack until the chicken breasts are completely done or the internal temperature registers about 160-degrees (F). This should take roughly 15 to 20 minutes.
Once plated, spoon some of the miso sauce leftover in the baking dish over the chicken.
(This would have been really good served over some steamed rice so the extra miso sauce could be soaked up and enjoyed, but I didn't think of that in time for this dinner)
We had a variety of produce in the refrigerator that needed to be prepared sooner than later, so I made this recipe from Michael Chiarello for a sort of spicy pickled eggplant. I cannot recommend this dish enough. It was incredible. The succulent eggplant was perked up by the spicy-sweet-sour-garlicky mixture it was soaked in after it was cooked. And I was too lazy to fire up the grill, so I just sauteed mine in a bit of olive oil in a skillet over medium-high heat. Rounding out the meal were yellow crookneck squash diced and seasoned with orange pepper and sauteed in olive and a sliced organic Fuji apple.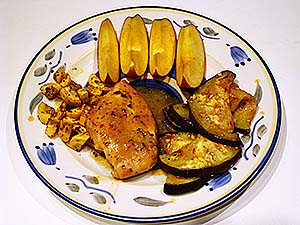 In the end, dinner was not beautiful, but it was quite delicious … and it was certainly inspired!