Ever since we acquired the KitchenAid stand mixer, homemade bread has become a staple in our house. I'm perfectly fine with kneading bread; in fact, I even enjoy it. However, during the hot and sweaty central Texas summer, I have very little interest in toiling over a hunk of dough that's hell-bent on sticking to everything it comes in contact with, especially when the dough itself is meant to be a bit on the sticky side.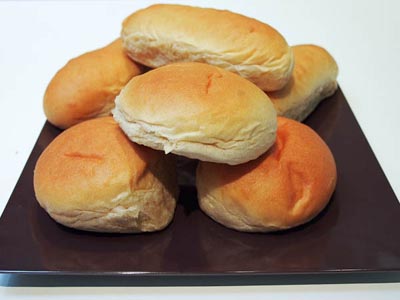 We wind up eating a lot of burgers. Hamburgers, veggie burgers, salmon burgers – they're all easy things to throw together with a simple vegetable side dish for a quick lunch or dinner. Now that we've mastered the fine art of making hot dogs, we'll probably be eating more hot dogs than normal as well. So wouldn't it be nice if we could make our own fresh hamburger and hot dog buns?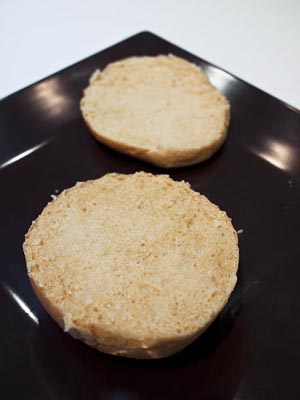 The original recipe came from a book a friend of mine gave me, Peter Reinhart's Artisan Breads Every Day, the tag line of which
is "Fast and Easy Recipes for World-Class Breads". Something about the notion of fast recipes for bread is funny to me, but I guess speed is relative. At any rate, the only recipe I've managed to make from this book is the Soft Sandwich Bread and Rolls. The texture of the bread makes for soft, tender hamburger buns and is an absolute winner in my book.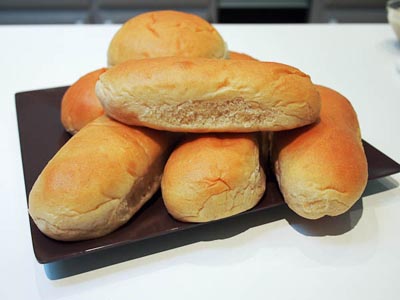 That said, Reinhart's recipe specifies using all unbleached bread flour. I puttered around with the recipe to incorporate at least some degree of whole wheat flour and to scale it down so that the batch size works better for our needs. I'd say that it's still a work in progress, but results have been pretty good so far.
HALF WHOLE-WHEAT BUNS
_adapted from [Peter Reinhart's Artisan Breads Every Day](http://www.amazon.com/gp/product/1580089984?ie=UTF8&tag=thehuneng-20&linkCode=as2&camp=1789&creative=9325&creativeASIN=1580089984)![](http://www.assoc-amazon.com/e/ir?t=thehuneng-20&l=as2&o=1&a=1580089984)_
½ tablespoon active dry yeast or instant yeast
8 ounces lukewarm milk (95 degrees F)
7 ounces unbleached bread flour
7 ounces white whole wheat flour
½ tablespoon coarse kosher salt
3 tablespoons vegetable oil
2 tablespoons honey
1 egg
Sprinkle the yeast into the milk and stir to dissolve.
Combine the flours, salt, oil, honey, and egg in a stand mixer. Add milk-yeast mixture and mix with the mixer's paddle attachment till ingredients are well-combined.
With a lightly greased sturdy plastic spatula, scrape dough from the paddle attachment and switch to the dough hook. Knead the dough with the mixer for about 5 minutes. Knead the dough by hand for about a minute then transfer to a lightly greased glass bowl and cover with plastic wrap.
Allow to rise at room temperature for a couple hours or, preferably, let it to sit in the refrigerator overnight to allow flavors to develop. Remove the dough from the refrigerator at least a couple hours before you'd like to portion out the dough.
Portioning the dough is still something I'm working with. I usually divide the above mixture (which weighs in the neighborhood of 27 ounces, depending on how much supplemental flour I've added to keep the dough from sticking during hand-kneading) into eight equal portions using my kitchen scale to maintain consistency. This results in a big, delicious bun that's very filling. Dividing the dough into twelve portions seems to be a bit on the small side, so 10 portions may be the sweet spot, depending on your appetite.
For hamburger buns, I form each dough portion into a small boule and flatten it out a bit. For hot dog buns, I shoot for a more batard/torpedo-type shape .
For eight buns, bake at 350 degrees F for 15-20 minutes (mine seem to come out best around the 17 minute mark). Remove from the oven and transfer the finished buns to a cooling rack. After about 20 or 30 minutes, they should be cool enough to cut in half and use. Store the leftover buns in an airtight container to maintain their lovely softness.