Some of us (probably most of us) were rebellious in our teenage years. In our young and rambunctious quest to find out who we are, we bucked convention and tradition and the letter of the law in an effort to determine our own and society's limits. It all seems very romantic when we're young, and many of use grow out of it. Sometimes though, we hang on to a bit of our rebellious streak. And sometimes our rebellion comes in the form of Christmas dinner.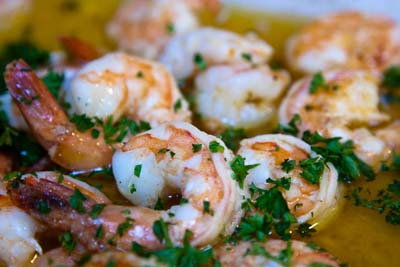 OK, maybe giving my in-laws' Christmas dinner the trappings of nonconformity and fighting-the-system was a little over-the-top. But my husband's family has a very delicious habit of not bothering with a Christmas goose or ham and instead serving a couple of huge, steaming dishes of Shrimp Scampi for their holiday meal. Sure it involves the less-than-perfect chore of peeling and de-veining what seems like endless piles of shrimp, but in the end it's worth it.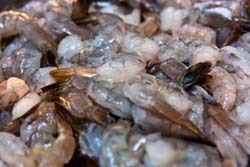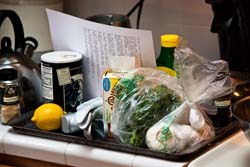 My husband Sean rarely cooks at home, but it is his job to cook the scampi at his parents' house every year. Mind you, the rest of us prep the shrimp, and I generally help him get the rest of his ingredients ready to go. But the actual cooking and flavor adjusting are all carried out by Sean.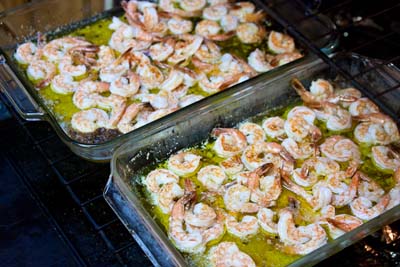 The result is buttery, lemony, garlicky, every-so-slightly spicy shrimp goodness. The shrimp scampi is served on a bed of wild rice with asparagus and buttery rolls on the side resulting in a meal that is equal parts nutritious and utterly indulgent. It is an outstanding and unique Christmas tradition – and one that I wholeheartedly embrace.
SHRIMP SCAMPI
3 lbs peeled and de-veined shrimp, tails left intact
2 sticks butter
1 cup olive oil
½ cup fresh lemon juice
12-14 cloves garlic, finely chopped
2 teaspoons garlic powder
4 teaspoons peppercorns
ground cayenne pepper to taste (we like ours fairly spicy)
2-4 T parsley, finely chopped
Set the oven to broil.
Split butter between two 13" x 9" Pyrex baking dishes and heat in the oven just till the butter is melted. Remove pans and place on a heat-proof surface.
Add the next six ingredients (through cayenne pepper), half to each pan, and stir to evenly distribute.
Add the shrimp (again, half to each pan) and toss to coat with the garlic mixture. Spread the shrimp out such that they are in a single layer.
Broil the shrimp for a few minutes, watching them closely – you're looking for them to be done on first side and beginning to pink through to the other side.
Pull them from oven and toss them again in the hot garlic mixture to ensure a good even coating. Then make sure all the shrimp are flipped with their raw sides up.
Finish cooking the shrimp under the broiler, again watching them diligently – it will take very little time.
Once they're finished, pull them from the oven and check the seasonings for the sauce. Add more butter, cayenne, and salt to taste. Stir in the parsley just before serving.