How many of you remember The Galloping Gourmet? Graham Kerr was the star of The Galloping Gourmet, a food TV series that ran from 1969 to 1971. Mr. Kerr is often remembered for his on-screen wine-swilling, and his cooking featured such wonderful ingredients as butter and cream.
But The Galloping Gourmet isn't really my subject for today. No, the subject here is Graham Kerr's falafel, as featured in the January/February 2005 edition of Cooking Light. Graham Kerr's wife suffered a heart attack in the mid '80s, and this spurred him on to reinvent the way he cooked. What came of this was a cooking style that was low in saturated fat and cholesterol, but big on fragrance and flavor. His cooking style is applied to a variety of recipes in that particular issue of Cookinig Light, but it was his version of falafel that I chose to make for dinner last night. It features soaked chickpeas (aka garbanzo beans or ceci beans), a variety of seasonings, and a really fantastic (and fantastically simple) goat cheese sauce.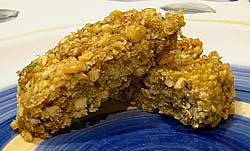 The falafel patties are baked instead of fried, resulting in a slightly less crispy texture on the exterior, while maintaining a moist interior. I skipped over the relish detailed in the recipe (since my spouse generally will not consume tomatoes or cucumbers), but I did make the goat cheese sauce. Also, I made pitas according to this recipe, using 2 cups of all-purpose flour and 1 cup of whole wheat flour. The pitas were really tasty and held up well to the falafel and cheese sauce.
The verdict? All in all, it was a fairly flavorful and healthy meal. The pitas were every bit as good as what you'd get in a decent restaurant. The falafel were maybe not quite as good as what you might get by frying the patties, but they're a reasonable facsimile if you don't want to consume extra oil or deal with the mess of frying.