If you've been reading here the past few weeks, you know that I have a new cookbook from which I've been trying various recipes. The book is called Fish Without a Doubt: The Cook's Essential Companion
, and for the latest installment, my husband and I chose a more interesting recipe. This evening, I made Oil-Poached Halibut with Gribiche and Poached Egg.
I actually made use of the authors' handy list of potential substitute fish for this recipe and chose cod instead of halibut (fish quality is pretty consistent where I was shopping, so I chose largely on price). The gribiche was assembled the night before (minus the herbs) to let the flavors come together. Fish Without a Doubt's gribiche was a very tart and tangy mixture of things like tomatoes, shallots, cornichons, capers, oil, and vinegar. In poking around at other gribiche recipes online, it seems that preparations vary quite a lot and that most of them include egg. My guess is that since this is not meant to be an emuslified sauce and since there would be poached egg dripping all over the fish and gribiche, that additional egg in the sauce was simply unnecessary.
Poaching the fish was an interesting experience. I've not done a lot of poaching in my career, and I'm not sure I've ever poached fish with any real success. In this case, the poaching liquid was olive oil and lemon zest heated to roughly 125 degrees. Then the fish was laid in the pan, the pan was covered, and the whole mess went into a 175 degree oven for about 25 minutes. While the fish poached, I cut up some herbs to finish off the gribiche and prepped the few of ingredients for the sauteed spinach that would sit under the fish. Once the fish was done, I plunked my eggs into the mildly simmering water to poach and worked on knocking out my sauteed spinach. (I've mentioned these recipes are a little fussy, right?)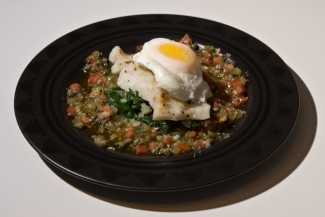 The final dish was assembled as follows: spinach mounded in center of plate, spinach topped with fish, fish topped with poached egg, whole food tower surrounded by gribiche. It was as beautiful as it was delicious (and I have to admit, my food is rarely beautiful). The fish was incredibly moist and accented with light olive oil and lemon flavors. The egg bled runny yolk all down the fish and added a lovely richness to the dish. That richness was tempered by the intense tang of the gribiche and the subdued-yet-present flavor of the spinach.
I would happily make this recipe again, but I may never be able to. There are simply too many wonderful recipes to try for me to have repeats. My plan is to attempt something other than fish next time - maybe mussels or clams or squid. I expect nothing less than perfection at this point.