Mexican food makes me happy. The flavors can be spicy, but that spiciness is often merely the leading or trailing edge of some very interesting and intense flavors. One of my favorite examples of this is a good tomatillo-based salsa verde. In its mildest preparation, it is wonderfully bright and tart. On the other end of the spectrum though, thanks to the inclusion of serrano chiles (or similar), it can be a mouth searing delight. An iteration of salsa verde appears in the most recent edition (on my magazine, it says August 2008, online it says July 2008) of Cook's Illustrated magazine as part of a recipe for Enchiladas Verdes. Given my nearly absolute faith in the folks at Cook's Illustrated, I lost no time in gathering up the ingredients and getting into the kitchen.
This is not my first pan of enchiladas verdes … but it is potentially my easiest. It could have been made even easier by purchasing pre-made salsa verde, but the sauce is so simple, it seemed a shame not to make it. The first thing this recipe called for was prepping a wonderfully flavorful broth in which to poach the chicken. This helped to ensure that the chicken meat had good flavor and could maintain its chicken-y identity against the more assertive green sauce. Next, the ingredients for the salsa were broiled till lightly charred. One of the very best things I learned from this recipe was an alternate technique for roasting chiles. The chiles were cut in half and stemmed and seeded, then tossed in oil (which helps the skin char more quickly and completely), and finally placed under the broiler, cut side down, till the skins were blistered and black. Then I let the pan cool for a few minutes and peeled off the skin. This was so much easier than previous methods I've employed that call for first broiling the chiles without oil, then peeling them after sweating them for a few minutes in a bag, then cutting the chiles and seeding them after they've been broiled. The second thing I learned from this recipe that will make my life easier is their method for heating corn tortillas. In the past, I've heated a small skillet and pan-fried the tortillas one at a time to soften them. In this recipe, you oil them a bit and spread them out on a cookie sheet and bake them for a few minutes to soften them up. It worked perfectly. Garnished with green onions, sliced radishes, and sour cream, they were rich and flavorful without being too heavy.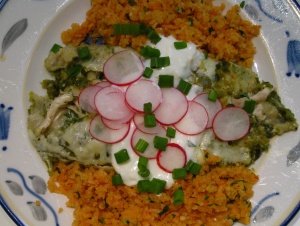 The Cook's Illustrated folks have offered up a freebie recipe as a side to this dish. You can get to this one without having to register (at least at the time of this post)!! The Mexican Rice was the perfect accompaniment to the enchiladas, and it may well be the best I've ever eaten. You get everything together in a Dutch oven on the stovetop, bring it to a boil, and then bake it in the oven till the liquid is absorbed. This has the effect of producing a rice whose texture is moist but not mushy or oily. One thing that I think really upped the flavor ante was the inclusion of chopped fresh jalapenos (seeds and ribs included) after the rice was finished baking. It added nice heat and a super-fresh chile flavor that made that rice capable of standing on its own instead of simply being the relatively flavorless filler left on your plate after you fill up on enchiladas. The dinner was a success, and I now have several containers of delicious leftovers to enjoy through the week.