This may come as a shock to you all, but at least here in Texas, it's officially too hot to cook. I know I'm whining, and I'll do my best to minimize it, but my interest n spending time in the kitchen has been pretty nonexistent for several weeks now. Last week, Chorizo and Sweet Potato Tacos came to my rescue. They come together quickly, and with minimal kitchen heating, and if you do it right, you'll have plenty of delicious leftovers that require little more than microwaving.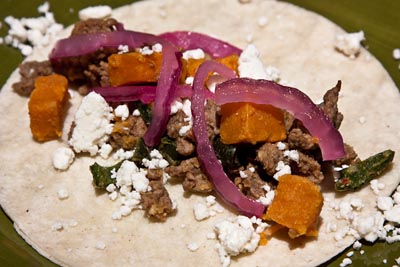 I came across this wonderful recipe in a Bon Appetit article a few months ago focusing on budget eating. I'd happily punch the numbers for you, but I've gotten so darned efficient at dealing with paperwork around the house, that those grocery receipts are long gone by now. Suffice it to say, this is pretty cheap eats. I'd guess you could easily feed a family of four on this meal for $10-15 (depending on how much your family eats).
The flavor combination in this dish is interesting. Sweet yams (or in our case sweet potatoes), spicy poblanos, salty feta, savory chorizo, and tangy pickled onions all crash together in a colorful jumble of perfectly balanced flavor. Set it against the sweet, earthy backdrop of corn tortillas, and you have yourself a right fit meal. Sometimes we serve them with sauteed zucchini or summer squash or maybe some fresh strawberries, and sometimes, we just enjoy them on their own. For us, this makes about two meals, but it's easily scaled to make more.
Chorizo and Sweet Potato Tacos
_adapted from _[_Bon Appetit_](http://www.bonappetit.com/magazine/fasteasyfresh/2009/01/chorizo_poblano_and_yam_fajitas)
2 cups thinly sliced red onions
2 tablespoons fresh lime juice
2 cups sweet potatoes, peeled and cut in a ½-inch dice
¾ pound fresh chorizo, either in bulk or in sausages (from which you'll need to remove the casings)
1 fresh poblano chile, halved, seeded, and cut into thin strips
12 6" corn tortillas
1 cup crumbled feta cheese
Toss the onions with the lime juice and a pinch or two of salt in a medium-sized nonreactive bowl. Set aside to marinate at room temperature, tossing occasionally. Through the course of preparing the rest of the components, the onions will grow limp as they pickle in the lime juice, their dark red color turning almost magenta in the process.
Place the sweet potatoes in a microwave-safe dish with a tablespoon or two of water. Cover with plastic and microwave for three or four minutes, or until the potatoes are tender. Drain the water and set aside.
Saute the chorizo over medium-high heat until cooked through, breaking it up into bite-sized chunks as it cooks. Transfer the chorizo to a bowl with a slotted spoon. If you're trying to minimized dirtied dishes, you can put it in the same bowl with the cooked and drained sweet potatoes.
Spoon off all but a tablespoon or two of fat from the skillet. Add the poblano slices and cook until tender. Return the chorizo and sweet potatoes to the pan and stir until everything is combined and warm.
I heat my corn tortillas in one of two ways. My preferred way is to wrap them in foil and bake them at 300 degrees Fahrenheit for a couple of minutes or till they're softened. As this can really heat up a kitchen, an alternate method is to wrap them in dampened paper towels and microwave them in 10-second bursts till they're soft and aromatic.
Into each tortilla, scoop some of the warmed filling. Then top with a sprinkling of feta cheese and some of the pickled onions. Gently fold in half and consume.