I was recently gifted with a bag full of the most delicate little yellow-orange mangos. Lindsay of Apron Adventures fame offered them up about a month ago, and I could not resist. The mangos came courtesy of the National Mango Board, whose website is an excellent resource for all manner of mango information, not the least of which is a rather large collection of recipes.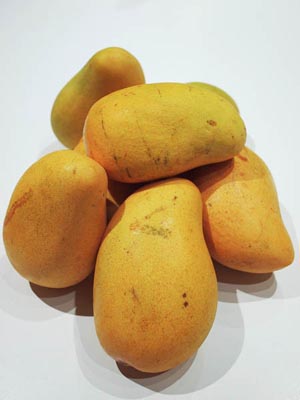 The variety of mangos we received was Ataulfo. They're smaller than the mangos I'm used to seeing in the grocery stores, and instead of the green skin with varying degrees of red blush, the little Ataulfos had solid yellow-orange skin.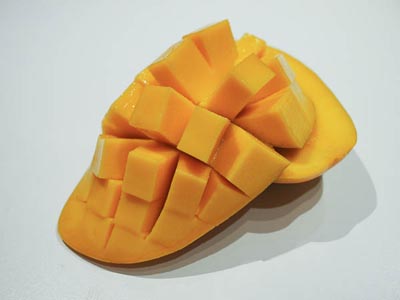 They were so pretty, I had to cut into one right away. It was perfectly ripe. The flesh yielded easily but wasn't mushy. Plus, I was pleased to find that even when I cut very close to the seed, I didn't come away with a lot of tough, fibrous flesh. Their flavor was a rich honey-vanilla, and the sweet aroma was less floral than the mangos I'm used to.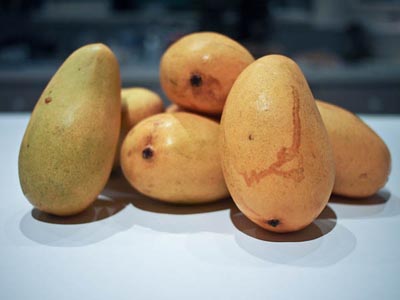 It felt like eating little bites of sunshine. Not the punishing Texas kind of sunshine, but the buttery tropical kind. The kind that sinks into the horizon and is best enjoyed with a mai tai.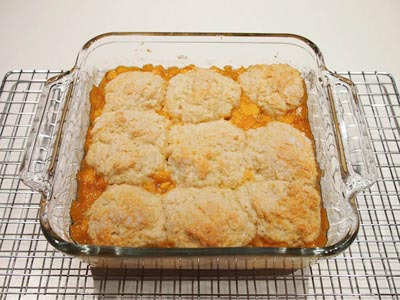 I so enjoyed eating these out of hand that I was halfway through the bag before it occurred to me that I should try to cook something with them. After much hand-wringing and concern over ruining these perfect little fruits, I decided to try making a cobbler. I know, I know. The words mango cobbler just sound … weird, but I assure you, it was delicious. I should warn you though, this is the first time I've every made any cobbler … ever. Especially for a first effort, I really enjoyed it. Curiously, this is also the first cobbler I've ever eaten where the biscuit-like "cobbles" were obvious. (Warning: I'm going to attempt to include a recipe, but I made this about a month ago and failed to write any of the ingredient amounts or method down, so this may not be exactly what I did.)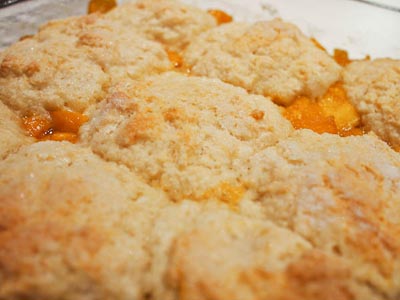 MANGO COBBLER
About 2 lbs mango, cut into ½-inch dice
¼ cup sugar
1 teaspoon vanilla
1 cup (about 4 ½ ounces) flour
3 tablespoons sugar
¼ teaspoon baking powder
¼ teaspoon baking soda
about ½ teaspoon coarse kosher salt
3 tablespoons butter, cut into small cubes and chilled thoroughly
½ cup buttermilk
Preheat oven to 425-degrees (F).
Mix the diced mango, ¼ cup of sugar, and vanilla in a 9"x9" glass baking dish.
In a food processor, mix flour, sugar, baking powder, baking soda, and salt. Add butter cubes and pulse until mixture resembles coarse meal. Dump this mixture into a small bowl. Work quickly so butter doesn't have a chance to melt.
Gently mix buttermilk into the butter crumbles. Dollop this dough onto the top of the mango mixture. Bake for ten to twenty minutes or until the cobbles begin to brown and mango mixture is bubbly.
Allow to cool slightly before serving.