Last weekend, I went to the Sunset Valley Farmers Market. I both love and hate going to the farmers markets in summer time. I love them because the variety of wonderful produce available is amazing. I hate them because they're outdoors and it's hot. I know. I'm a whiner. At any rate, one of my favorite finds at the market this weekend were ripe, fragrant, sweet freestone peaches. And the ones that made it past the eating-out-of-hand gauntlet were turned into a very simple, delicious peach galette.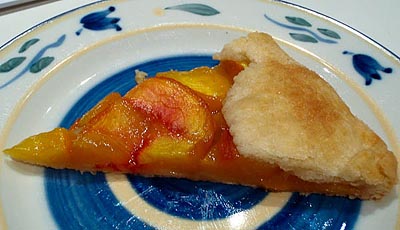 (Note: Forgive the image quality. Sean was pretty busy this week, so I was taking my own peach galette photos - rarely a good idea.)
A galette is a sort of crusty, free-form pie, and I've been wanting to try to make one for ages. I've made lots of pretty tarts and loved them, but I am also very fond of the rustic, unfussy nature of a galette.
Let's start with the crust. I can't remember where I first learned this method (I'm guessing Alton Brown – my official kitchen superhero), but it changed my attitude about pie crusts and biscuits forever. Use a food processor. Sounds sort of weird, right? But it works. For one, you keep the heat from your hands off the butter (or whatever fat you're using). Sure, there's some heat added via friction and the working motor, but this can be minimized by using the pulse function of the food processor. For another, this comes together very quickly. Cold butter stays cold, cold water stays cold.
First, add your dry ingredients to the food processor and pulse a few times to mix and aerate them. Next, chuck in your very cold cubed butter and pulse-pulse-pulse till it resembles coarse meal – for me, it seems to take eight or nine pulses every time. It's okay if your butter chunks aren't all the same size – the slightly bigger chunks will help keep the texture nice and flaky.
Some people say to do this next part by hand, and I do when I'm making biscuits and adding buttermilk, but for the pie crust (galette crust / pate sucree / whatever you prefer to call it), it's all about the food processor. Sprinkle the mixture with the requisite amount of ice water and pulse a couple more times till the mixture starts to come together.
Turn the dough out onto a clean surface and knead just a few times so that all the stray bits of butter and flour are worked into the dough. Finally, shape it into a disk, wrap it in plastic or wax paper, and refrigerate it till you're ready to use it.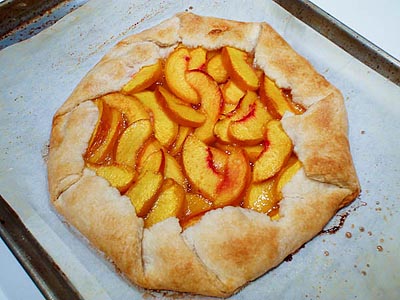 PEACH GALETTE
1 cup all-purpose flour
¼ cup plus 1 teaspoon sugar, divided
¼ teaspoon salt
6 tablespoons butter, cut into small cubes and thoroughly chilled, plus 1 tablespoon butter, melted
3-4 tablespoons ice water
1 lb peeled and sliced peaches
1 lemon, juiced
Place the flour, 1 teaspoon sugar, and the salt into a food processor and pulse three or four times to combine. Add the butter cubes and pulse eight or nine times till mixture resembles coarse meal. Drizzle three tablespoons of ice water across the mixture and pulse a couple of times to combine. Pick up a handful of the mixture and lightly squeeze. If it is too dry to hold together, add the last tablespoon of water and pulse a couple more times to combine.
Turn the mixture out onto a clean surface and gently knead a couple times to get all the stray bits of dough together and then form into a disk. Wrap the disk in plastic wrap and refrigerate for at least a half an hour.
My knife skills are pretty weak, so I actually peel a peach the same way I peel a tomato. Cut an "X" shape into the bottom of your peaches, drop them into boiling water for about 10 seconds, then transfer quickly to ice water to stop them from cooking further. Once they're cool enough to handle, remove from the ice water and gently peel off the skin with your finger tips. Cut the peaches into slices very carefully after that – they will be dangerously slippery.
Take the dough disk out of the refrigerator and roll it into a roughly 15-16 inch circle. It doesn't have to be perfect, but it should absolutely not have any punctures or cracks in it or there will be galette sadness at the end of the day. Transfer the rolled-out dough to a parchment-lined baking sheet and stow in the refrigerator till ready to use.
Preheat the oven to 400 degrees (F).
Mix the peeled and sliced peaches with 2 Tablespoons of sugar and the lemon juice and stir to combine. Allow to sit at room temperature while the oven preheats.
Once the oven is ready, remove the crust from the refrigerator. Dump the peach mixture into the center of the crust and spread it such that a 2-inch dough-border remains around the peaches. Carefully fold the dough-border up and over itself at regular intervals to kind of dam up the peaches (see photo above). Make sure no cracks form as you're folding, or the juices will escape while it bakes.
Once the dough is all crimped up, brush it with the melted butter. Then sprinkle the buttered dough and the peaches with the remaining two tablespoons of sugar. Bake for 35-50 minutes (mine was ready around the 40-minute mark), or until the crust is golden and the peaches cooked.
There are many recipes that suggest sprinkling the dough with crushed amaretti cookies before adding the peaches to soak up the extra juices the peaches exude as they're cooked. I skipped this step though and everything seemed to come out fine. The bottom crust of the galette was plenty firm and the whole thing was wonderfully flaky and tender.
The peach galette is best enjoyed warm and with a scoop of vanilla ice cream.