Lately, I've been really into beans. I know what you're thinking. I don't write for more than a week and when I finally do, I prattle on about the super sexy subject of beans. But hear me out! They're extremely nutritious, filling in a way that few vegetables are, and really cost-effective.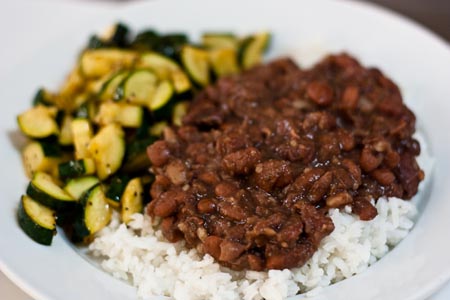 These days, I go through the bulk bins at my favorite grocery store, selecting various beans more for their color, shape, or interesting name than because I have an actual plan for them. Fortunately for me, they have a very long shelf life.
Like many good things (roasts, braises, cures), they take a bit of planning and a lot of patience. With an overnight pre-soak, cooking times can be cut down substantially; however, it will still take time for the beans to fully soften.
I've recently had the pleasure of trying two bean recipes that have been so incredibly tasty, I'd happily eat them on their own rather than relegating them to their normal place (at our house, at least) as a side dish.
The first is a recipe Gourmet magazine reprinted from the cookbook, "A16 Food + Wine" by Nate Appleman and Shelley Lindgren. The Braised Cannellini Beans with Garlic, Marjoram, and Oregano are a smooth and almost creamy affair. The beans are first cooked in water, then braised in olive oil infused with garlic, bay, and oregano until they essentially fall apart. The herbs lend their woodsy aroma to the dish and brighten the rich flavor of the beans. Redolent of garlic, herbs, and olive oil, they were delicious by themselves but even better on toast.
The second is from an old issue of Bon Appetit. They call their dish, Baja's Best Pinto Beans (pictured above atop white rice and with zucchini on the side), and while I cannot attest to whether they're truly the best, I can unequivocally state that they are darned tasty. Often beans are flavored by such glorious additions as pork fat and oil. And that is, of course, a perfectly worthwhile approach. However, the pinto beans presented here pull their flavor from chili peppers, brown sugar, cumin, and oregano. The molasses sweetness of the sugar and the slowly building heat of the chilies don't overpower the gentle pinto. Instead they offer a vividly painted backdrop for the pinto bean to shine. This dish is hearty and satisfying. Served with rice, it provides a complete protein, and is suitable as a main course offering.
Baja's Best Pinto Beans
_adapted from [Bon Appetit](http://www.epicurious.com/recipes/food/views/Bajas-Best-Pinto-Beans-107870)_
2 tablespoons vegetable or canola oil
1-2 cups chopped yellow onion (the original recipe calls for 1 cup of white onion)
4 garlic cloves, chopped
1 large jalapeno chili with seeds, cut in half lengthwise (I have a preference for cayennes or red finger chilies, but those can be difficult to find)
1 tablespoon dried oregano (preferably Mexican)
1 teaspoon ground cumin
9 ½ – 10 ½ cups water
1 pound dried pinto beans, rinsed and picked over
2 tablespoons (packed) dark brown sugar
1 teaspoon salt
Heat the oil in a large, heavy pot over medium-high heat. My enameled cast iron dutch oven works perfectly for this application. Once the oil is hot, add the onions and saute till they're slightly softened and translucent – three to five minutes.
Add the garlic, chili, oregano, and cumin and stir till the mixture is aromatic and the spices distributed, about one minute. Add the beans and 9 cups of the water, and bring the mixture to a boil. Once at a boil, reduce the heat to medium-low, cover, and simmer for one hour.
Once the hour is up, you'll notice that the liquid has become dark brown and the beans have swelled slightly. Discard the chili, and add the brown sugar and salt to the mixture. Increase the heat to medium and simmer uncovered until the beans are tender – another hour or more.
Toward the end of cooking, you may have to add more water and continue to cook to give the beans enough liquid to absorb and soften. Make sure you test the beans; if they aren't fully cooked, their crunchy/chalky texture are unpleasant and can ruin your whole dish.
Mash the beans with a potato masher, till they're as creamy as you like. Bon Appetit suggests mashing most of the beans. I personally prefer mashing them just a bit thereby allowing the bean paste to thicken the surrounding liquid but still leaving most of them whole. Taste again and add salt if necessary