A couple years ago (back when we were a two-income household, I might add), we had the opportunity to spend an incredible evening consuming the most amazing food at the Inn at Little Washington. The traffic was murder and thanks to that and bad weather, we were over an hour late for ourreservation (I called en route and apologized). They accommodated us with grace, and we proceeded to eat the best meal of our lives thus far.
Each course was extravagant and perfectly executed, and the service was divine. Never for a moment of our four-hour hedonistic feast were we ever anything but utterly content.
One of my favorite courses was the cheese course. The fellow in charge of cheese wheeled a large wooden cow (her name was Farrah, if I remember correctly) laden with cheese to our table. He talked with us about our likes and dislikes and chose several cheeses from his selection that would allow us to have some tastes that were familiar and a few that were very new.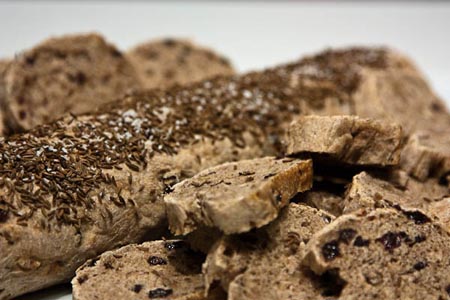 One of the pleasures of that cheese tasting was the discovery of an intensely pungent cheese that was fondly referred to as The General (though unfortunately, I cannot remember it's name otherwise). Another was a lovely rye-currant bread. It was served thinly sliced and was moist and dense. The balance of flavors was wonderful – sweet currants, aromatic caraway seeds, earthy rye, and a brash sprinkling of salt that was an especially nice counterpoint to the sweet.
I almost didn't need the cheese, I was so enamored with the bread. I have had a cookbook from the Inn at Little Washington for years and was pleased as punch to find that this rye bread was in it. I've altered the amounts of caraway and salt that go into the crust to suit my tastes. If you enjoy more or less salt and seed in your bread crust, vary the amounts as you see fit.
SALT-CRUSTED CURRANT RYE BREAD
_adapted from [The Inn at Little Washington Cookbook: A Consuming Passion](http://www.amazon.com/gp/product/0679447369?ie=UTF8&tag=thehuneng-20&linkCode=as2&camp=1789&creative=9325&creativeASIN=0679447369)![](http://www.assoc-amazon.com/e/ir?t=thehuneng-20&l=as2&o=1&a=0679447369) by Patrick O'Connell_
1 tablespoon active dry yeast
2 cups warm water (95-100 degrees F)
1 tablespoon sugar
4 tablespoon coarse kosher salt, divided
4 ½ tablespoons whole caraway seeds
10 ounces rye flour (by weight) – about 2 ½ cups
13 ½ ounces bread flour (by weight) – about 3 cups
1 cup chopped pecans
1 cup dried currants
Dissolve the yeast in the warm water and set aside.
Mix together the sugar, 1 tablespoon of salt, 1 ½ tablespoons caraway seeds, and the flours.
Slowly add the water / yeast mixture and mix till fully combined. Knead till smooth and elastic, 4-5 minutes. Then knead in the pecans and currants till they're well distributed in the dough.
Let the dough rise in a greased bowl (I used peanut oil) covered in plastic wrap till doubled in size, 1 – 1 ½ hours.
Punch the dough down (or gently deflate it) and divide into three roughly one pound pieces. Form each piece into a roughly 12-inch by 2-inch loaf and set aside on a parchment lined baking sheet.
Brush the top of each loaf with water and sprinkle each with 1 tablespoon kosher salt and 1 tablespoon caraway seeds, pressing them lightly into the top of the loaf.
Set the pan aside and allow these to rise for just 20-30 minutes (these will be relatively dense loaves). While they're rising, preheat the oven to 350 degrees (F).
Bake the loaves on the baking sheet for 30 minutes. Turn the pan every 10 minutes to ensure even baking. Allow the loaves to cool completely before slicing.