My name is April, and I am an engineer who loves food and cooking. Okay, to be fair, I was an engineer. From the time I graduated from college until just recently, I had worked as a telecommunications engineer. The itty-bitty telecom company I worked for was purchased by a giant corporation in 2006, and things were never really the same for me. Finally, a year and a half later, with the support of my super-fantastic husband, I resigned from my soul-sucking, entirely-too-political corporate job and started working full-time on various web-based projects.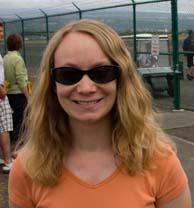 My passion is food, my favorite pastime is cooking, and my favorite night out includes eating at a great restaurant. I love to try new things (and of course, I've had successes and failures). My intention is for this site to be a running commentary on what I'm cooking and where I'm eating and everything in between. Maybe it will include reviews of tools and cookbooks I find useful. Perhaps I'll harass my husband and friends into posting once in a while. And since the "hungry" in The Hungry Engineer shouldn't just be restricted to a hunger for food, I've even left myself room to talk about things that have little or nothing to do with food at all!
Check back often and let me know what you think. Comment on my posts, or if you prefer, you can contact me directly at aprilATthehungryengineerDOTcom.
_
_