You'd think I'd have learned by now that sometimes my ingrained politeness gets in the way. I'd been dreaming of our dinner reservation at Uchiko for a solid week (and dreaming in a less time-dimensioned manner even before that). We walked in for our early evening reservation and were seated at an interior table. I glanced longingly at the light-drenched booths by the windows but didn't want to ask for one them since they were all four-tops. I should have pushed for it. Instead, though Sean worked very hard, our pictures will likely not adequately convey the glory of the food we were able to try out during Uchiko's pre-opening last week.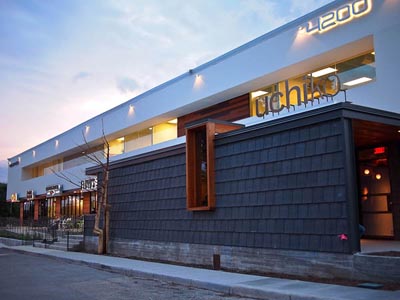 Uchiko has been highly anticipated for at least a year now. Its parent restaurant, Uchi, is routinely selected as one of the best restaurants in Austin (and obviously, we're quite fond of it as well), but Uchiko is more than just a chip off the ol' block. It's about twice as large, seats about twice the number of people, and will be more reservation-friendly. Paul Qui (formerly chef de cuisine at Uchi and current operator of East Side King), will be able to stretch his wings a bit as executive chef of Uchiko. It will be extremely interesting to observe in what ways the two restaurants diverge in the coming months. I can tell you this, even in their pre-opening week this past week, the food quality was on par with our finest meals at Uchi.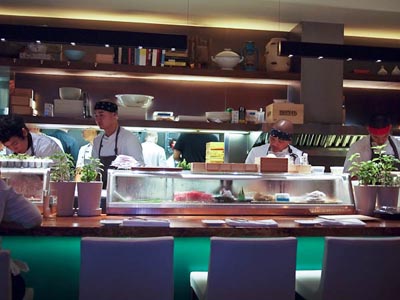 I had been studying the menu for a week and had chosen probably twenty things I really wanted to try. After careful pruning and an eye out for what folks who made it in earlier than us enjoyed, we whittled it down to a smaller (though still too large) list.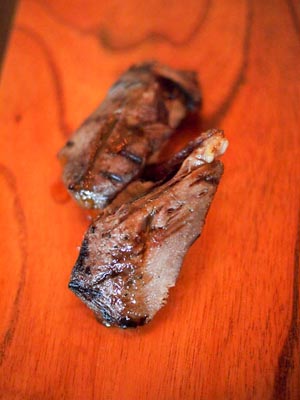 Our first few courses were nigiri-style sushi. We started with the Gyutan, grilled beef tongue with fish caramel and maldon sea salt. I swear I don't do it for shock value – I just really love well-prepared beef tongue, and this certainly fell into that category. The uber-tender meat had a lovely smoky grilled flavor that was an interesting contrast to the tangy sushi rice.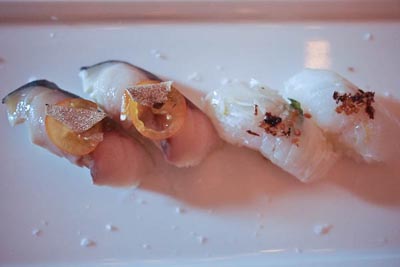 Next were a pair of nigiri, the Hirame, which was Atlantic flounder, black lime salt, shiso, and quinoa candy, and the Shime Saba, a cured Norwegian mackerel, with tomato, truffles, and basil.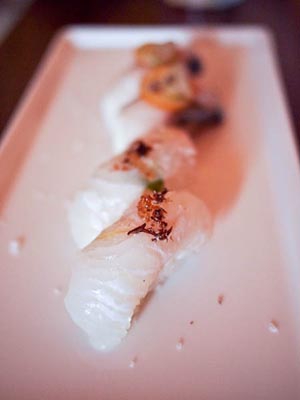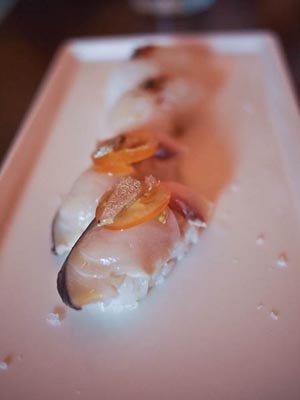 The hirame had a gentle, clean flavor. The tangy salt and sharp shiso accentuated that cleanness. For me, the shime saba was probably the perfect bite. The rich mackerel was made all the richer by a tiny splash of truffle oil. Between the aroma of the oil and the complex perfume of the shaved truffle, the olfactory sensation was unparalleled. And the lively acid of the tomato jarred me out of my truffle-induced stupor and reminded me to savor this bite to the fullest.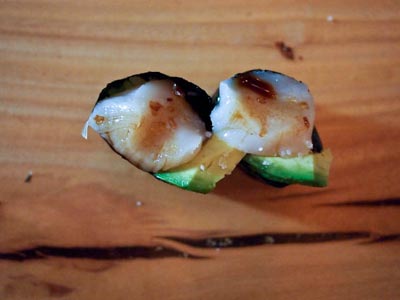 The Hotate came out next. Raw diver scallop with aioli and avocado were set atop rice and wrapped in lovely crisp nori. I loved the play of textures and flavors in this dish: almost crunchy nori, cool sweet scallops, a bit of sizzle from the aioli, luxurious fat from the avocado.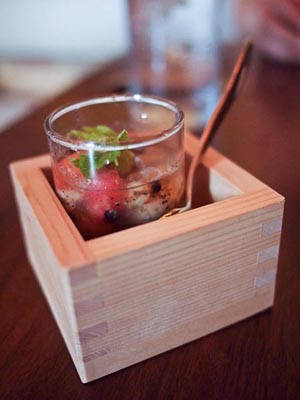 We were surprised next by a gift from the kitchen: the Kai Jiru: Atlantic mussels, heirloom tomato water, basil blossom, and celery. This had been on my (very long) list of things to try, but we were trying to scale back so as not to gorge ourselves too obnoxiously. By this point though, I was so thrilled with the food coming out, that I welcomed obnoxious with open arms. The plump mussels sang out fresh and sweet from the salty tomato water, with a bit of crunch added by the jewel-like celery slices. Sean rarely chooses mussels when he has any other option and actively dislikes tomatoes, but this was his favorite dish of the evening. Thanks are owed to Uchiko for making a believer out of him.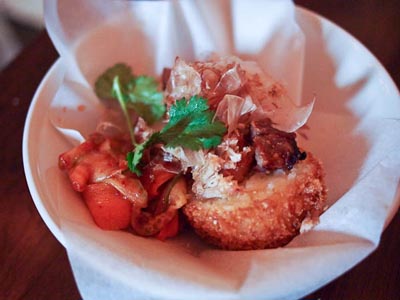 Our most heavily anticipated dish came out next, the Bacon Onigiri. A fried ball of rice was split and stacked with crispy pork belly, topped with dried bonito flakes and cilantro and served with bahn mi pickles. I think the most committed Japanese food hater would be swayed by this lovely morsel.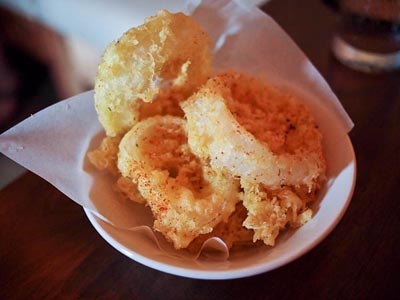 Next up, another gift from the kitchen: Tempura Onion Rings with togarashi, white soy , and lemon zest. Curiously, this is the sort of thing that it never would've occurred to me to order. With all the wonders on the menu, why would I give over valuable tummy real-estate to something like this? Well, because I doubt I'll ever have a more perfectly prepared onion ring. The tempura batter was impossibly light. The onion was soft and sweet, not mushy or stringy. The togarashi seasoning added a nice spice to the dish. And the onion rings weren't in the slightest way greasy.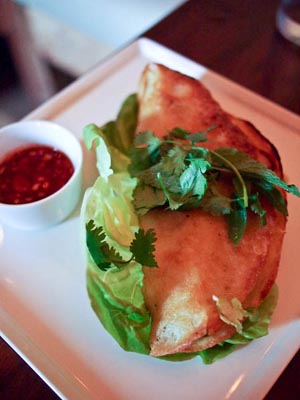 Our next dish had me thinking about Chef Qui's other project, East Side King. The Coconut Milk Crepes (blue prawn, basil, mint, nuoc mam) were crunchy, sweet, spicy, and vegetal. The crepe itself was gently sweet and perfectly crisped. Inside were micro-thin slices of onion and chile pepper, fresh herbs and perfectly cooked shrimp.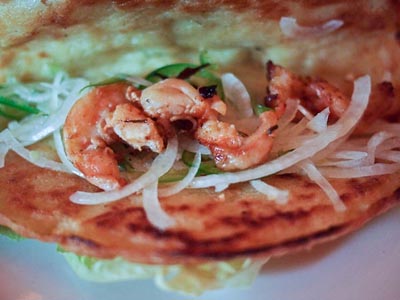 The sweet chile sauce on the side, applied sparingly , was a nice complement to the flavors. I will say, the shrimp, unless eaten alone, got lost in this dish. Everything here was so wonderfully powerful that the gentle shrimp really didn't stand a chance. (Eaten alone though, they were excellent.)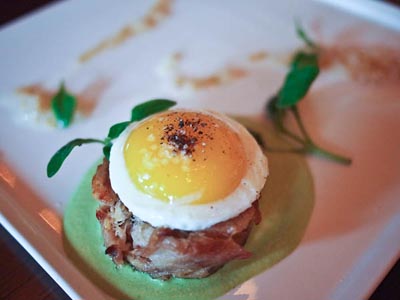 Our most beautiful dish of the evening was brought out next, Usagi Yaki: crispy rabbit torchon, quail egg, pear mostarda. A tidy pile of luscious rabbit was nestled atop a swath of green pea puree and topped with bright, well-cooked quail egg. Sprinkled about was the lightly sweet, seed-studded mostarda. To me, this dish was so evocative of spring that, combined with the rainy weather, it almost had me tricked into believing it really was springtime in Austin.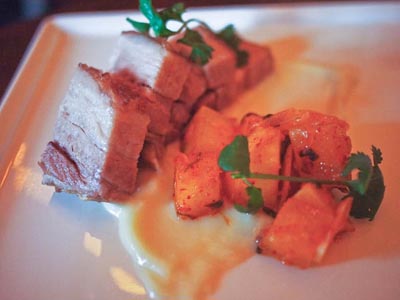 We were breathing a sigh of relief that we only had one savory course left before choosing our desserts when lo and behold, another gift arrived! This time it was the Bacon Sen: Berkshire pork belly, fried apple puree, and apple kimchi. This couldn't have been more different from the bacon onigiri earlier. Slabs of pork belly, resplendent in their own intense porkiness, sat next to a smear of rich, sweet fried apple puree. Next to those, a pile of sharply tangy kimchi apples sat basking in their own glory. I liked this dish a lot, though the star for me was those apples. The pork, especially when eaten with a bit of the apple puree and a very tiny nub of apple kimchi was excellent and, as mentioned, very porky. However, if the apple nub was too large, it sort of stole the show.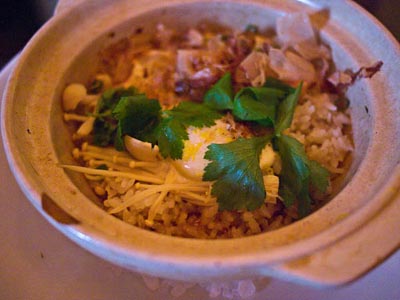 Our final savory course was the Take Nabe: Japanese mushroom, koshi hikari, farm fresh egg, bushi. I want a nice cold day so that I can enjoy this dish properly. In short, I loved it. Tangy rice that had browned a bit on the bottom of the bowl held meaty enoki mushrooms, soft-yolked egg, and wavy ribbons of dried bonito. The mushrooms were a bit difficult to chew through, but once that was managed the flavors were excellent. This was a rich and hearty bowl of rice, and I would happily eat it every day in January.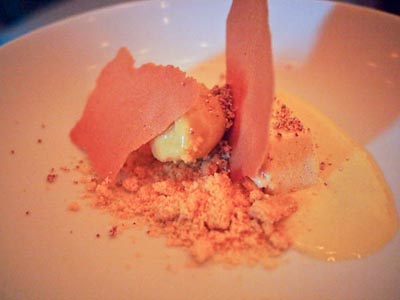 The desserts, as is the case at Uchi, were novel and utterly surprising. I had the Sweet Corn Sorbet with polenta custard, caramel salt, and lemon. This was the perfect dessert for me, sweet but not too sweet, multi-textured, and featured corn, a rather odd dessert ingredient.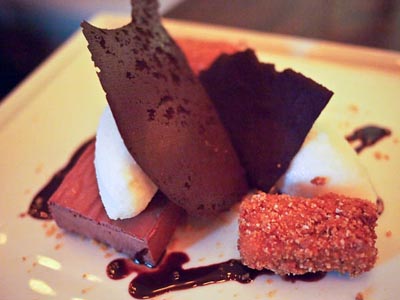 Sean's dessert was the forerunner though. He chose the Fried Milk with chocolate milk, toasted milk, and iced milk sherbet. This was a triumph of melding disparate textures and temperatures and achieving what for Sean may have been the perfect dessert bite. This was comfort food and culinary surprise all in a single perfectly-constructed dessert. Executive pastry chef Philip Speer has outdone himself with this one.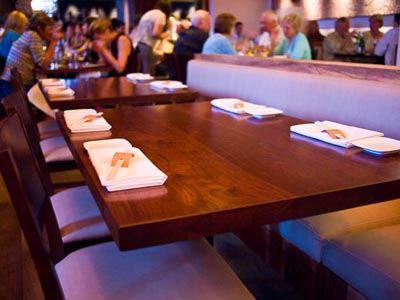 The aesthetic of the place should not be overlooked. The restaurant is, naturally, gorgeous. It is elegant but low-key and casual. There are beautiful finishes intermixed with fun accents as well. The sushi bar is large and well-lit. All of this fits well into an Austin dining scene that understands quality but prefers to enjoy it without a lot of frill and fuss.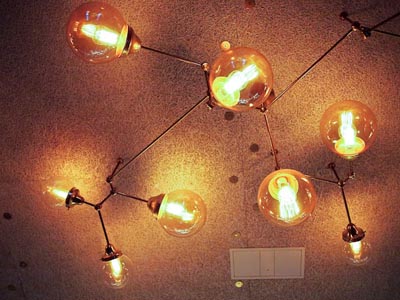 One thing to remember is that Uchi is a well-oiled machine at this point. Uchiko is just opening on the 6th of July. Service was friendly and informative, to be sure, but we noticed that the timing was a little off. Sometimes we'd get dishes one after the other so quickly we were still chewing the first dish as the second one came to rest on the table. Other times, we'd wait for long stretches. The trick is to have patience and remember that they're new and any kinks will almost certainly get ironed out over time. Either way, the food is some of the best you'll have in Austin, and the culinary inventiveness and quality are absolutely top drawer. Highly recommended.