Recently, we took advantage of a gorgeous weekend here in Texas and spent an afternoon in Wimberley. Our intention had been to head down to tour the olive orchard at the Bella Vista Ranch, but we wound up staying for a late lunch / early dinner at The Leaning Pear.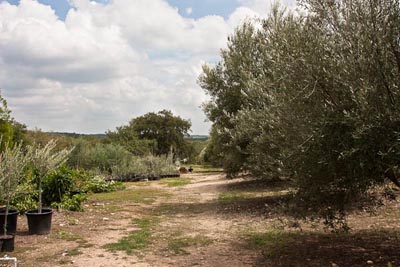 The olive orchard at Bella Vista Ranch was interesting. The temperatures here have finally settled to a dull roar, and the weekend was a perfect one for walking amongst the olive trees. We signed up for the ten-dollar-tour (scheduling available at their website) which included maybe an hour's-worth of discussion and tour followed by a guided olive oil and wine tasting. During our tour, we also got to check out the frantoio – their hard working olive press. (If you want to see the frantoio in action, you have one more chance this coming weekend, on October 3rd. Otherwise, it'll be next fall.)
Bella Vista Ranch, modeled after a traditional Italian family farm, is the first productive olive orchard in Texas. The Hill Country's poor soil and hot summers mimic nicely the Mediterranean conditions the olive trees are used to, so they grow and produce beautifully. Unfortunately, we have some crazy weather conditions through our semi-winter that can wreak havoc on the trees. The folks at the ranch have learned to take advantage when the harvest is good, and cope as gracefully as they can when a crazy 50-degree drop in temperature wipes out literally half their trees.
Also found around the ranch are a variety of citrus trees (one particular lime tree is lovingly known as "Jack's Margarita Machine" - named so by the ranch's owner, Jack Dougherty), an asparagus patch, and a bunch of olive paste-loving cattle. The setting was idyllic enough when we visited, but I can only imagine how miserable it can be harvesting olives by hand from over a thousand olive trees in the hundred degree heat of late summer.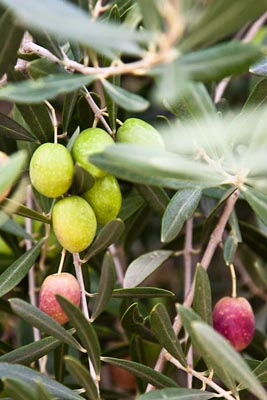 Their olive oils are bottled under the name First Texas Olive Oil Co. Their unflavored extra virgin olive oil has a wonderful grassy, peppery flavor that so far we've only really managed to enjoy by soaking into bread and consuming outright. Bella Vista Ranch also sells some very intriguing flavored oils. My particular favorite was a blood orange infused oil, but they also have a mouth-wateringly-intense garlic infused oil as well as a truffle oil.
They also sell jams and soaps and vinegars. We, for instance, went home with a vanilla and fig infused balsamic vinegar that's very tasty, as it turns out, on vanilla ice cream. There are a handful of wines available for sampling and purchase as well.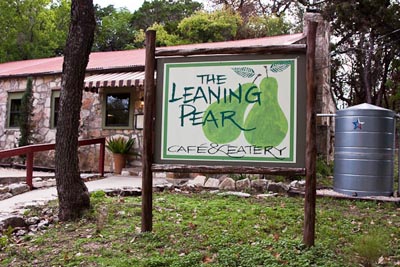 After all that sipping and sampling, we were ravenous and trying to figure out where in Wimberley to eat. We had heard about The Leaning Pear restaurant from blogger Jodi Bart at her Tasty Touring site and decided to give it a shot. We were not disappointed. The restaurant itself is very pretty. It's a restored house (one of the oldest structures in Wimberley, in fact) with a beautifully arranged outdoor seating area. We came at an off time, so it wasn't very full, but I can imagine it being peaceful and relaxing even when all the tables are occupied.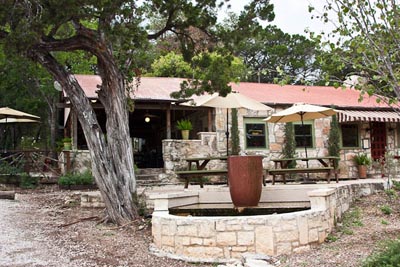 The menu is comprised simply of soups, salads, and sandwiches, but I've heard it said before that simple can be very difficult to do well, and these folks have it nailed. Sean and I both started with a Blue Cheese and Tomato Bisque. The tomato soup was a vibrant red-orange and tasted of roasted tomato goodness. The blue cheese dolloped on top added an at once rich and piquant note.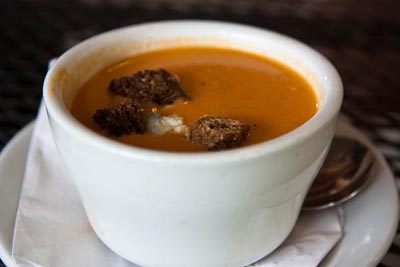 My Shredded Beef Torta was incredible. The meat is slow-cooked in citrus and seasonings, so it is both fall-apart-tender and almost sweet-spicy in flavor. The red cabbage, jicama, and poblano slaw it was served with was beautifully textured and an assertive counterpoint to the sweet meat. It was served with house-made potato chips that were blissfully crunchy and not even a little bit oily.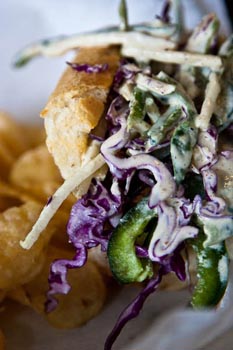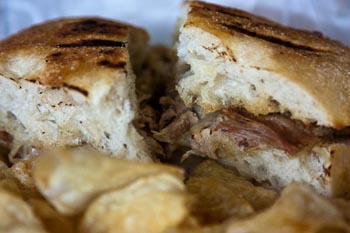 Sean's Porchetta Panini (which I had actually wanted to order, but he beat me to it) was very nicely cooked, but more subtle in flavor. It's not that it was a bad sandwich, it's just that we both wound up preferring the more punchy flavors in mine.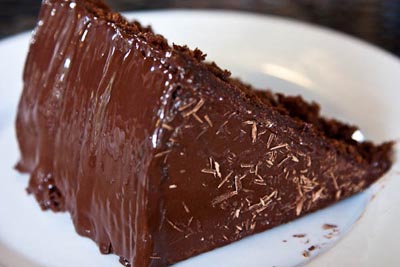 Dessert was unreal – there's no other way to describe it. Sean ordered, innocently enough, a slice of chocolate cake. This chocolate cake was the size of his head, no kidding, and it was apparently so incredibly good that the maroon actually tried to eat it all. He stopped short of his goal, but not quickly enough to avoid feeling miserably overfed. I ordered the panna cotta with wild blueberries which turned out to be much more realistically sized. This was maybe the best panna cotta that I've ever eaten. It was rich and creamy and the light blueberry sauce was as acidic as it was syrupy and topped with a few mint leaves made for the perfect balance of flavors.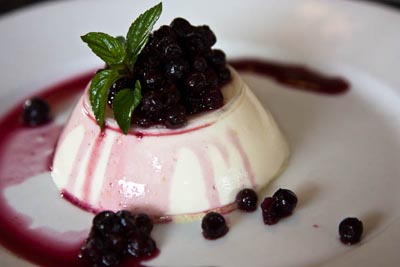 If you find yourself in Wimberley, TX when The Leaning Pear is open, I highly recommend stopping in. The make an art of their straightforward soups, salads, and sandwiches.