Trailer eating in Austin has only been picking up steam since the last time we went trailer touring. Recently, with our trailer buddies Jeff and Sharon in tow, we attended the Tasty Up Trailer Tour, a mash-up between Jodi's Tasty Touring and Addie's Eat-ups.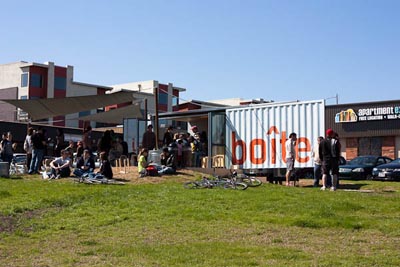 This tour was billed as a "choose your own adventure" situation and with some fifteen eateries participating in this tour, we'd obviously have to do some picking and choosing. Naturally, I had a list of places I wanted to try, and factoring in the places I knew my spouse and friends would want to try also, we came up with a pretty solid itinerary.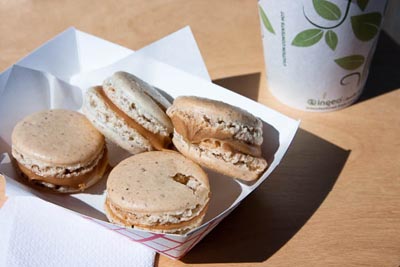 Our first stop was at the La Boite Cafe. Rather than operating out of a trailer, this place was created from a converted box car. And the set up seems to work really well for them. With their hillside location and nearly always sunny Austin weather, this would be a very open, inviting place to wake up with your morning cup of coffee. We augmented our complimentary French press coffee (which was smooth and perfect, by the way) with Salted Caramel Macarons. These cookies were so exceptional, it almost seems like a slight to call them cookies. The crispy on the outside, chewy in the middle cookie halves bookended a fat slab of gooey caramel. This was my first macaron, and I've been thinking about them ever since.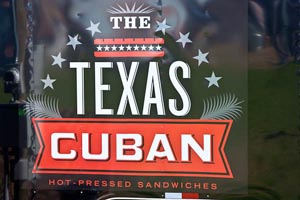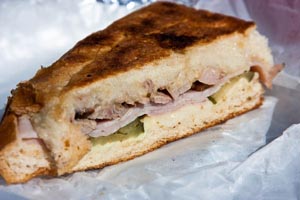 For our next trailer adventure, we moseyed down the hill to visit The Texas Cuban. Sean and I shared a quarter cubano which was served with a small side of fried plantain chips (labeled "Mariquitas" on their menu). The plantain chips were tasty enough, but it was the sandwich I was drawn to. Layers of grilled pork, ham, swiss and provolone cheeses, pickles, mayo, and mustard were pressed between and almost soft bread. I thought the flavor was wonderful. However, there weren't that many people in front of us in line and we still had to wait an incredibly long time for our food. I'm hoping this was just a consequence of trailer tour overpopulation, but there really didn't seem to be that many folks ahead of us. With their intriguing menu, I'd be game to try it again.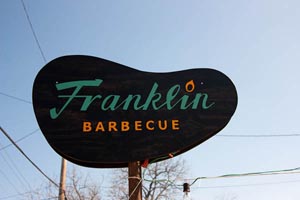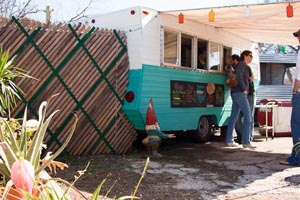 Next we trucked it on down for arguably my favorite stop of the trip – Franklin Barbecue. I'm one of those annoying "have to go to Lockhart for good barbecue" people. Sean's one of those annoying "Beef is not barbecue" people. Sharon's one of those "Texans can't do good pork ribs" people. Only one of us was disappointed, and that's because Franklin had run out of ribs by the time we got there.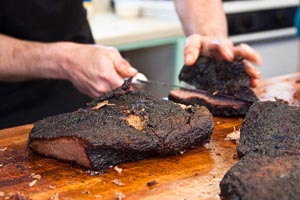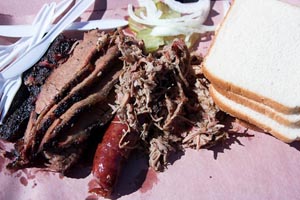 Their burnt end brisket was to die for – they even let us try it before buying it – how's that for service! Their pulled pork was amazing. I'm with Sean on this one – I haven't had a decent pulled pork sandwich since our last trip through Memphis. This one most assuredly held its own. With the addition of Franklin's sweet sauce (one of four homemade sauces – the other favorite of ours was their espresso sauce), that sandwich was pure heaven to anyone who was raised on barbecue that was porky and sweet.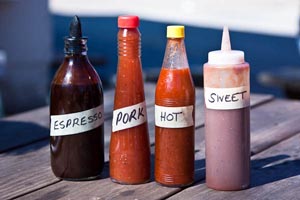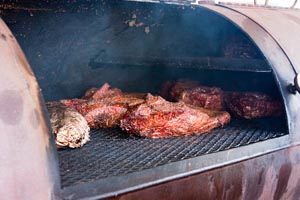 The one downer for me was their sausage. If you've followed my exploits on this blog at all, you'll know that I'm kind of a sausage fiend. Franklin's was rather tough, overly greasy, and certainly not as flavorful as I'd have liked. Sausage aside though, I can say without a shred of doubt that we will be back here and soon.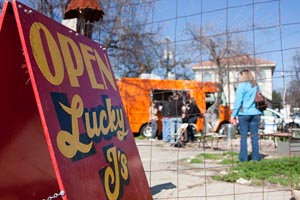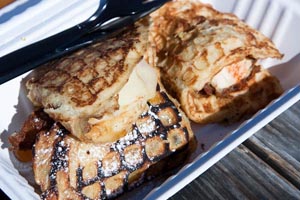 Sharon and I needed a rest, so we headed over to Lucky J's so Sean and Jeff could have chicken and waffles. They split the Brady – waffle, bacon, swiss cheese, and honey hot sauce, a Mrs. M – waffle, bacon, swiss cheese, and chicken, and a standard Chicken Waffle. My understanding from the two of them was that the innards all tasted delicious but that the waffle was not so good. From the one whole bite I tried of their chicken waffle, I'd have to agree. The chicken was crispy and peppery and went really nicely with a dab of maple syrup, but the waffle was almost rubbery. Maybe they too were having a rough time dealing with the crowds, but in this case, I doubt we'll give them another shot.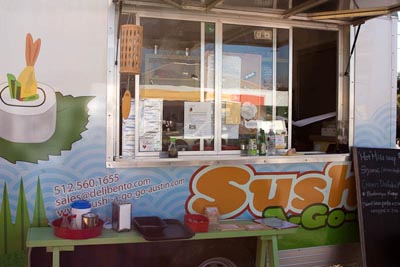 Next on the itinerary was Sushi-A-Go-Go. I'd been wanting to try trailer sushi since it opened but hadn't had the opportunity. Being somewhat un-enamored with raw fish, Jeff and Sharon sat this one out.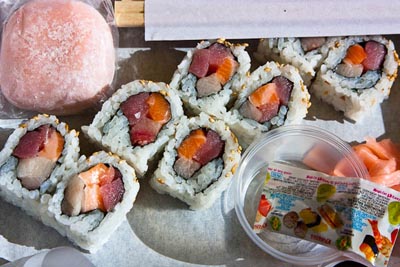 Sean and I ordered the Trio Roll – the trio being salmon, yellow tail, and tuna – and a Blueberry Mochi. The roll was so incredibly fresh! After all the heavy food I had been eating, it was cool and refreshing. The mochi – another first for me – was bright and sweet and had an interesting texture. I enjoyed the sweet bean paste filling more than the somewhat chewy shell, but overall, it was a pleasant enough experience. I would definitely buy more sushi from this place. I have visions of stopping in for takeaway lunch after grocery shopping some morning in the not-too-distant future.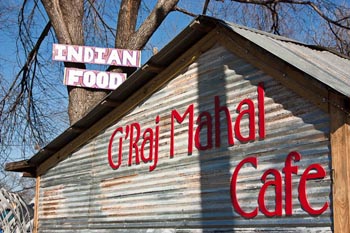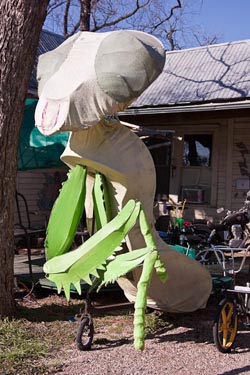 Another trailer I had been aching to visit is G'Raj Mahal. Sean and I were again the only eaters in our party. The G'Raj Mahal trailer is a shiny, purpose-built creature that stands in stark contrast to the flowing, gentle, even whimsical décor in and around the seating area. A waiter took our order and brought us our food – pretty swank for a trailer.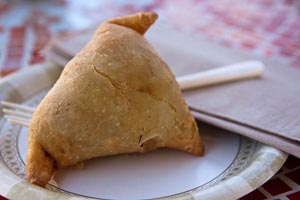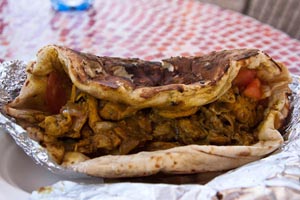 Sean and I split an order of samosas, a chicken-stuffed naan, and kheer for dessert. I wanted badly to like this place. Indian food from a trailer eaten at a table watched over by a giant metal praying mantis is my screwball idea of heaven.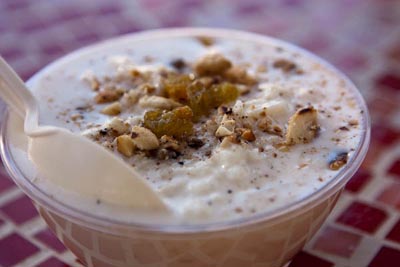 Unfortunately, the food wasn't that fantastic. The samosas were dry. The filling was tasty enough, but the pastry was kind of tough and plain. The naan was a bit too burnt to be tasty. The chicken filling was tasty enough, but it didn't seem right wrapped up in naan. Sean tells me the kheer was good, but not as good as his reigning favorite, Bombay Bistro. People whose opinion I trust have absolutely raved about G'Raj Mahal, so I'm hoping this was another case of trailer-tour overload and that a second visit will garner a more positive experience.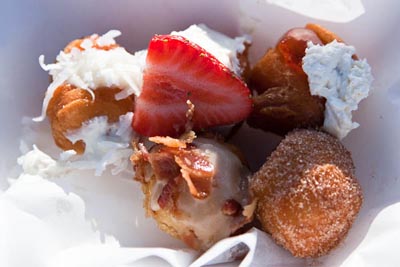 Next up was Gourdough's and Odd Duck Farm to Trailer. I've written about Gourdough's before, and loved it just as much this time. Sean got the five dough-nut hole sampler, which included Flying Pig (bacon and maple syrup icing), Slow Burn (habanero pepper jelly and cream cheese), Naughty and Nice (sugar and cinnamon), ODB (cream filled dough-nut holes with icing and coconut), and Miss Shortcake (cream cheese icing and fresh strawberries), and I nibbled a bit here and there when it was required of me. I've had the flying pig before, and I still hold that it's my favorite. However, the Slow Burn with its spicy jam and cooling cream cheese was pretty darned tasty.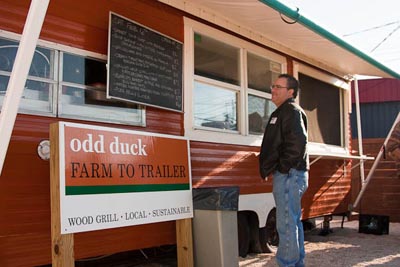 I was kinda full by the time we got to Odd Duck, so I could only order one thing … which was really too bad because I saw several things I wanted to try. Unfortunately, I couldn't convince anyone else they were hungry enough to order the extra items so I could try a bite of theirs.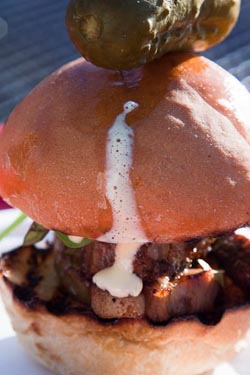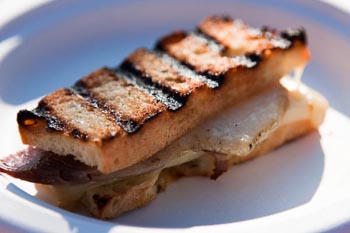 In the end, I settled on the Pork Belly Slider. After ordering and getting settled in, the sandwich was brought to our table – again with the service! It was a creature of beauty. The bun was soft and tender, the pork was rich and luscious. My only tiny complaint was that I'd have preferred the pickle sliced and on the sandwich rather than cutely perched on top, but with that critique I'm probably just splitting hairs. Jeff and Sharon did manage to eat a tiny grilled Ham and Cheese on Focaccia sandwich and seemed to enjoy it as well.
At the end of the day, we were dog tired and edging toward unpleasantly full. Correction, I think Sean was squarely in unpleasantly full territory. You did catch in that narrative that Sean managed to eat something at every single place we visited, right? He's the only one out of us who managed it.