After a few beers to celebrate a friend's birthday, we decided that what we wanted more than anything was pizza. We decided to hit one of the places we didn't have stomach capacity to visit during the Tasty-Up Trailer Tour this past spring. Tucked away just this side of nowhere is one fantastic pizza joint: Spartan Pizza.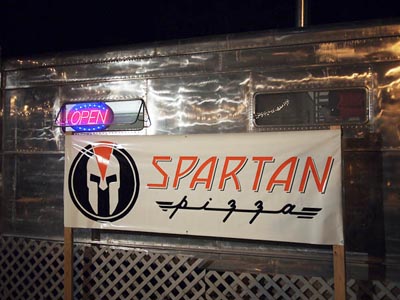 The shiny trailer glows at night, beckoning the pizza-starved masses to come to its door. However, this pizza-starved couple managed to drive right past it on our first go. Once we made our way back and got parked, we ambled up to the front window and checked out the menu. It was gorgeous, and we wanted one of everything. The friendly fellow in the truck patiently waited for us to decide before cheerfully taking our order. We settled on two very different pies.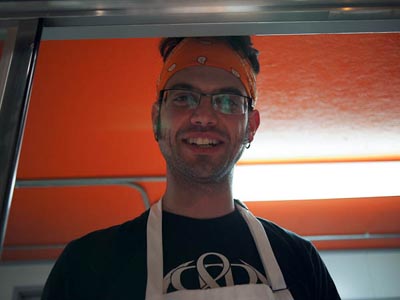 I ordered the Helen, a fairly simple pizza with garlic olive oil, fresh tomatoes (read: Sean-repellent), sun-dried tomatoes, fresh basil, and fresh mozzarella. It was perfect. The mix of fresh and sun-dried tomatoes was delicious and the clean notes of fresh basil paired nicely with the rich, blindingly white mozzarella. Plus, the crust was lovely. It was tender without being doughy and crunchy without being tough or burnt.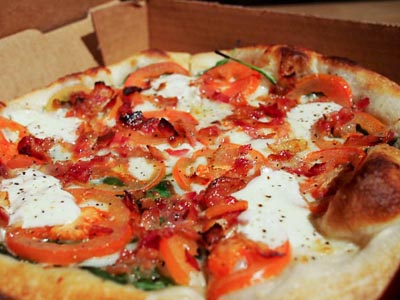 Sean went bold on his choice, the Pegasus, which sported cilantro pesto, buffalo chicken, red onion, banana peppers, and blue cheese. The flavors were punchy but perfectly combined. And again, we couldn't have asked for a better crust. Given the lack of conversation, I believe that Sean was quite pleased with his choice (in fact, I'm probably lucky that I got to try it at all).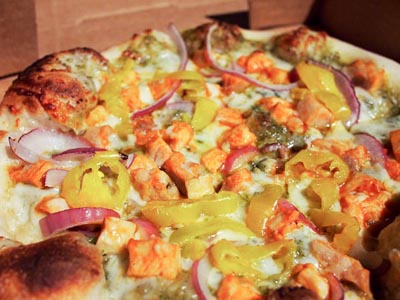 A couple notes … I'm pretty sure that most folks buy their pizzas and then head over to the bar next door to eat. As we were just coming from a bar, we decided to sit outside at one of their picnic tables and enjoy the fresh air. Unfortunately, this meant we were lacking for drinks. Fortunately, there's a convenience store next door as well, and we were able to snag some drinks there. All that to say that if you're choosy, bring your own. Another important point, at least when we went, Spartan Pizza was cash only.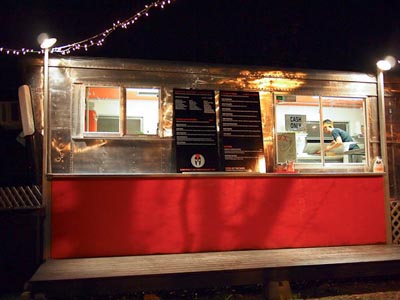 For my part, I cannot wait to go back. There wasn't a single pizza on their menu I wouldn't have been willing to try, and several that I desperately wanted. Unfortunately, from our suburban bubble, it's a pretty good haul, so it may be awhile before we get to try anything else.