Mirabelle, a self-described "eclectic American bistro", is an Austin restaurant that fits in perfectly with the city's casual-gourmet food personality. It offers up a variety of inventive menu items that pay homage to no particular ethnicity or cuisine, but instead present a range of tastes and sensibilities to suit a creative kitchen and a wide swath of the dining public. In breaks from cooking at home and dieting respectively, we found ourselves there yesterday evening with some friends of ours. (I feel it's only fair to mention that the deal was sweetened by the generous coupons we were able to use.)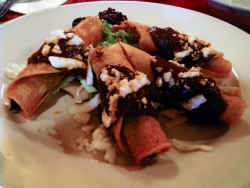 We have eaten at Mirabelle before and always enjoyed it. The ambiance is warm and unfussy. They use very fresh ingredients, and are wonderfully unafraid of big, bold flavors. Our dinner this evening began with a breadbasket full of lavash and both olive-bread and white bread. Both the lavash and olive-bread (the two I tried) were fantastic. Next, Sean and I split an order of the Smoked Pork Tenderloin Flautas. They were wonderful! The super-smoky pork was rolled up in perfectly crispy tortillas, and had a spicy guacamole-type sauce on it, a lovely bitter and smoky ancho sauce around it, and a dried cherry chutney on the side. The flavors were pronounced, but not so much so that you couldn't appreciate how expertly they had been combined – and the minimally sprinkled queso fresco topping added the exact right salty note to the dish.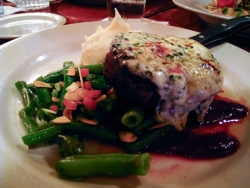 Next our main courses were delivered. Sean had the Grilled Beef Tenderloin with Smoked Gouda. It was incredible. Imagine the creamiest butter you've ever had melted over a steak, give it a slight hint of cheese and a big wallop of smoke. (Are you writing this down? Melted smoked gouda + grilled steak = wicked good eats.) The steak was maybe a little further along than the medium Sean had requested, but it was darned tasty regardless. The tangy sauce that was served with it was a phenomenal counterpoint to the rich melted cheese. I went for the duck entree. I am sorry to report that I failed to write down what I had ordered because I had assumed it would be on their on-line menu (as of this writing, it's not there). It was duck breast served with some sort of rich brown sauce that was mildly flavored with chipotles. On the side were an Israeli couscous dish with pine nuts, dried fruit, and avocado and some steamed greens. One thing that Mirabelle does absolutely flawlessly is side dishes. The couscous was rich and sort of sweet and the avocado lent it an unexpected creaminess that was really very nice. The greens were perfectly cooked and had a lightly spicy/acidic component that did much to heighten the greens' flavor. The duck itself was interesting. To start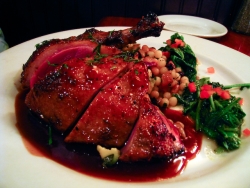 with, I learned something new during dinner that evening. When my duck breast showed up and had what appeared to be a leg sticking out of it, I asked the waitress if I had gotten the right dish. She very helpfully talked to the kitchen crew about it and here's what I was served: duck breast with drumette. The drumette is actually the top, meatier portion of the wing, and it is (apparently) often served with the duck breast. From now on I'll know, and I can avoid that silly look of shock that must have been on my face when I was served a breast that appeared to have sprouted a leg. The duck was well prepared, but I had issues with it. Don't get me wrong, the flavor was tremendous. The warm and lightly spicy/smoky sauce was really good with the rich duck meat. And the meat itself was still a bit rare, which is perfectly acceptable (and encouraged) in a duck dish such as this. I am particular about my duck skin though. I find it best when it has been slashed and cooked till very crispy, allowing a bit of the fat to render off and, of course, firming up the skin a bit. When it is cooked like this, it is one of my very favorite things to eat. Unfortunately, the skin on my duck breast was not crispy at all, so I found myself laboring through ¼" thick layer of soft, fatty skin as I cut and chewed each bite. I tried eating some without the skin, but it was drier than I would have liked, and come on, that delicious fat is half the reason to order duck. Eventually, I just gave up and declared myself full. I have no doubt that there are plenty of folks out there that would love the duck exactly as the folks at Mirabelle had prepared it, but it just wasn't what I was looking for. Fortunately, there were plenty of good things about the dish, and I left feeling satisfied and well-fed.
All told, the food that Mirabelle prepares is really very good. The folks that serve you are friendly and helpful and seem to genuinely care that you're having a good dining experience. This is a good destination for an unpretentious meal filled with good food served in an Austin kind of restaurant, and I think we'll likely be coming back – with our without the coupons.