There are any number of Mexican restaurants around Austin, and Sean and I frequent several of them. One that I'm particularly fond of is Marisco Grill. What I love about this place is that it is primarily a Mexican seafood joint, which makes it sort of unique for the area.
We went there with a couple friends this past Saturday evening just to get out of the house for a while. Marisco Grill has two locations in Austin, one downtown, and one further north on Burnet Road (which is the one that we go to). There's indoor seating that's sort of dark and bar-like, but the patio out front is actually reasonably pleasant. But never mind the atmosphere – check out their menu. The seafood selections in particular are really good. In the past we've had things like seafood empapelado (a mixture of seafood steamed in a foil bag that is opened table-side - yum), quesadillas de camerones (shrimp quesadillas may sound boring, but I assure you, these are extremely tasty), oysters on the half-shell (fresh and delicious), and ceviche (we know how I love ceviche, and theirs is really good – among other things, they put avocado in it) and been extremely happy with our selections. Sean is particularly fond of a dish called simply Mar y Tierra. It has perfectly prepared shrimp, marinated steak, and accompanying sides, and it has been pretty consistently delicious.
This most recent evening, we didn't choose any of the above mentioned dishes. Marisco Grill has the "regular" expected Tex-Mex items on their menu as well, and Sean decided to go for some beef enchiladas con queso. He declared them tasty enough, but nothing he couldn't get anywhere else. I, on the other hand, had the camerones del diablo – shrimp in habanero sauce, and it was really delicious. The heat of the peppers was definitely present, but the flavor of the sauce was wonderful and it complemented the sweet shrimp really well. With rice and mixed vegetables on the side, it was the sort of meal that was exactly the right size for me. I tamed the sauce's heat with a nice margarita on the rocks and had a darned fine dinner. (Of course, by the time I finished eating that habanero sauce, I was certainly sweating out on that patio!)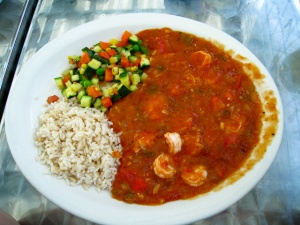 Our friends had already eaten that evening, but they went out with us anyway and had dessert. One of them had fried ice cream (which wasn't really fried), and the other had tres leches cake, which was actually pretty decent.
Given all that, here's my advice for eating at Marisco Grill – stick with their seafood dishes. They're interesting and flavorful and not the sort of fare you can necessarily get all over town. You'll be happy you did.