Since departing from my reasonably lucrative engineering career, Sean and I have been on a budget. One of the things that's sadly taken a hit has been our ability to try out swanky new places to eat. Fortunately, for a few days in early March, we were able to take advantage of Austin Restaurant Week. During this period, various fine dining establishments around town are offering fixed-price multi-course meals for either $25 or $35. While we tried a couple of places, our favorite was Jeffrey's.
This was our first time at Jeffrey's, though it's been around for a while. The interior was beautiful, if a little under-lit. The general color scheme called into mind a very understated sort of elegance, but all of this was playfully thrown off-kilter by the colorful artwork adorning the walls.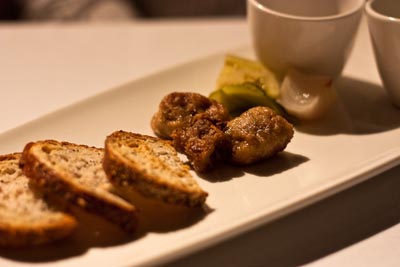 For my appetizer, I had Crispy Bone Marrow. It was exciting because this would be the first time I'd ever tried bone marrow for bone marrow's sake. The flavor was an amazing blend of buttery and meaty. And the texture! It was tender and moist, almost fat-like on the inside, and perfectly crisped on the outside. Enjoying the little marrow chunks on their own would've been enough, but they were served as well with small slices of toast and various flavorings – mustard, pickled onions, herbs. The bright, acidic accompaniments accentuated the marrow beautifully.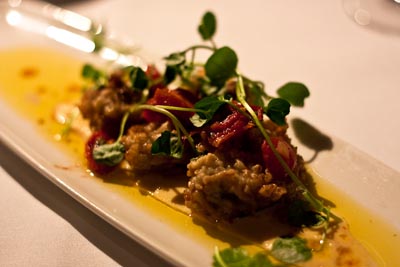 Sean had the Southern Style Oysters – he was speechless as he was eating them, and it was with obvious regret that he realized I was expecting to try a bite of his food. The flavor of the oysters was light and briny, and their coating didn't get in the way of that. They were served with a sun-dried tomato vinaigrette which gave them sort of a warm and almost hearty edge that they wouldn't have had otherwise.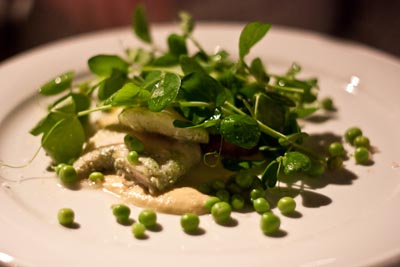 For my main course, I chose the Marinated and Baked Halibut Cheeks. (See how I'm not making a butt cheek joke? How grown up am I! Admittedly, there is a perverse part of me that finds it hilarious to think "butt cheeks" in my head while I'm ordering halibut cheeks in such a fancy and otherwise respectable place.) They were mild but well-prepared. The peas were delightfully crisp, and the braised cheeks had a unique texture – firm and yet almost silken in their softness. I didn't understand the little slab of pork belly. It was good by itself, but I'm not sure it went with the dish. This may just be my only-semi-refined palate talking, but I sort of feel this dish, minus the pork belly naturally, took the idea of subtle flavoring dangerously close to the edge of blandness. I didn't dislike it, but it's likely not something I'd order again.
Sean orderd the Burgundy Pastures Short Ribs. When repeatedly asked how he was enjoying it, he shrugged and said the meat was very well prepared but what really made the dish were the goodies surrounding the meat. I tried it myself, and he's right. There is no fault that can be found in the meat, and it was delicious. But it was definitely overshadowed by the things around it. The potatoes and dates were divine – richly flavored – I could've eaten just them for dinner and been very content.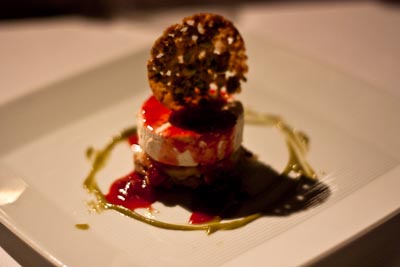 The desserts in particular were a success. They were out of the particular sweet I had chosen, so they let me choose from any of the desserts they offered. I chose the peppercorn ice cream. Unfortunately, I can't find their dessert menu on-line at this time, and I also took no notes on what I had ordered (I know, I know, flagellation with a tiny notebook and ink pen are all I deserve). Suffice to say, it was incredible. The ice cream actually tasted of peppercorns, and pleasantly so. The lacy cookie that accompanied it provided some nice crunch. Its sweet phyllo platform, while a bit difficult to eat, made for a very nice delivery device for the subtly piquant bites of ice cream.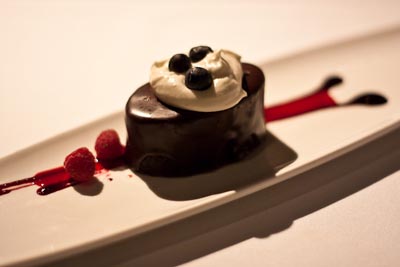 Sean's Chocolate Intemperance was a pleasantly bitter but undeniably rich chocolate cake (though calling it cake feels like an incredible understatement). It's been entertaining to watch his "chocolate" palate develop over the years. He's always been partial to the fancier bars of just plain chocolate, but the cacao content has steadily been climbing as his appreciation for the bitter component has increased. I don't know if he'd have enjoyed this cake, say, seven or eight years ago, but he was pretty blissed out about it on this particular evening.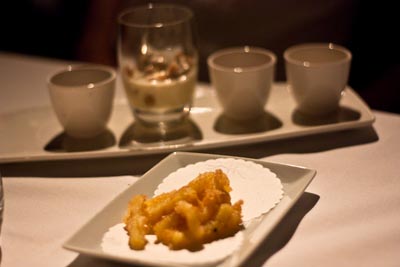 A friend of ours went along and he ordered the Inverted Coke Float with Pineapple "Fries". His pineapple "fries" were a revelation. They were incredible, even without the trio of exotic dipping sauces. He assured me that his coke float was quite nice as well. (I don't get to bully him into letting me taste his food the way I can Sean.)
Overall, it was a good experience. The food was well prepared and the service was pleasant. My only complaint is that I thought the portion sizes were so small as to border on ridiculous. If I had ordered any of those things at full price and been brought the same size serving, I might actually have been miffed enough to protest. My assumption is that that is how they deal with the restaurant week pricing. Our meals were interesting enough that I think we'd both give them another day in court.