I (sadly) don't tend to venture too far from home for my dining out experiences. This is unfortunate because some of the more interesting venues and certainly food can be found away from the super-suburban cocoon in which my husband and I have unwittingly wound ourselves. Yesterday, I met a friend for lunch at Blue Dahlia Bistro.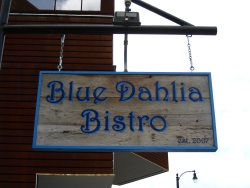 Blue Dahlia Bistro is a small restaurant on East 11th Street, just off of I-35. I don't make it to this part of town as often as I ought to, and today I was very happy to have braved the (whopping twenty minute) journey. The restaurant was easy to find and parking wasn't too much of a problem. Its atmosphere was casual and welcoming with its dark wood tables and busy but attentive (though pleasantly not overly attentive) wait staff. The restaurant was filled with the conversation of other folks who had met for lunch and were boisterously recounting the events of their days and their lives.
They serve the kind of food I love. Their menu is comprised of items with simple, fantastic ingredients combined thoughtfully and interestingly, and I'll admit to being sad that I couldn't have ordered three or four dishes and nibbled a little on each of them - everything sounded so good. For my lunch, I opted for the brie and walnut sandwich with apricot preserves on whole wheat bread. It was the perfect midday meal - filling, but not overwhelming, portioned out so I could linger over it and share if I wanted, delicious. I loved the bread - firm enough to hold up to the cheese but moist and incredibly flavorful. The creamy brie and sweet apricot preserves were nice complements to the bread and the walnuts added a pleasant crunch. All this was served on a bed of tender salad greens which I happily dressed with olive oil and balsamic vinegar and devoured once my sandwich was gone.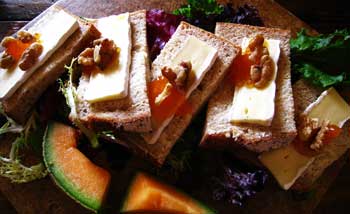 Too soon my yummy lunch was finished, and my friend and I had to head our separate ways back to our regular lives. I would like very much to make it more of a habit to force myself outside my geographic comfort zone in search of new food experiences. We'll see how well I do over the coming months.