When we heard about Terra Burger and Elevation Burger opening in the area, we were excited (well, half of us were anyway). Finally maybe there would be a couple tastier, healthier, more conscientious alternatives to our regular fast food burger chains. After an utterly wretched experience at Terra Burger (leathery fries, tasteless meat – I actually threw most of it away, and I abhor wasting food), I was hopeful but apprehensive about trying Elevation Burger.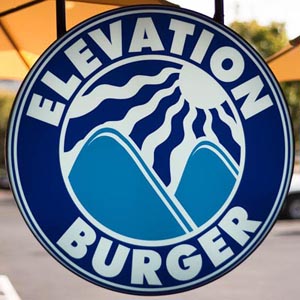 Fortunately, the price was right. A few weeks ago, we were invited as part of a food blogger / writer shindig to experience Elevation Burger for free. With an open mind, we moseyed over to the store which is tucked into the same Arboretum area shopping center as Pok-e-Joes and Texadelphia.
The aesthetic of the place is interesting. High exposed ceilings and lots of blue tile give it a sort of cool, airy feel (which is very welcome in Austin at the height of a molten hot, drought-strained summer).
Elevation Burger cares about the environment. Their beef is antibiotic-free, grass-fed, free-range, and certified organic. They donate waste oil for conversion into bio-diesel. They use energy-efficient equipment and have finished the store out in renewable, non-polluting materials.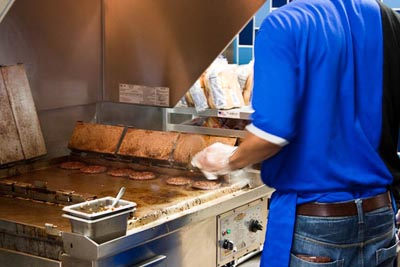 So the question is – does the food taste good? The short answer is yes.
Sean and I tried different items to get a feel for the place (and we've gone back since then for further sample points). I had the Veggie Burger #1 and enjoyed it. It was intended to have a fire-roasted flavor, and it achieved on that front. The burger was moist and full-flavored, and while I ordered it with no toppings, it could have held its own against some added flavorings.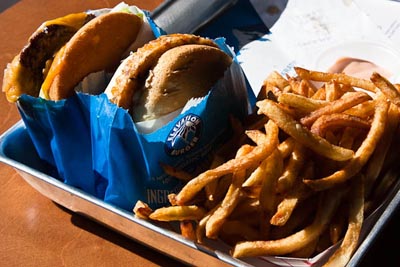 Sean had the Elevation Burger – a double meat, double cheese burger. The buns (which are vegan-friendly) compress nicely and don't overpower the meat. The cheese is aged cheddar, and it melts into an oozy, delicious mess when heated. The meat is good too. But here are my qualifiers. First – the patties are smaller than normal. This is not a problem for me, but I think Sean would have no choice but to order the double-meat burger to get enough food. Second – while we were told the meat was 15% fat, it seemed drier than that. Also, to my taste, it had an acceptably good flavor but could have used a bit more seasoning to really bring the grass-fed goodness to the forefront.
Where Elevation really shines is with their toppings. The variety is good, and the quality is top-notch. I'm especially enamored with their pickles. Get this: they're still crisp. They're sliced long and add both flavor and a pleasant crunch to the burger.
Though I've heard mixed reviews, I really loved the fries. They're thin and crispy and taste very much like potatoes (novel concept, huh). And for what it's worth, Sean and I are usually satisfied splitting a single order of fries between the two of us.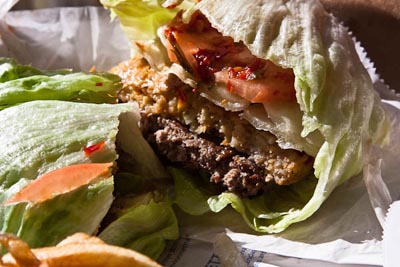 While Elevation Burger prides itself on offering healthful options, at the end of the day, it's still about the choices customers make. For instance, there's the Half the Guilt Burger, which has one meat patty and one veggie patty. If you're so inclined, you could even have this wrapped in lettuce instead of a bun.
On the other end of the spectrum is a creation called the Vertigo Burger. On this burger, you can have as many meat patties as you want. Pictured here is the ten-patty Vertigo Burger in all it's oozy-cheese, barely-standing-upright glory.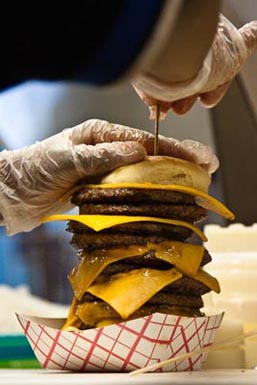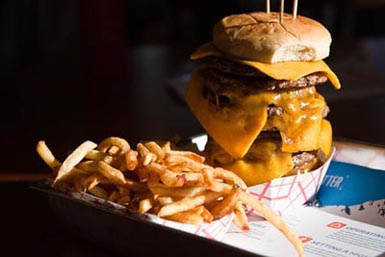 Here's the final verdict on Elevation Burger in my mind. Are there better burger joints in town? Yes. Are Elevation's burgers a good value for the money? Well, that depends on your values. For my part, I will eat here because the food is pretty good and they're trying to produce it in an environmentally sound and healthy manner, and I appreciate that. There may be better burger joints in town, but I doubt there are any that work this hard to do the right thing.