Often, for Sean and I, eating out is an occasion. And especially since we've been watching our budget, it's something we've saved for special occasions. But what if you just want really excellent food without all the fanfare and expense. For that, I would suggest Foreign and Domestic.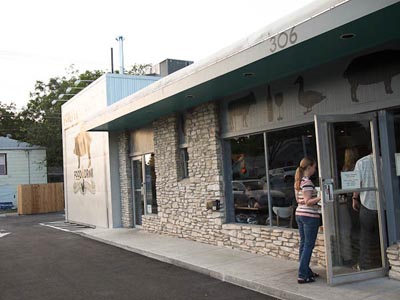 The little stone building housing Foreign and Domestic is anchored on one side by their gargantuan sign and on the other by an unfussy but comfortable patio area. The interior is small and cozy (perhaps even a bit too cozy), and its décor is simple but aesthetically appealing. Clean-lined furniture and construction are brightened by punches of brilliant color here and there.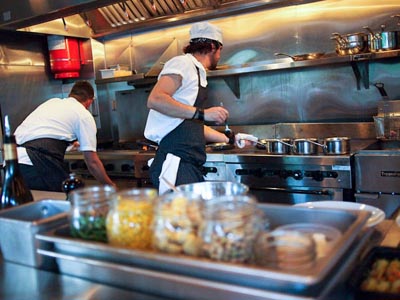 Plus, the open kitchen design allows you to watch your food being prepared – talk about food as theatre. The jars full of ingredients sitting in easy reach at the bar made me desperately wish I carried a bigger purse (and had even the slightest command of the art of subtlety).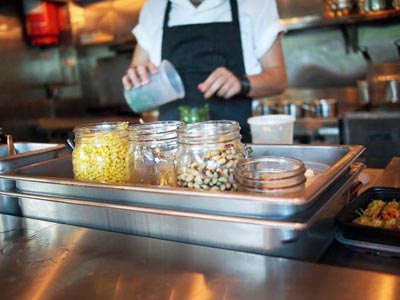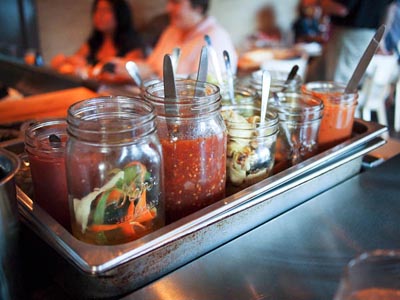 Since the restaurant doesn't take reservations, the patio area is where three of us (Sean, myself, and our friend Kelly) found ourselves waiting one recent Friday night. It was late enough in the evening that the heat was tolerable, and of course, our comfort was aided mightily by our drinks. I tried out the evening's drink special: a white sangria. It was lightly fruity and not overly sweet, so in other words, it was perfect for me. The guys each had "The Cyclist," a mixture of Session Lager, preserved lemon, and ginger beer. Sean in particular was quite fond of this one, explaining that he wasn't wild about the beer by itself, but with the lemon and ginger, it became tart and refreshing and infinitely drinkable.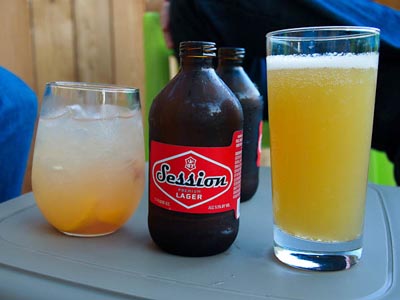 The Foreign and Domestic menu is compact but interesting (and will change often) … some may even find it a bit challenging. Naturally, that's what drew me to the place to begin with. You can get a prettily prepared beef filet anywhere, but it takes real skill to prepare beef tongue and pig ear and have your customers clamoring for more. When I first got a look at the menu online, there was some mention of bone marrow croquettes and pork rinds and a variety of other intriguing items – I instantly began the campaign for us to visit.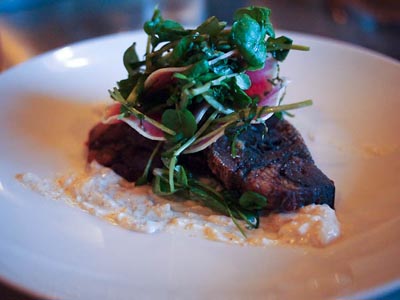 By the time we made it for dinner, I was sad to find the croquettes absent, but was content instead to order the Crispy Beef Tongue. The tongue was wicked tender but beautifully crisped on the outside. Served laid atop horseradish and yogurt and sprinkled with watercress and what looked to be ultra-thin slices of some huge radish, it was the essence of beef dressed only in what would complement it rather than overpower it. I could have eaten this over again for my main course.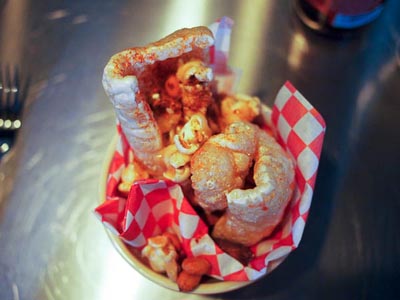 Sean chose the F&D Poppy Cock. This spicy mixture of pork rinds, peanuts, and toffee popcorn had a lot of potential. The flavors were good and as bar snacks go, it's pretty much perfect. My one complaint is that the pork rinds seemed sort of tough – maybe even slightly stale. Their flavor was excellent, and I really wanted to enjoy them, but I just couldn't quite get there. That said, the sweet toffee popcorn along with the spicy peanuts almost made up for it.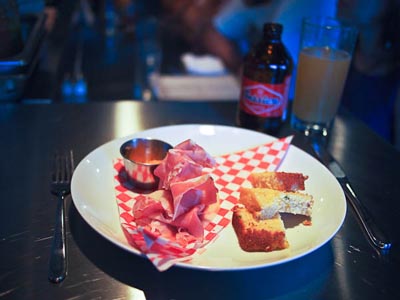 Kelly went for That Beautiful Ass, several generous slices of Allen Benton's country ham served alongside a delicate, sweet cornbread and a smoky piquillo pepper butter. The trick here is to get a little bit of everything in each bite. The balance achieved between the salty ham, sweet cornbread, and smoky butter was gastronomic bliss. I got the impression that Kelly was most pleased with his choice. And don't think for a second that the suggestive nature of our appetizer names escaped our notice. More snickering and innuendo than were strictly necessary, especially given our age group, were enjoyed thanks to our orders for tongue, cock, and ass respectively (unfortunately, I think the wait staff are immune to it at this point).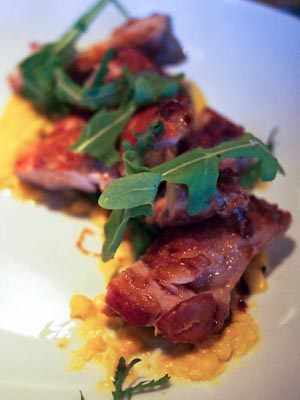 For my main course, I decided to go simple and order the Crispy Chicken Thighs with corn pudding, pole beans, and sherry gastrique. I don't make it a habit to order chicken at a restaurant. I'm there to eat something interesting and chicken breast is anything but. However, I love chicken thighs and ordering them at Foreign and Domestic was certainly not a mistake. The meat was impossibly rich and tender but the skin was so thoroughly crisped that it was a deep, caramel brown. The corn pudding and beans were well prepared and did a good job of staying out of the way of the chicken flavor. Applied sparingly, the sherry gastrique added deep smoky-sweet zing to the thigh meat.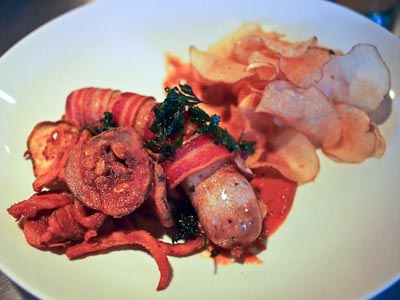 I almost wanted to regret my decision when I saw the guys' food (but I didn't). They each ordered The Ripper, a house-made pork shoulder-based sausage wrapped in bacon and served with little toasted topped with tarragon butter and pickle-relish, crispy fried vegetables, and delicate potato chips. The texture of the sausage was intriguing – it was almost like eating pulled pork in a casing (and don't think this doesn't give me ideas), and the flavor was magnificent. Sean described this dish as a cacophony of flavors. I got the impression that Kelly was having the same thought, except where Sean was happy about it, Kelly, perhaps, was not. I think Sean enjoyed the chaos of flavors and textures roaming around his plate, while Kelly's palate was maybe a bit overwhelmed. Let it be said yet again, taste is subjective.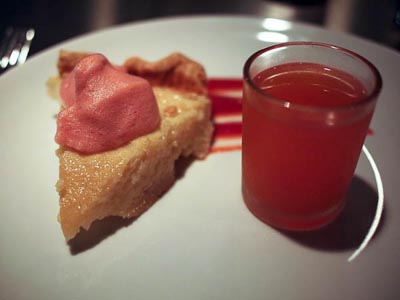 Dessert is far from an afterthought here. Sean and Kelly both ordered the special: Buttermilk pie topped with whipped strawberries and served with a small glass of strawberry lemonade. They were both utterly enthralled with their desserts. I tried a dab of the buttermilk pie, and it was indeed an excellent specimen (one of my goals is to eventually make a buttermilk pie I'm proud of), creamy and just the tiniest bit tangy.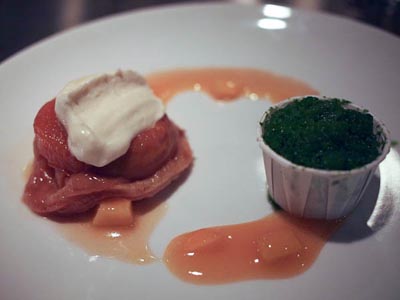 I had the Eat a Peach, peach tarte tatin topped with sweet cream and served with a basil snow cone on the side. I though the tarte tatin was beautifully executed and peachy perfect. And I thought the gently sweetened, brilliant-green and oh-so-delicate basil snow cone was a flavorful antidote to our often stifling heat. My palate didn't understand how to enjoy them together. So, I pretended I had two desserts instead of one and enjoyed myself immensely.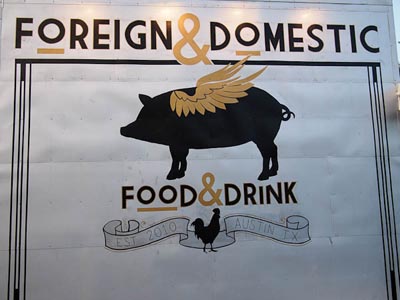 Sean and I already have plans to wait a week or two for the menu to change, and then we'll go back. Highly recommend.