I've been in Texas long enough now that barbecue means something very specific to me (and different than what it meant when I was growing up in Missouri). It means spicy rub on slow-cooked beef brisket, maybe an equally piquant sauce on the side, a super low-key venue, and often butcher paper for a plate. The folks at Lamberts Downtown Barbecue, on the other hand, have elected to give a fine dining touch to the otherwise humble fare.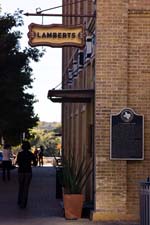 Chef owned and operated and located in the historic Schneider Store building, Lamberts has offered Austin its "fancy barbecue" since 2006. The chef-owners share fine-dining backgrounds and a sincere love for the foods and flavors that make Texas Texas, and the menu shows it, particularly the lunch menu. There is, of course, the barbecue – and for lunch they even offer it up as a typical one-, two-, or three-meat plate. But don't expect their versions of these meats to necessarily be traditional! The brisket has been rubbed with brown sugar and coffee, and the free-range chicken is flavored with lime and achiote. There are Mexican influences scattered here and there as well (reference the queso appetizer and the carne asada as a sandwich filling). The interior of the restaurant is dark but warm. The long galley-like dining area is bookended by large windows that provide a respectable dose of natural light to an area with such a difficult shape.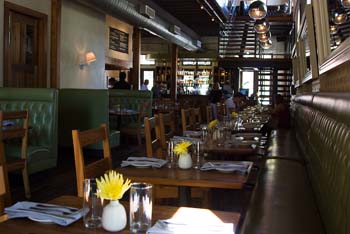 We had a group of eight there for lunch this weekend, and the dining experiences were certainly more positive than negative. Sean and I (and our out of town guest) started with the appetizer of Housemade Charcuteries and Local Artisan Cheeses. Lamberts actually prepares all their charcuterie (as well as their sausages, smoked fish, and desserts) in house. I can't speak for my partners in crime, but I was in heaven. There was a foie gras mousse that I doubt I'll forget anytime soon. Unctuous and sweet, I would happily go back to the restaurant just for that. And remember how I couldn't find duck prosciutto for my feast recently? Well, duck prosciutto figured prominently into our charcuterie sampler. In addition there was a sort of spicy sausage and an understated but pleasant head cheese. The cheeses were all fairly mild but pleasant nonetheless, and the accompanying sweet mustard and various nibbles (cornichons, onions, olives, etc) made for an interesting and varied array of flavors.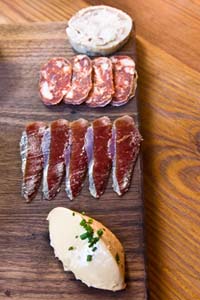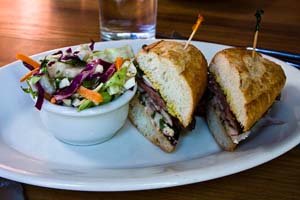 For lunch, Sean and I both opted for sandwiches. He had the Pulled Smoked Pork Cuban accompanied by the baked mac and cheese. His sandwich was good, but he wished that it had had more meat on it, and while the pork had an excellent flavor, the sauce that was on it wasn't helping. He did however comment that the House Sauce (a barbecue sauce) and the mustard they supplied did a good job of punching up the flavor. The mac and cheese on the other hand was perfect. Browned and crispy on the top and lusciously creamy inside, its blissfully cheesy flavor was enhanced by a slowly building heat. I had the Carne Asada Bolillo with jicama and carrot slaw on the side. My bolillo (a reference to the bread my sandwich was made with) was a thing of beauty. You could taste the oak smoke in the tender steak, even over the bold flavors that accompanied it. There were strips of jicama, jalapeno, and onion and the whole mess was (almost) held together by a spicy mayo. That may be my one criticism – several of us who had sandwiches found them nearly impossible to eat. Mind you, this is a mild criticism, particularly given that I don't really mind chasing down the bonus bites with my fork after the sandwich has been consumed. The jicama and carrot slaw had a light but intense flavor - piquant and sweet/sour.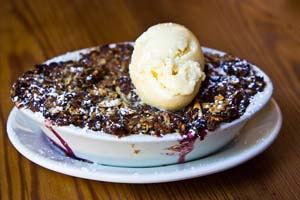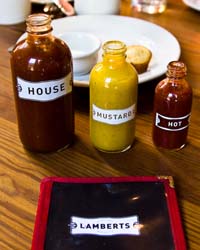 While my spouse had mixed emotions (and they were definitely shifted toward the positive end of the spectrum), I have to say that I really enjoyed my lunch. In addition to my own food, I sampled my friends' brisket (it was so tender, I thought I might cry) and their blackberry almond crisp (which would've been divine, had I not been so full already). The impression I left Lamberts Downtown Barbecue with was that it was the perfect marrying of casual and upscale. The food was well prepared and had definite gourmet leanings, but the atmosphere was unfussy, and the conversation never waned at our table-full of folks. The dinner menu is, at least for the main courses, strikingly different from the lunch menu, so I'd love to try it out again sometime for dinner.