We first went to Andiamo a few years ago, not long after it opened, and we fell instantly in love. The place is in a strip mall near a Jack in the Box. It just doesn't look like much. As you walk through the door though, a delicious transformation takes place as you leave the every-mall aesthetic of the parking lot behind and enter the warm, intimate world of Andiamo Ristorante. That first night, we had fantastic food that was reasonably priced and wonderful service from the staff, even Giovanni, the gregarious owner.
We've gone back several times, and while we're sad to not see Giovanni very often anymore, the food has remained reliably good. Andiamo Ristorante serves up the cuisine of northern Italy with a casual air and a gourmet flourish. Their menu is very complete, offering a variety of selections to suit every taste, and it is nearly always worth it to pay attention to the specials. Despite its questionable exterior, the interior is beautiful. The walls are adorned with paintings of northern Italian locales and the tables are draped in white linen tablecloths, candle-lit, and perfectly set.
This past Saturday's dinner began with Carpaccio di Carne for our appetizer. Their carpaccio is very thinly sliced raw filet mignon, flavored with shaved parmesan cheese and served with lemon and lightly dressed shredded arugula. The flavors were fresh and clean and an excellent way to whet our appetites for the meal to come.
We were both taken in by the evening's specials (come to think of it, I was taken in by several of the evening's specials). Sean chose the Pork Involtini, which was served with risotto and a wildly tasty cognac mushroom sauce. His risotto was prepared perfectly – it was creamy and flavorful and the rice wasn't at all mushy. The decadence of the pork and risotto and cognac sauce was tempered only slightly with the addition of a few vegetables, and Sean was quite pleased with his food. Because I can't seem to lay off the duck, I ordered the Duck Ravioli. The ravioli were huge and drenched in a shallot, walnut, brandy cream sauce and garnished with walnut chunks. The sauce was heaven-sent, and it married well with the rich, ravioli's unctuous duck filling. The dish was divine, and I'm thanking my lucky stars that I don't know how to prepare it myself, or I'd be in serious trouble (that said, don't think for a second that my self-destructive brain hasn't been grinding away at a solution).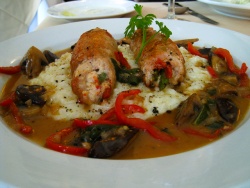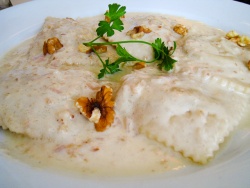 I heartily recommend Andiamo Ristorante. For a reasonable price, you can have a fantastic meal in a wonderful setting and expect to be taken good care of as well. I've been there a few times for lunch also. It is by no means a quick lunch, but the food is every bit as good during the day and probably worth the extra time you'll spend.