The only Greek food Sean and I normally avail ourselves of is this semi-fast-food joint near our house that's really pretty good for what it is – fast food. It scratches the itch in a pinch. However, with an out of town guest with us last weekend, we decided to venture into downtown for our Greek fix and tried out Athenian Grill.
Athenian Grill closed its original location in 2007, and since then downtown Austinites have been clamoring for their beloved Greek restaurant to reopen. Well, this past summer, it did, and in a swanky new space to boot. With all the hype surrounding this place, I was excited to give it a shot.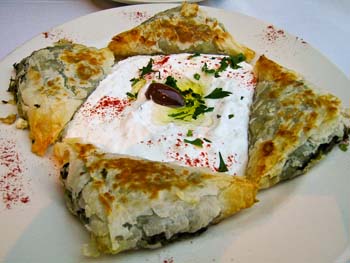 So around 8p on Saturday night, we made our way downtown and headed over to the restaurant. Lo and behold, it was nearly empty. That's rarely a good sign, but we headed on in and were promptly and courteously seated. The interior is … odd. It's pretty, in its way. But the faux-painted blue ceiling and big glass chandeliers and the flat panel television hanging over the full bar left me … confused. And were I to enter the restaurant already feeling morose, I don't think there's anything that this particular ambiance would do to help the situation.
But enough of that – I was there for the food, and the food did not disappoint. Sean and I split an order of Spanakopita for an appetizer. They were light and flaky and not at all greasy (a malady our usual joint sometimes suffers) and served with a tsatziki sauce that was clearly meant to stand on its own rather than being an it's-Greek-so-we-have-to-have-it afterthought. It was delicious.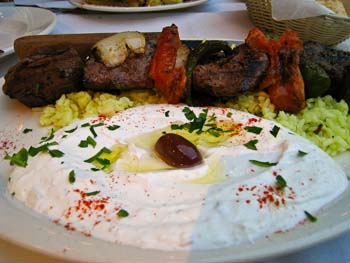 For our main course, we split the lamb kebab. It sounds simple, but it was outstanding. The lamb chunks were cooked to about medium and the accompanying veggies were soft and sweet. The rice pilaf on the side was outstanding. And it was again served with that fabulous tsatziki. By the way, the portions were pretty huge – I was very full and Sean was reasonably full when we left.
Our friend Matt had the moussaka for his dinner. I am fortunate that my friends are all very supportive of my food-blogging habit, and by that I mean, they willingly wait and let us photograph their food and often offer me bites to taste. It's great, really, and I thank them for it. All that to say, that Matt let me try his moussaka. It was perfect. Flavorful and hearty, it was interestingly seasoned comfort food. He also had a baklava for dessert that, while I didn't personally taste it (no capacity at that point), was apparently heavenly because he uttered not a sound except the occasional "mmm" during the entire time he was consuming it.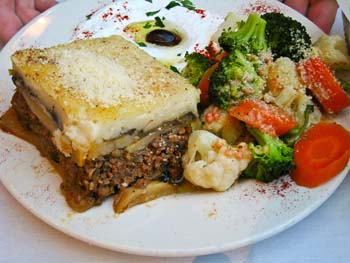 All told, our experience was positive. The ambiance was a little strange, but from everything I've read, this is primarily a lunch-time place, and maybe some sunlight through the windows is all that's needed to perk the place up. (And I hear that the hardworking, friendly owner, Anil Simicia, actually works the lunch line.) The prices were a bit steep too, but (as is typical of many places) the pricing is more favorable at lunchtime as well. But the food was really good – well prepared and flavorful – and I'd be happy to eat there again.