The seed was sown last Christmas when my husband's parents gifted me with a lovely tin of tea called Earl Grey Creme from Mrsteas. The aroma was heavenly. I am generally a fan of Earl Grey tea anyway, but whatever they blend it with to give it that incredible sweet aroma and subtle "creme" flavor renders it unique. This holiday season, after begging to go back and refill my long-depleted stock of Earl Grey Creme, I found out they served food as well, and it turned out to be one of my favorite dining experiences of the trip.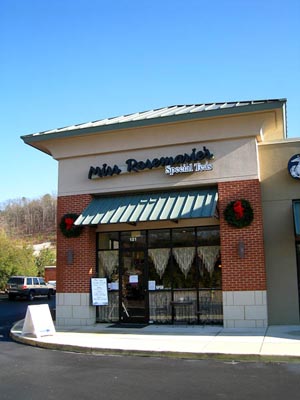 After a heavily trafficked drive out highway 280 from Sean's family's place in Homewood, Miss Rosemarie's Special (the M-R-S in Mrsteas [which I've mistakenly been calling Mrs. Teas for an entire year]) Teas was a welcome sight. The place was completely full when we got there (which I'm told is not surprising), but after a short wait we were seated at a cozy table in the back of the store.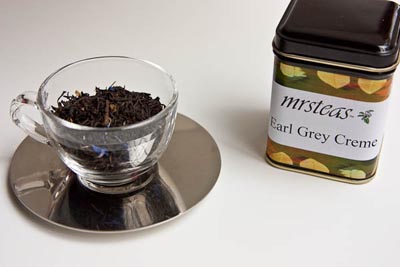 Overall the interior was homey and warm – a feeling accentuated by the fact that a gorgeously decorated Christmas tree was the first thing we saw when we walked through the door. The décor may have listed toward the slightly fussy for my comfort (this is a tea house, after all). I am not an especially elegant or decorous person, and sometimes when I'm met with delicate little things like thin-handled tea cups and lace table coverings, I get a little … nervous. However, my apprehension was quickly defused by the warm, friendly service. And thankfully, I managed to avoid spilling anything on their pretty tablecloth.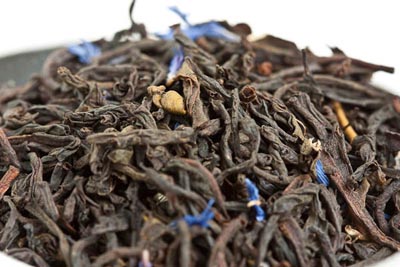 We ordered a couple pots of tea: one of white earl grey and the other, silver needles. The teas we had selected were gentle, smooth, and subtly aromatic. The food was another story completely. We started our lunch with a cream of garlic soup. Garlic lovers, all of us, we were blissfully happy that subtlety was not a factor here.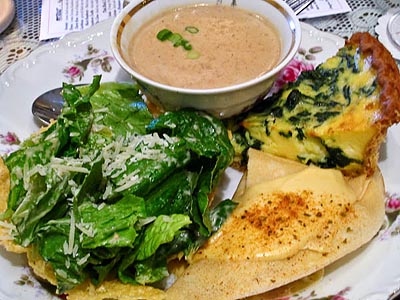 The crab meat-filled crepe was feather-light and slathered in a citrus aioli that somehow managed to be both rich and delicate at the same time. A fresh green salad rounded out the items on my plate. Sean also had a slice of the quiche which he tells me was tasty.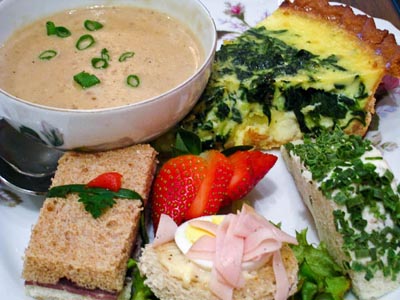 Sean's mom, Helen chose a proper tea service for her lunch. Her plate was decorated with adorable little tea sandwiches. I cannot speak specifically to how they tasted, but she seemed to be thoroughly enjoying her food.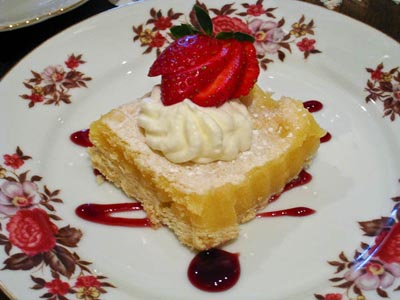 The desserts were quite good as well. Helen's petit fours were dainty sweet bites. Sean's raspberry-studded chocolate soup (that's right, I said soup), while not terribly photogenic, rendered him speechless for several minutes. My lemon square (possibly the best dessert ever created, by the way), was wonderful. The rich lemon topping on buttery crust was enough to make me happy. Topped with a judicious dollop of whipped cream and a sliced strawberry and decorated with a raspberry sauce, it was positively decadent.