Several months ago, I received a review copy of Ree Drummond's new cookbook, The Pioneer Woman Cooks. I've been a fan of her lovely website and warm, self-effacing writing for a while and was excited for the chance to see her in print (I'm one of those awful tree-killing people who may never be able to let go of physical books in favor of e-readers). I'm pleased to report that the book doesn't disappoint.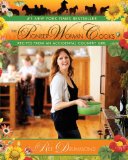 From the dedication at the beginning of The Pioneer Woman Cooks: Recipes from an Accidental Country Girl
to the very last pages, Drummond's sweet personality shines through. She relays her story in a way that makes one feel like a long lost friend who's being brought up to speed on the details of her life. For those who don't already know, she was a city girl who met the love of her life (who she affectionately calls "Marlboro Man") at dive bar and later married him and moved to his ranch in Oklahoma.
Fans of her web site will recognize many of the recipes. And oh, the recipes. Admittedly, many of them make my arteries cry a little at the butter content, and their yields are meant to feed a passel of ranch-hands and hungry children, but man oh man do they allow a person to produce some delicious food. The recipes are laid out in her typical visual style with photographs (taken by Ms. Drummond herself) accompanying most steps of the recipe.
Our favorite recipe by far has been the Cinnamon Rolls. They're reasonably easy to make and ooey-gooey good. Her Meatloaf recipe produced the first beef meatloaf in our house that Sean's been willing (and even happy) to eat. The other one I've tried was for her Basic Breakfast Potatoes (I know these as fried potatoes). This one had the potential to be good. I think Sean and I both have such a specific notion of what we want out of fried potatoes that no recipe is going to measure up, however, hers provides a very good starting point. So far, I haven't managed to make any of the recipes I've prepared look very pretty, so there are no photographs to accompany these.
Who should buy this cookbook? Well, certainly fans of the Pioneer Woman will love it. I also think it's a very good book for someone like me who can cook all manner of fancy, complicated recipes but often hasn't a clue how to produce simple, down-home meals. Also, with recipes whose composite steps are so well documented photographically, this would be a very good book for someone just learning how to cook … unless of course that person was also on a diet.