When one thinks of wine country, one rarely thinks of Texas. However, according to the literature supplied by Go Texan, there are actually eight designated viticultural areas in the state, with the Hill Country area being the second largest in the United States. It was our recent good fortune to be invited to the Texas Two-Sip Dinner at Jack Allen's Kitchen.
The format for the dinner was fun. For each gorgeous course from the fine folks at Jack Allen's Kitchen, we were offered a pair of wines to taste, one from Texas and one from elsewhere. After tasting and discussing with our table-mates, we made note of which of the wines were preferred, and when everyone finished their analysis, the two wines were revealed.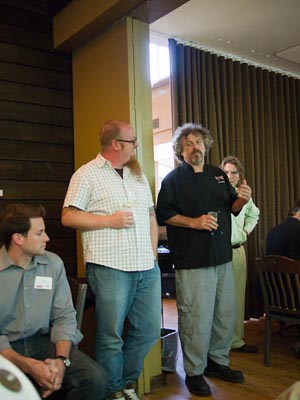 Ross Outon and Jack Gilmore
Peppered throughout this tasting and analyzing was commentary from wine expert (the technical term is evidently Certified Specialist of Wine) Ross Outon. You're thinking stuffed shirt, aren't you? Pinky extended, perhaps? Nope. Ross seemed extremely knowledgeable and at the same time, incredibly down to earth.
Many of the wine makers themselves were at the dinner as well, and it was a real treat to hear from them as their various wines were revealed.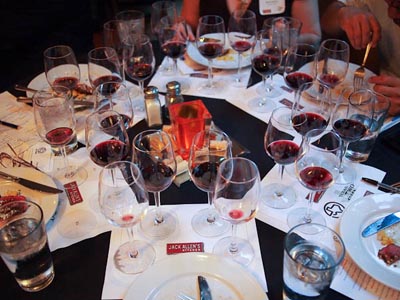 Now, if I had better sense, I'd have carefully tasted just a sip or two of each wine and made clever and well-thought-out notes. However, everything was just so good, it was difficult not to finish the wine set in front of me. Suffice it to say, the Texas wines were delicious. Each was considered an excellent example of its particular varietal, and more often than not, these were the wines the room preferred. Here's a complete list for future reference (along with approximate prices):
Mandola Estate Winery Vermentino 2008 - $17.99
Fall Creek Vineyards Chenin Blanc 2008 - $6.99
Becker Vineyards Viognier 2008 - $14.95
McPherson Rosé of Syrah 2009 - $9.99
Flat Creek Super Texan - $19.95
Inwood "Magellan" 2006 - $59.99
And let's not forget about the food. Jack Allen's Kitchen serves local food with a Texas flair. Every course that came out of that kitchen was excellent and well-matched with its respective wine varietal.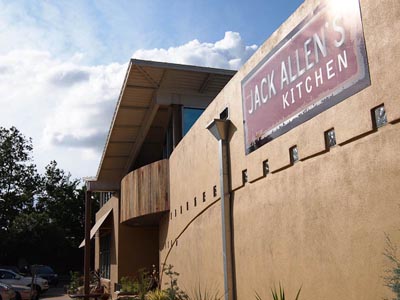 The dueling Vermentinos were sipped casually as we got to know our fellow wine-tasters at the table, two of which were actually folks from Fall Creek Vineyards.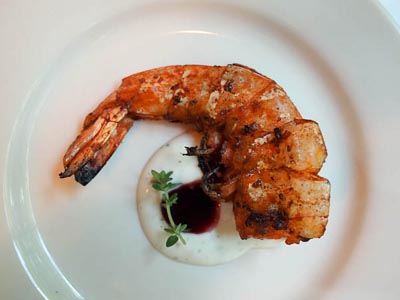 With the Chenin Blancs, we were served the Cold Smoked and Grilled Jumbo Shrimp with Blackberry and Lemon Thyme Aioli.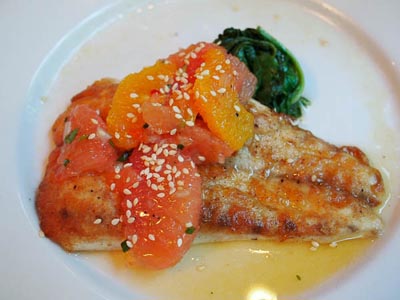 Seared Texas Redfish with Texas Citrus Mojo and Wilted Arugula kept company with the Viogniers.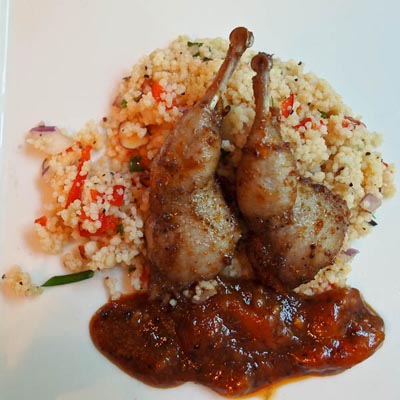 The Rosés were served with a succulent Moroccan Spiced Texas Quail with Toasted Almond Couscous and Caramelized Peach-Honey Glaze.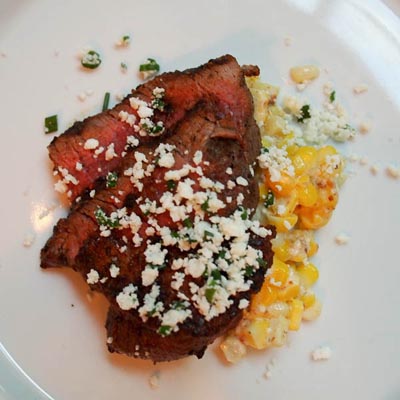 Sean's favorite dish, the Pecan Wood-Fired Beef Tenderloin with Shaved Yellow Grilled Corn and Cotija stood up well to the Sangioveses.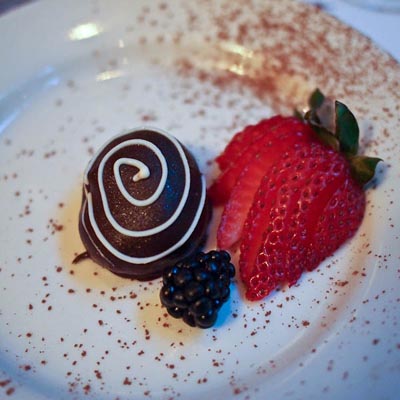 Last but far from least, an excellent chocolate truffle was served with the beautiful Bourdeaux blends.