It was very early when we arrived - between 4 and 4:30 on the morning of May 2nd. The poorly lit parking lot was difficult to navigate, and smoke and sleep deprivation hung heavy in the air. We had just arrived at the early stages of the 5th annual Texas Culinary Academy barbecue cook-off.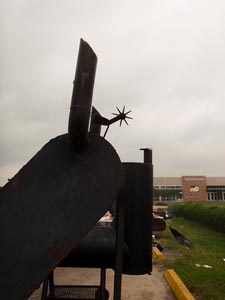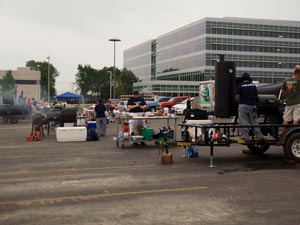 My friend Jeff and I yawned as we moseyed in to check things out. We'd have been kinder to stifle our yawns though. The students had started their cooking at 2a, and many of them had been awake since the morning before.
We started our morning with Evan, a chef-instructor at the academy. He was manning the cooler truck when we got there, doling out big chunks of meat to the contestants. It was a good place to hang out - every time he opened the door a refreshing blast of cool air cut through the muggy Texas morning.
He gave us a run-down on the competition specifics. There were about twenty teams of five, all of which were students. Each team was responsible for preparing five chickens, three slabs of pork spare ribs, and two briskets.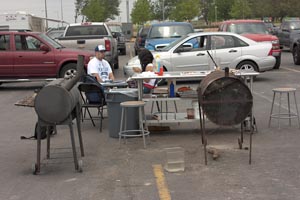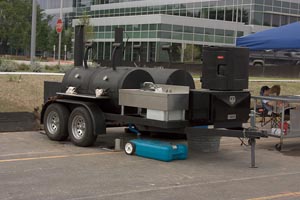 We followed Chef Evan as he made his rounds with the students, barking advice, encouragement, and reprimand as needed. The rigs the teams used to smoke and grill their meat ran the gamut from small converted trashcan affairs to set-ups that were bigger than my car. There were even smokers with spurs. The students ranged in age and experience as well. There were students who were near graduation mixed in with students who'd only been enrolled for a few weeks. It was with obvious pride that Evan pointed out that those students hadn't even started their cooking classes yet.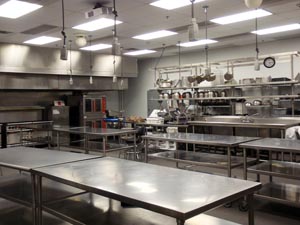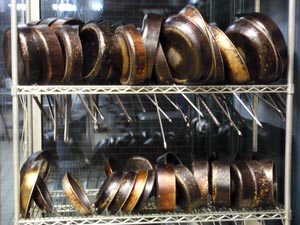 Later we were treated to a tour of the facility. The huge culinary classrooms were clean and well-equipped, and Chef Evan ran through the details like a proud drill instructor. The shiny machines and tools had me tearing up a little – so much time wasted in engineering school! (That's a joke, Dad.)
As the sun came up, the students were noticeably more upbeat (and slap happy). When I asked one particularly exhausted looking man how he was doing, he grinned and said, "Golden, like French fries," before staggering off to tend his brisket.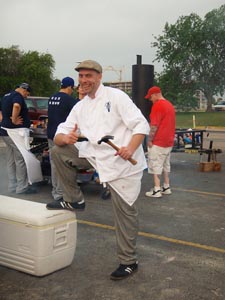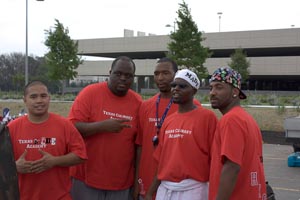 We were treated to breakfast items (some of the best chorizo I've ever eaten) and tastes of barbecue-in-progress. At one point, Jeff and I hear, "Muscles McBoomBoom, get over here!" Neither of us go by that name, but we wandered over anyway. Lying in beautiful rows on a hot grate were freshly grilled Elgin sausages. They were so thoroughly headed that liquid escaped little punctures in the casings in a thin stream. Each stream created a perfect arc and sizzled on the grill. I know it's crass, but it looked for all the world like the little sausages were … well, like they were peeing.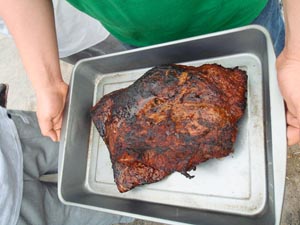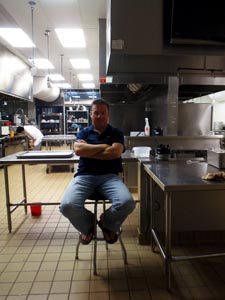 In true Texas style, we were repeatedly let in on the fact that we had just met the winning team. Later on, we came back with our spouses to do some proper tasting. Admittedly some of the results were better than others, but tucked here and there were some real winners. We didn't stay for the judging though. Jeff and I were tired (that's him up above from early that morning waiting impatiently for a cup of coffee) and all of us were supremely full by the time we finished. And besides, after watching these teams pour themselves into their work for hours, I didn't want to have to see any of them go home disappointed.
The event was a good one, and it's good for the school. Keep an eye out next year. Bring your prospective young chefs so they can check out the facility. Ten dollars gets you all you can eat of the students' barbecue efforts as well as non-alcoholic drinks and an array of sides and desserts. It would be difficult not to get your money's worth with the amount of food offered.