This is Sean's and my eleventh year in Austin, and this is the first year we really did SXSW. South by Southwest is a couple weeks long film, interactive, and music extravaganza filled with conference activity, films, endless musical acts, and of course, parties. We've gone to a sprinkling of free shows in the past, but we've never really done the immersive, four-days-of-music-debauchery that we managed this year. Matt, a college friend and the fellow who officiated our wedding, came down to make sure we didn't puss out and go home too early.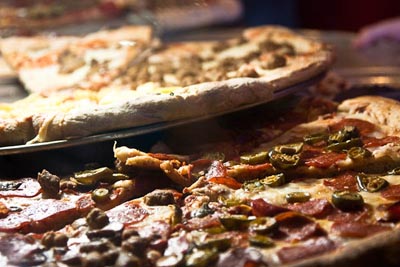 I won't talk too much about the shows we saw or how much we enjoyed them. My musical opinions are dated, under-informed, and moody anyway and will do little to guide you to aural enlightenment. Instead, I'll talk about how we ate.
This is how our days tended to run. Wake up mid-morning, shower, eat, mumble through plans, rock out till 2 in the morning, crash. The only way that was going to work was if we stayed appropriately fueled. The first day of the music portion of the festival, before Matt even got there, Sean and I went to a party that featured live music (of course) and free food. After nibbling on crummy cheese and limp carrots for a few minute, we abandoned any further notion of seeking out freebies.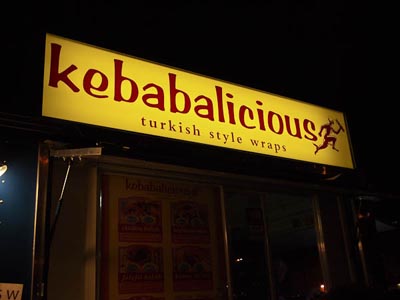 After fetching Matt from the airport, we made our way over to Kebabalicious. The name is cute, of course, but this little trailer is pumping out some full-flavored, good-cheer-sustaining pitas full of happiness. Matt had a falafel kebab, Sean had a beef kebab, and I had some of each.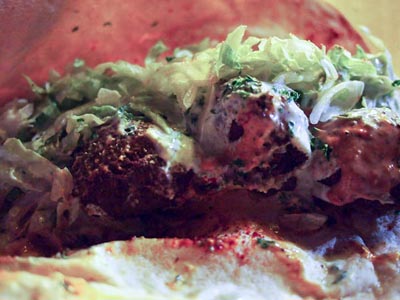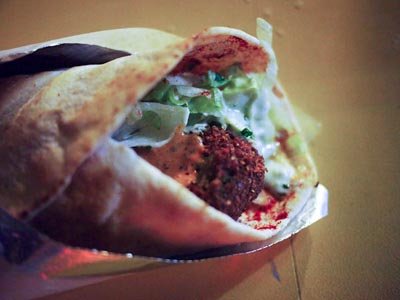 Both were flavorful and filling, and the spiciness of the beef and falafel were tempered by a swipe of cooling tzatziki sauce. The line was long, but it was worth the wait.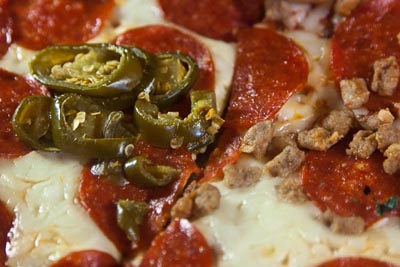 After the first night, the days just ran together. At some point, we wound up at Roppolo's Pizzeria. Its storefront is tiny, but there's very pleasant patio seating out back. It was fun seeing the trays of raw dough and the big spread of various pizzas to choose from.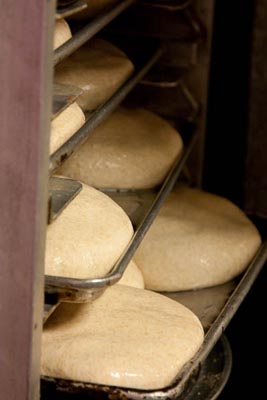 We each ordered a slice and headed out back to rest our barking dogs for a few minutes. I think everyone in Austin really loves this place, and to be fair, I've eaten one slice of pizza which hardly qualifies me to judge, but I was underwhelmed. It wasn't bad, by any means, but I've had better experiences, even in Austin. While it was hot, the pizza was pretty good. The crust had that nice crispy on the outside, tender on the inside thing going for it and the sauce wasn't over-applied. Once it cooled off though, I had a hard time getting through it. Even so, I'd definitely give it another chance.
We hit The Best Wurst at one point. Sean and I have had it before, and it has been good. Between the three of us, we sampled their bratwurst, their smoked pork Italian sausage, and their smoked jalapeno sausage. Consensus view was that the bratwurst wasn't the best ever but the smoked Italian and the jalapeno were both fantastic.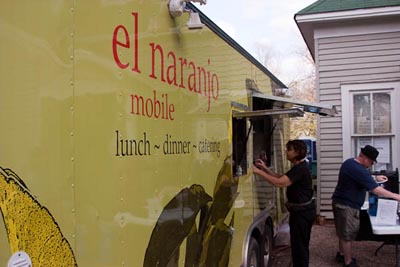 I'd been itching to try the new Oaxacan food trailer, El Naranjo, since I read about famed chef Iliana de la Vega in an older Edible Austin article. Lacking any real direction of their own, Sean and Matt let me have my way for lunch.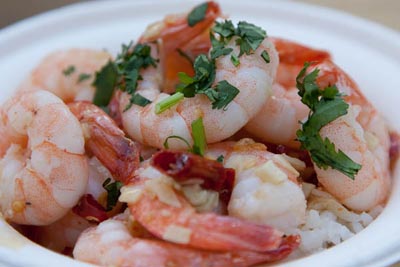 Between the three of us, we tried a pretty good smattering of that day's menu (and now I'm really wishing I had written more of it down). The shrimp and the mushrooms were incredibly flavorful and perfectly cooked.
Our pork may have been my favorite dish of the day.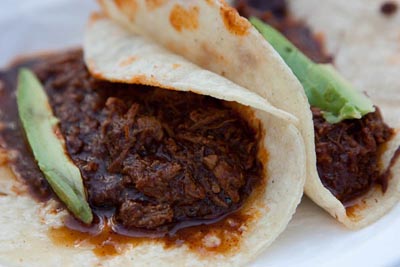 My only complaint was that our order of molotes was kind of dry and much smaller than I was expecting for the price. Everything else was so delicious though; I'm certain we'll be back again to do a proper review (you know, one where I write down the actual names of the dishes we're eating).
On our last day, the perfect spring weather turned cold and windy. During the day, we braved the Rachael Ray Feedback party. I assure you, I've endured no end of shit-giving from my friends and spouse over the fact that my leanings are more Bourdain than Ray and here I am tropsying off to Ms. Yummo's SXSW party. She put together an interesting menu. There were some hits and some misses, but overall, I'd say it was a good effort. And there were enough margaritas and daiquiris flowing that we more or less forgot the cold and enjoyed the music.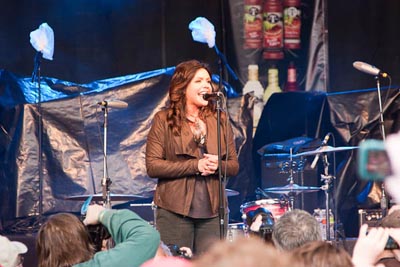 Later that afternoon we'd pretty much hit our limit on cold wind and ever-thickening crowds, and we decided it would be okay to relax and have a sit-down dinner … you know, inside a building. We hunkered down at a corner table at Max's Wine Dive and partook of their SXSW special. This included an appetizer (I went with their Max and Cheese), a main course (Shrimp and Grits), and a dessert (Bread Pudding). The portion sizes were insane! Not a one of us could make more than a tiny dent in our desserts. I've reviewed Max's before and have gone several times since, and every time, I'm pleased with the quality of the food and the pleasantness of the wait-staff. Unimaginably full of dinner, we went on to rock our socks off, out in the cold no less, for the next several hours.
Things I've learned from our SXSW experience … 1. I am not twenty anymore, and while I believe that I held my own, I'm glad SXSW only comes once a year. 2. Earplugs are a lifesaver. Even with their dampening effect, the music is still wholly rocking, and you don't suffer from tinnitus afterward. 3. If the line is too long at the show you think you want to go to, skip it and head to a venue with a lineup full of people you've never heard of. Our serendipitous fun was at least as good as our planned fun, if not more so. 4. Food is good, take the $6 kebab over the crappy free cheese, seriously.