12 July 2008 – This was our last partial day in Hawaii, so we were intending to make it count. Sean and I woke up again very early to drive out to Diamond Head and climb to the top. It's one of those things that's considered a must-do while in Oahu, and we hadn't managed to make it out there yet. So, we left the hotel and drove the short distance out to the park, arriving just a bit past 6am, when it was scheduled to open. There was no one at the gate to take our money (which at this point in our visit to Hawaii, we had come to almost expect), and we were on a tight schedule, so we worked our way in to the parking lot anyway. We were not alone. Apparently the Asian tourists are also early risers, and there was a tour bus full of them pulling into the parking lot behind us.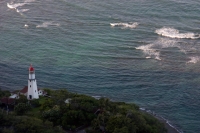 Sean and I quickly loaded up with a bottle of water and the necessary camera gear and tore off up the trail up to the top of Diamond Head. The trail is only about a mile long, but you gain about 560', much of it via some very lengthy sets of stairs. We saw many (presumably) local folks hiking and running up and down the trail as well during our hike. The path begins all nice and paved and then the paving ends and it's relatively well-maintained rocky trail after that, until you reach the stairs. The first staircase you reach is pretty large. That is followed by a spiral staircase which is followed by yet more stairs. There's a bit of a tunnel to go through too, but it's well lit and was pretty easy going. Finally at the summit, we were at a 761' elevation, and along the coast, that height afforded a fantastic view. From this distance and with the morning light hitting it (and at this nearly completely un-peopled time of the day), Waikiki was a beautiful place. We enjoyed this panorama in relative serenity for a few minutes before The Tour Bus Crowd showed up. I tried to maintain my peaceful composure, but it wasn't long before I wanted nothing but away from that crowded place. Having gotten the photos he wanted, Sean seemed to be okay with leaving, so we made our way back down the trail to our car.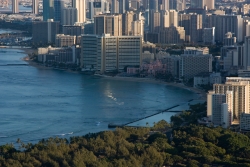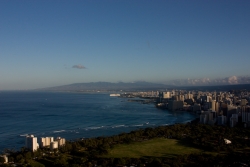 We headed back to our hotel and got cleaned up and packed. Our flight wasn't till nearly 7 that evening, so we had some more time to fill before we left paradise. We ate breakfast at a restaurant that our hotel folks recommended (which turned out to be another of their properties). Several of us were just looking for more coconut syrup, so where we ate was of very little importance as long as they had syrup and something suitable to dump it on. I don't recall the restaurant's name, but it wasn't particularly memorable. Our breakfast was tasty and slathered in the beloved coconut syrup, so I was satisfied.
Once we had all loaded up the cars and checked out of the hotel, we made our way over to the Iolani Palace. Parking in that area was sort of a bear, but eventually got ourselves situated with an hour of parking and made our way over to the palace. Iolani Palace is interesting because it is the only official royal residence in the United States. The palace was built in 1882. Once the monarchy was overthrown the palace fell into disrepair and most of its furnishings sold off . Once the capitol building was built, it was neglected outright. Shortly after the government officials vacated the facility in favor of their new office, The Friends of Iolani Palace began to oversee its restoration, doggedly seeking out items that had been sold off to bring the palace back to its original grandeur. We made a good circuit of the outside of the palace, stopping to see the big statue of King Kamehameha (across S. King St. from the palace) and sat to watch an educational video about its history.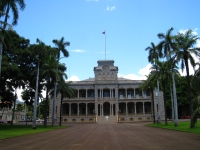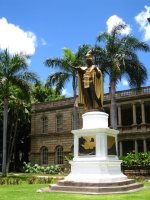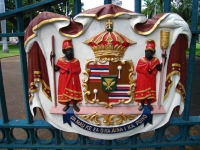 We headed over to the capital building and took in the somewhat dull aesthetic of the structure itself and looked around at the various statues around the grounds. Then Harry and Helen went back to tour the inside of the palace, while Sean, Darci, and I drove around to take in a few of the other sites.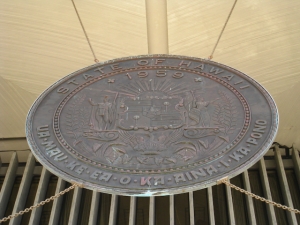 First we drove over Bailey's Antiques and Aloha Shirts so Sean could shop. We looked at vintage aloha shirts, reproductions of vintage aloha shirts, and Hawaiian antiques to wide-ranging to cover. The store had an incredible inventory and had it been earlier in our trip, we might have been more interested. As it was, we were mostly just killing time, and we left empty-handed. Next we headed over to the Punchbowl National Cemetery of the Pacific. The Punchbowl is undeniably huge, which is a little unsettling since it's a cemetery (a cemetery in the caldera of an extinct volcano, no less). There are some 40,000 people buried here, including Ellison S. Onizuka – one of the astronauts that died when the Challenger exploded in 1986, and another 28,000 plus names of those soldiers whose final resting place is unknown. Interesting note about this place – it is one of the most visited attractions (it feels very strange calling it an attraction) in all of Hawaii, drawing some 6 million visitors annually. Next we headed up Tantalus Drive, a road that took us even further up above the city than we already were at Punchbowl. The drive was twisty and often residential. As we made our way up, we stopped at clearings and looked out at the city and Diamond Head and marveled at the views. We didn't make it through the whole drive (but we had seen what we wanted to see) – we instead met up with Harry and Helen who had finished their palace tour and headed out to a very late lunch. We wound up at Bubba Gump Shrimp in the Ala Moana shopping center. As cheesy as it was, the food was actually pretty good. Desperately wanting vegetables, I had a caesar salad with spicy shrimp, and Sean (in fact everyone else at the table) had fried shrimp. The shrimp were good and the dishes were all well prepared, and our server was incredibly friendly. Then Helen and I had some quick mai tais at the neighboring mai tai bar before dashing back to the airport to catch our flights home.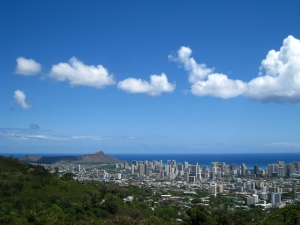 13 July 2008 - I won't bore you with the details, but Sean and I just barely made our connecting flight in Houston – it involved running. When we finally got home around 10:30 or so this morning, we were exhausted and very happy to be home. Our kitties had survived our absence. Our bags had made it to the Austin airport. Life was bliss.
Our trip to Hawaii was a memorable one – filled with high points and low points and overall an absolutely incredible vacation. Here are some final bits of information that might help anyone else wanting to make this trip. First, there are so many travel books written about Hawaii that choosing the ones you need can be a little daunting. We had some really incredible guidebooks for the trip put out by Wizard Publications, Inc. The ones we used were called Hawaii The Big Island Revealed: The Ultimate Guidebook, Maui Revealed: The Ultimate Guidebook, and Oahu Revealed: The Ultimate Guide to Honolulu, Waikiki, and Beyond. They were filled with good and reasonably accurate information, fantastic maps, and with their unbridled commentary, were very entertaining to read. Second, planning this trip was very difficult. There are so many things to see in the Hawaiian islands that it can be difficult to whittle down those islands and their unique sites to something that can be managed in a two week vacation. Also, Hawaii is very far removed from everything else, and travel to it from the mainland is fairly spendy. Given that, we constantly had this idea that this may well be our only trip to Hawaii. Consequently, we chose to visit three islands over these two weeks (we met a German couple who had decided to see four islands over two weeks), The Big Island, Maui, and Oahu, and that was very likely too much to do any of them justice. Admittedly, we were able to see many of these islands' diverse and incredible sites and even get a feel for each of them. But, we could easily have spent the full two weeks on any one of those islands and never been at a loss for something to do. That said, when I try to think of which of the islands I'd have cut out of the trip to spend more time at the others, I can't. See, I told you it was difficult. Guess we'll have to save our pennies to get us some more aloha another time – hopefully minus the camera drowning and bone breaking.