You remember when the Food Network was just plain old Food TV and you could learn how to cook by watching it? One of my absolute favorite cooking shows to watch was Good Eats and its crazy host Alton Brown. With AB's help, I developed a hatred for uni-taskers (except for the fire extinguisher, of course), learned how to make chocolate syrup, and above all had gobs of fun.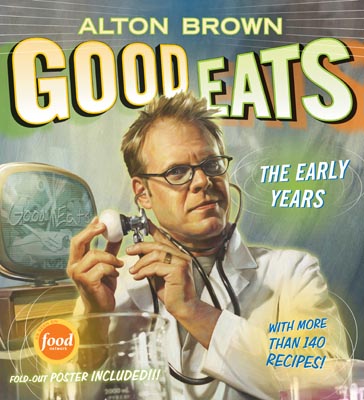 Well, this Sunday, October 18th, from 1 to 4 PM, Alton Brown will be at the flagship Whole Foods signing copies of his most recent book, Good Eats, The Early Years. Fair warning though: to get your books signed, they must be purchased from Book People (more details here).
It would be fair to say that Alton is one of my culinary heroes. He is nerdy, funny, and informative. Good Eats has been on the air for over ten years now and is still going strong. Good Eats, The Early Years is a compilation of the first 80 episodes of Good Eats in book form. It's meant to be the first of a set, with two more books planned.
From a recent press release: "Good Eats: The Early Years is the book that Alton fans have been waiting for—a hugely entertaining collection of recipes, stories, and photographs that provides an in depth look at the first years of his long-running show. From "Pork Fiction" (on baby back ribs), to "Citizen Cane" (on caramel sauce), to "Oat Cuisine" (on oatmeal), each hilarious episode has its own chapter, showcasing remastered recipes, behind-the-scenes photos and lore, illustrations, and plenty of useful facts."
According to a recent NPR interview, Alton gets to bring his ten years experience writing and hosting Good Eats to bear on those first episodes and "at least make a few small repairs." It will be interesting to see what those fledgling episodes look like on paper.
My intention is to follow this up with a full-blown review of his new book as soon as I'm able. Just to warn you though, as a hopeless fan-girl, I may not be very objective about it.