11 July 2008 – We woke up very early today to have a chance to enjoy the Hanauma Bay Nature Preserve before it got overwhelmingly crowded. When we got there, just past the time it was to open, there was no one manning the booth to collect our parking money, so we drove on in. The bay is beautiful! It is a volcanic crater whose ocean side has been eroded away over time creating a relatively protected bay with high cliff walls.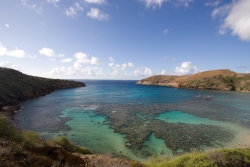 As I understand it, before us icky humans crawled all over everything in ever-increasing numbers, Hanauma was a thriving ecosystem with corals growing all over it's shallow rocks and scads of fish and other sea creatures living in and amongst those rocks and coral. Unfortunately fish feeding and a boom in tourist attention to the area have taken their toll. Now the area is a designated nature preserve, and before you ever get into the water – before you ever set foot on the beach, in fact – you must watch a short conservation video that implores you to be a conscientious user of the environment. Don't step on the coral – don't feed the fish. There's actually quite a lot more to the human interaction with the bay, and a more complete history can be found here.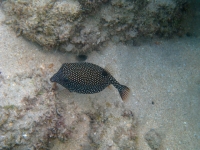 Apparently some of the sea cliffs on the eastern side of the bay were crumbling somewhat, creating unsafe conditions, so we couldn't walk along that side of the crater. This is unfortunate since most of the family wanted to go see what's called the Toilet Bowl. The Toilet Bowl is a natural pool that's been created over time as the rock was eroded by constant wave action. When the wave conditions are right, the water rises and falls and has the appearance of a toilet bowl flushing and refilling. At any rate, the bay was incredibly beautiful without getting to go see that particular formation. Sean and Darci and Helen had a fine time snorkeling and Harry and I partook of the (relatively) shady spots of the beach. Sean reported that the fish were plentiful and the snorkeling was really good, though the reef was incredibly shallow in spots and he had to be exceedingly diligent not to touch any of the corals. Helen even got to see a shrimp – we have yet to confirm which of them was more startled by the other.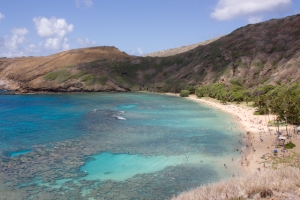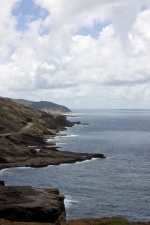 After a couple of hours of happy snorkeling, we loaded up in the cars and, after a brief stop just beyond Hanauma to photograph the rugged coastline, headed back to the hotel to get cleaned up and drive down to Honolulu's Chinatown. Our first stop was the Golden Palace for dim sum. Our selection was unfortunately sort of minimal. We were assuming that this was largely due to the late hour at which we showed up for lunch (around 1:30 or so) since we had heard the selection at this place in particular was actually really good. What we had was tasty enough though – steamed shrimp dumplings, steamed vegetable dumplings, pork pot stickers, and steamed pork buns are some of them that I remember. This was perhaps not my best dim sum experience, but it was reasonably enjoyable, and we were certainly well fed. Next we wandered around a bit in the markets. Again, it was later in the day, so the atmosphere was pretty subdued, but what we did see was still interesting. Chinatown is evidently the place for many local chefs to get their fresh produce and seafood, and I can certainly see why. The quality was impeccable and the prices were extremely reasonable. I picked up more apple bananas for a song – heck, half a song. We could have gotten any variety of fresh seafood, some straight from the tank it was swimming in. The air smelled of seawater and everything seemed very clean. The produce was incredible. If I could ever figure out what half of that stuff was, I could live very happily on dinners filled with wicked-fresh vegetables and seafood.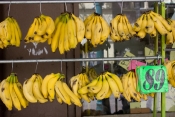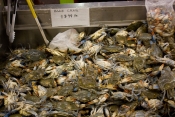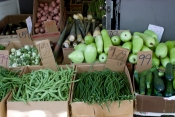 When we had had our fill of Chinatown, we headed back to our hotel. Sean and Darci went back to Waikiki beach so Darci could surf and Sean could spend some quality time with his camera. Helen was teaching a line dancing class, so she and Harry were busy with that. I was again left alone to regain my inner peace, so I again threw open the shutters to let the late afternoon light pour in while I dug through vacation photos and worked on writing up our adventures.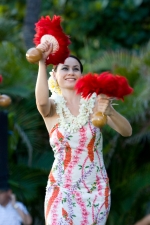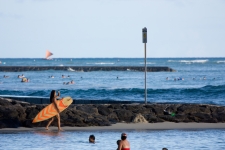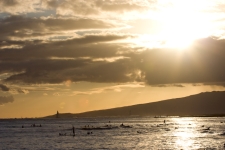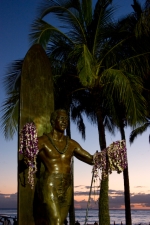 When everyone got back to the hotel, we discussed our dinner plans. Everyone had been eyeballing this cheese-steak joint - Ono Cheesesteak – so that's where we wound up going. Ono in this case meant "good" rather than referring to a kind of fish, so the cheese-steaks were pretty standard fare. Sean had one with roasted garlic, and I had one with mushrooms. I was underwhelmed, but Sean seemed really happy with his, and to be fair, cheese-steaks are really more his thing than mine anyway, so his is probably the opinion you should trust.
One of my favorite souvenirs to acquire on vacation is a cookbook that's specific to the area. To that end, I had been hunting around for a good bookstore. In absence of a local store jumping out at me as we had been driving around, we found a Barnes and Noble in the nearby Ala Moana Shopping Center. Everyone consulted our trusty map, and we (perhaps foolishly) decided to walk. The distance was not short and the hour was relatively late (at least for people who'd been up since 5-something in the morning), so driving might have been a wiser choice. It was while perusing cookbooks at the bookstore that I first began to discover that actual recipes for saimin (a dish I had grown to adore since being in Hawaii) were few and far between. In fact, they were all but nonexistent. After much searching and careful weighing of options, I found a cookbook that focused on Hawaii home-style cooking and called it close enough, vowing to instead scour the internet for ways to sate my saimin lust.
By the time we walked back to the hotel is was nearing 11:00 and we were all pretty beat. So, despite the fact that it was Friday night in hip and happening Waikiki, we drug our tired behinds past all the night life and hoopla and went straight to bed.