29 June 2008 - After a night of fitful half-sleep, we woke up early to call the baggage number to see when we'd be getting our suitcases. Sean spoke with them at length (after making it through their hearing-impaired IVR), and the end result was that they had no earthly idea where our bags were. Our collective mood sank a little, but we were determined to enjoy our vacation so we bucked up and drove out to a Wal-mart we had spotted on our way in from the airport to acquire some clothes and a few toiletries that would make our vacationing lives more bearable.
When we got back, we decided we were too ravenous to wait for showers, and instead met the family downstairs for breakfast. Here were the notable food discoveries. The first was coconut syrup. We had been told that it's wonderful stuff, and upon tasting it, I couldn't agree more. It's very difficult to find food that I don't like, and shaved coconut is one of those things. Admittedly, I love the flavor, but the texture doesn't make my mouth happy. Here comes coconut syrup to save the day. It has that wonderful coconut fragrance, and this relatively light syrup is beautifully infused with coconut flavor without any of the offending shavings – so delicious! The other discovery was fresh papaya. I am generally not a big fan of papaya, but since it was so incredibly fresh, I went ahead and tried it out anyway. The fresh fruit was much nicer than anything I've had before. Its flesh was wonderfully flavored - almost floral - and the texture was less unsavory than I have come to expect from papaya. Finally, we went upstairs and showered and packed, and managed to hit the road probably about 1 ½ hours later than we had intended to.
The attractions for today were as follows: Pu'uhonua o'Honaunau historic park (which we had intended to visit the afternoon before), Bayview Coffee Farm, South Point, Papakolea Beach (green sand beach), and Punalu'u Beach (black sand beach). Our plan was impossibly ambitious, I know, but we are silly that way - plus we had catching up to do!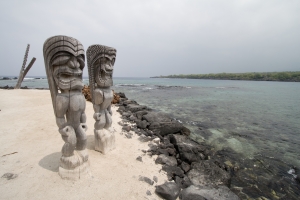 Pu'uhonua o'Honaunau (from here on known as PoH) is a national historic monument. A pu'uhonua was considered a place of refuge in old Hawaii. If someone broke a law in Hawaii, it was punishable by death, and the offenders' only hope of salvation was to make it to one of these pu'unhonuas before they were caught. PoH is wonderfully well preserved, and a beautiful site, even without its historic value. Plus, we managed to show up on the day they were having sort of a heritage festival. We spent some time watching waves meander onto the black rock of the beach. We watched folks carving and coloring gourds, making flute-like instruments, weaving hats and baskets, and various other things. We watched crabs skittering along the rocky shore and checked out all the carvings at the site. According to the park service's PoH website, the carvings or ki'i surrounded the bones of chiefs, and that's where the absolving power evidently came from.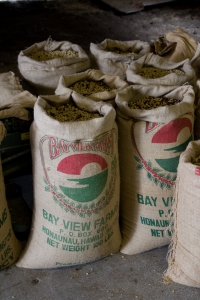 Next we went to the Bayview Coffee Farm. We sampled some of their very wonderful, 100% pure Kona coffee, and asked for a tour of the place. Coffee wasn't quite ready for harvest yet, but they very happily showed us around the grounds a bit and showed us the machines used in coffee production. The fellow giving the tour was incredible! He carefully discussed the different types of trees and plants we were walking past, described in detail the coffee process from growing to harvesting to preparation (there are many steps between berry and bean) to roasting, and made pleasant little jokes throughout the lecture to keep us on our toes.
Since we were so close, we went ahead and made a stop at the Painted Church (aka St. Benedict's Catholic Church) so Sean could photograph it. Outside, it doesn't look anything out of the ordinary, but inside the tiny church has walls and ceiling elaborately painted. This church was effectively established in 1899 by Father John Velghe who painted the church himself as a means to teach the locals scripture though pictures. Beautiful! (By the way, we had checked several times by this point, and there was still no real knowledge of where our baggage was, but we soldiered on regardless, doing our best not to lament all the various carefully selected items we wouldn't have on the rest of our vacation.)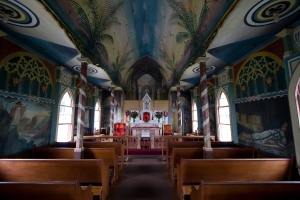 From here, we made our way to South Point – the southernmost point in the entire United States. The scene was rugged and surreal. As we drove the bumpy road to South Point, we passed huge windmills (many of which had passed into disrepair) and trees that had been blown so consistently in a single direction, they had adopted strange shapes that made them appear to have leafy hair that streaked out behind them as they stood in the breeze. South point itself is a black lava rock beach that gets positively pummeled by wind and waves. It is truly beautiful watching the foamy waves rise from the sapphire blue water and bash themselves against the craggy black rock. Sean was diligently trying to capture that beauty photographically and had found himself a nice tall rock from which he could safely take pictures of the action. Unfortunately, when one's face is pressed up to a camera and the only view is through a lens, one often fails to see the gigantic wave that's just decided to break against the rock one is standing on. This is what happened to Sean. The moment he noticed the super-sized wave crashing was the moment he started to feel inexplicably wet and smell inexplicably salty. Fortunately, he was not knocked off his perch - for a moment, it looked like that was exactly what was going to happen, and that would have been catastrophic. Unfortunately, a very nice digital SLR, wide angle lens, and brand new cell phone did not fare as well. The camera was rendered useless, the lens was rendered crippled, and the cell phone was taken out of commission for a few days.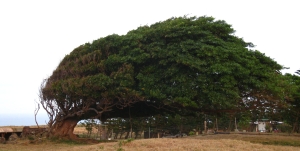 There was some requisite distraught feeling over the likely loss of a very nice camera at the very beginning of our sure-to-be-photogenic vacation, and then we were on our way from South Point to Papakolea Beach – the very unique green sand beach. We had half a notion that our rental jeep could make it, but we weren't sure how far, so we opted for the 2 ¼ mile walk. The distance seemed manageable given that we had read that it was over flat grassland. The hike was not exactly as advertised, however since the roads were deeply rutted and a good amount of our walk was over some form of rock - be it smooth-washed stones or jagged lava rock. When we finally got to green sand beach, there looked to be a sort of tricky climb down to the actual beach, and we were all just about out of energy, so we opted to view it from up above – a view that was really quite pretty. The sand really is green. By the time we hoofed it back, Helen's legs had turned a mean shade of brick red, and she was feeling pretty horrible (the directness of the sun can catch you by surprise here and it has the uncanny ability to find whatever tiny bits of skin you didn't catch with your sunscreen).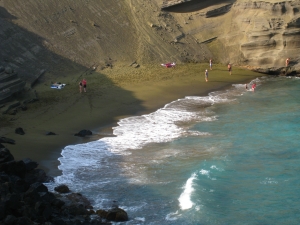 By now it was getting pretty late (and the sun sets pretty early here), so we rushed to Punalu'u black sand beach as the sun was rapidly setting to snap a few pictures before heading on to the Volcano House to rest for the night. The drive to the Volcano House was very dark and thick with what we assumed was vog, making the journey sort of stressful. However, when we got the Volcano House, Sean and I were extremely pleased to find that our luggage had gotten there just before we did – hooray! (I've never been so stupidly happy to see a suitcase.) Dinner at Volcano House was sort of a non-event. Our food was overpriced and pretty ho-hum though better than some of the park service meals that I've had in the past. Sleep came quickly once we closed our windows against the evening chill and sprawled out in bed.