08 July 2008 - Sean and Darci were off to surf lessons this morning. Harry and Helen were off to visit the Punchbowl. Your friendly neighborhood Hungry Engineer was left in blissful solitude to catch up on her blog. I opened the shutters wide and flooded our room with beautiful sunlight and spent several quiet hours happily writing and digging up photos and posting away.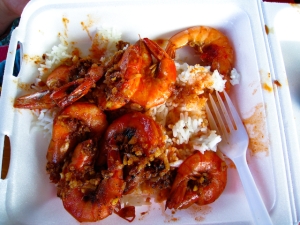 Once everyone got back and cleaned up, we journeyed up toward the Polynesian Cultural Center, our intended destination for the afternoon. However, before that, we needed to eat some lunch, and I wanted to try out one of the Kahuku shrimp shacks. Kahuku is in the northern part of Oahu, and there are shrimp farms up there that most (but not all) of the shrimp shacks and shrimp trucks get their supply from. If you choose the right shack, you will be rewarded with shrimp that is about as fresh as it gets and locally raised. We stopped at Romy's Kahuku Shrimp Hut. They serve either shrimp or prawns (your choice) in any of a handful of preparations. I ordered my shrimp with sweet and hot sauce, and Sean got the garlic butter shrimp. We received them in their shells and heads still on and a couple of scoops of rice on the side. We carried them in their little styrofoam containers over to covered picnic tables to chow down and get messy. Peeling and beheading them was a bit of a chore, but were they ever delicious. The shrimp were fresh and sweet and both the sweet-hot and the garlic butter preparations were fantastic. And when you're finished, there's a community sink outside where you can wash up (because let me assure you, no matter how fastidious of a shrimp peeler you are, your hands will get messy).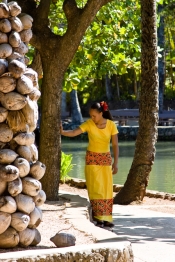 Comfortably full, we were on our way to the Polynesian Cultural Center. The Polynesian Cultural Center (from this point forward, referred to as PCC) was one of the more highly recommended attractions on Oahu. It is a collection of "villages" intended to demonstrate various aspects of the different Polynesian cultures that have fed the South Pacific melting pot that is Hawaii. The PCC was developed and is run by the Mormon church, and is significantly staffed by students at the Brigham Young Hawaii University. Since the place doesn't open till noon, it's really impossible to get a good view of everything in one day (there are seven "villages" and each has its own set of cultural presentations and activities). The five of us didn't have too many specific things we wanted to see, so we sort of wandered around free-form. We stopped by the Samoan village to watch a very funny Samoan man demonstrate how coconuts are cracked open, the coconut shaved, and the shavings turned into coconut milk. We also watched a man free-climb a gigantic palm tree. Next we wandered into the Aotearoa-Maori (New Zealand) village and sat down to watch their presentation. Finally we ended up in the Hawaiian village so Helen could learn to hula. It was actually all very interesting, and I wish we had had a little more time to spend there.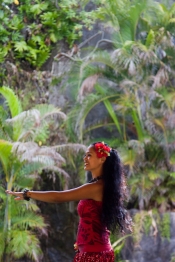 After a little more idle wandering and checking things out, we went to the Ali'i Lu'au (within the PCC), theoretically the best lu'au in the islands. The place was huge and open, but since there were over 1000 people eating with us, it still managed to feel a little tight. We settled into our chairs and the dinner show started. It was okay, but sort of a corny affair - kicked off with the merry Hawaiian emcee leaning into his mic and saying "alooooooooohaaaaa" with WWF-like gusto. Did I mention that dinner is a buffet – a buffet for over 1000 people? The PCC folks appear to have it down to a science though. As the dinner show
was going on, there were wait-staff quietly coming by the tables one by one, sending a new table up just as the line was diminishing from the previous table's release. They had most of the lu'au food I had shown up expecting to eat, and some of it was pretty good, but overall, I had had better versions of several of the dishes in some of restaurants we had visited. Either way, it was a good experience, and I'm glad we went to eat there. Here's the food shown in the photo at the right, beginning with the little cup in the top right and proceeding clockwise(ish): poi, steamed fish, kalua pork, chicken long rice, salad (with lilikoi dressing), taro roll, white rice, maui sweet potato, maui sweet potato salad, lomi lomi salmon, poke, and pipi kaula.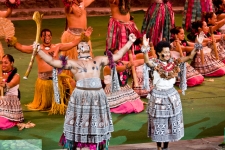 Next it was on to the evening show, Horizons, at the PCC. This was much more interesting than the dinner show was. Each of the Polynesian cultures got to sing and dance and show off their fancy costumes. I had to wait through nearly the whole show to see the Tahitian fast hula (sans coconut bras) and the crazy fire twirlers, but it was worth the wait, and I was suitably entertained in the mean time. It was late in the evening by the time we left the PCC for our hour-long journey back to Honolulu, and I think the surfers in particular were very worn out by the time we got back.