We have a new hobby. Well, I guess it's not actually new. We've dabbled off and on with the idea of making cocktails at home. Unfortunately Sean's stubborn wife (me) was too dead-set against anything that smacked of being "too sweet." Consequently, I didn't venture much beyond an occasional Manhattan. Well, this past fall, we began delving in earnest into the delightful, if sometimes difficult to clearly recall world of cocktail mixing.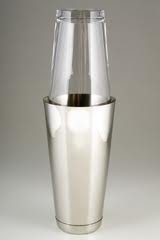 I've wanted to write about our new hobby for a while. I'm excited! For one, we are having so much fun playing with new (and old) cocktail recipes. For another, this is a great time to be mixing drinks. There's a wealth of solid information at one's disposal. Plus, the variety of ingredients is staggering, with new craft distillers popping up all the time. Unfortunately for me, that means it's tough to know where to start … so I figured I'd start by sharing some of the basic things we've learned.
Just like cooking, your drinks will only be as good as your ingredients. Use freshly squeezed fruit juices. Do not buy sweet and sour mix. Use pure agave tequila. Buy naturally flavored liqueurs. Do a little bit of reading before diving in and grabbing a bottle of gin. Talk to your local liquor store guru - these guys definitely have an opinion. More expensive doesn't always mean better, but super cheap will, more often than not, taste super cheap.
Know how to take care of your ingredients. Refrigerate your vermouth and don't keep it around for more than a month or two! We were among those guilty of having a bottle of ancient vermouth stuck in the liquor cabinet next to the bourbon and the bitters (Manhattans, remember). I was hell-bent that Sean go easy on the vermouth, very easy. He used to tease me constantly that what I really wanted to was a glass of bourbon. Turns out, when you treat your vermouth kindly, it tastes much better, and more classical proportions can be adhered to with delicious results.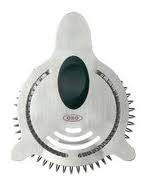 Good tools really do make a difference. Here's an example. We've had the same three-piece cocktail shaker for years. The stupid thing leaks, and it takes more patience than I generally have to pour the drink from the shaker. Our mixing enjoyment increased substantially the day we bought our first Boston shaker - a two-piece shaker with a glass tumbler that gets mashed onto a metal tumbler. The 2-piece shaker makes a good seal, pops apart easily, and with a good Hawthorn strainer (we really have enjoyed the Oxo SteeL Cocktail Strainer
), pours quickly and neatly.
I also purchased a small, fine-mesh strainer that I pour my freshly-squeezed citrus juice through. I know it sounds overly fiddly, but most of the time, you don't want the citrus pulp in your drinks. Trust me on this, it will make a difference. It's worth the minor investment.
Measure, measure, measure. Good, consistent cocktails are only good and consistent if measured properly. Again, our cocktail making improved substantially when we purchased variously sized jiggers instead of the single graded shot glass we had been using. Once you get a ratio you like, write it down. Your tipsy self will be confident in her memory, but your tipsy self will not remember a week later that perfect proportion of ginger ale to rye.
The last thing that's helped us considerably is finding good, solid information sources. We have one cocktail book in our house - a remnant from college - that claims to have a thousand drink recipes. I can assure you, they are not all winners. As often happens in life, we've learned to appreciate quality over quantity. With that in mind, here are two books that we've found particularly useful (though keep in mind, we probably have purchased half a dozen or more in the past few months in our quest for more information).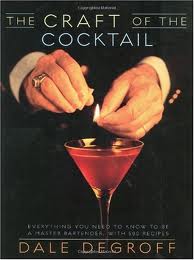 The Craft of the Cocktail: Everything You Need to Know to Be a Master Bartender, with 500 Recipes, by Dale Degroff
is sort of a good all-round resource. He covers tools, techniques, and ingredients in enough depth to inform, but not so much that it becomes overwhelming. Plus, his recipes are generally pretty solid. This is a great book to start with. I'm convinced that the successes we've had with this book are what have really propelled this drink mixing thing of ours into something of an obsession.
Vintage Spirits and Forgotten Cocktails: From the Alamagoozlum to the Zombie 100 Rediscovered Recipes and the Stories Behind Them
, by Ted Haigh (aka Dr. Cocktail) sounds like an esoteric, special-interest kind of book - certainly doesn't seem like the right place for a newb to start. But it's an excellent follow-up to the Degroff book. The history at the beginning is fascinating and the cocktails are all well-described and well-proportioned (and classic). As mentioned, we've purchased several books since, but none that we go to more often than these.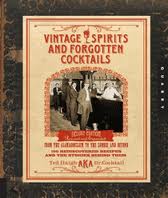 Finally, brace yourself. This can be an expensive hobby. If you look in the front of those drink books, they often start by telling you how to set up your bar - and the list is daunting. We didn't follow any plan, as such, but our liquor store receipts since this past November or so have been … alarming. There are so many great things to try, we kind of don't know when to stop. If you'd like to be more rational in your approach than we've been, there's a neat site that Sean found called 12 Bottle Bar. It likely wouldn't suit all tastes, but with its 12-bottle set up and accompanying recipes, it might not be a bad place to start.
That's our list of things we've picked up over the past few months that have really improved the quality of the drinks we mix. We still have a long way to go before we could consider ourselves experts, but at least the learning is fun.