With their crunchy exterior and chewy center, the 36-hour chocolate chip cookies (featured in NYTimes last summer) are tough to beat. Something happens during the prepared dough's lengthy rest time that transforms to cookie from merely delicious to something transcendent, resplendent, glorious. I'm not saying that they've been beaten, but we did decide to experiment with additions other than the much-famed chocolate chips.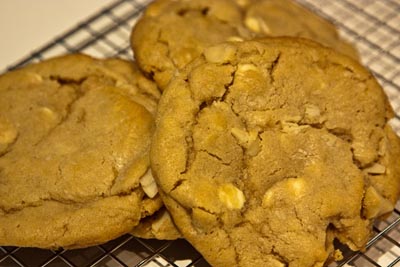 My husband is kind of a freak for white chocolate, macadamia nut cookies. And it turns out, he's kind of a freak for the aforementioned 36-hour cookies. The dough for each cookie type seem to be roughly the same, so we figured we'd give it a shot. One of my favorite features of this recipe is that ingredient amounts are listed by weight, allowing for precise measurements (read: reduced likelihood for error).
White Chocolate Macadamia Nut Cookies
_adapted from [Orangette](http://orangette.blogspot.com/2008/07/bold-statement.html), [David Leite/New York Times](http://www.nytimes.com/2008/07/09/dining/091crex.html?_r=2&ref=dining&oref=slogin), and Jacques Torres_
8 ½ ounces cake flour (approx. 2 cups minus 2 tablespoons)
8 ½ ounces bread flour (approx. 1 2/3 cups)
1 ¼ teaspoons baking soda
1 ½ teaspoons baking powder 1 ½ teaspoons coarse kosher salt 10 ounces (2 ½ sticks or 1 ¼ cups) unsalted butter, at room temperature 10 ounces (1 ¼ cups) light brown sugar 8 ounces (1 cup plus 2 tablespoons) granulated sugar 2 large eggs 2 tsp. vanilla extract 8 ounces white chocolate chips
4 ounces macadamia nuts, chopped (I purchased whole macadamia nuts and roughly quartered them)
kosher salt or sea salt for sprinkling
Whisk together the cake flour, bread flour, baking soda, baking powder and 1 ½ teaspoons coarse kosher salt in a medium-sized bowl.
In a separate and larger bowl, beat together the butter, brown sugar, and granulated sugar until the mixture is sufficiently combined and light and aerated. This could take several minutes, so don't give up. Next add the eggs one at a time, mixing thoroughly after each addition. Once the eggs are incorporated, mix in the vanilla extract.
Carefully add the dry goods to the wet. The idea is to find the balance between not making a floury mess of your kitchen and not over-mixing the dough. My compromise was to add the flour in three parts, mixing just enough after the first two additions to keep the flour from flying (and mixing thoroughly after the final addition. Gently mix in the white chocolate chips and chopped macadamia nuts.
Once the mixture is completed, cover with plastic wrap making sure the wrap is pressed against the dough. My preferred method is to use one piece of plastic wrap to press against the dough and a second piece to cover the top of the bowl. Now for the hard part – you must stow the bowl of dough in the refrigerator and leave it alone for at least 24 hours and preferably 36 hours. Your patience will be rewarded.
After the requisite time has passed, sit the bowl of dough out on a counter to soften a bit. In the mean time, preheat the oven to 350 degrees (F). Line a baking sheet or two with either parchment paper or a silicon baking mat (such as a Silpat). Using either a 1/3 cup measure (2.7 fl. oz.), a #12 disher (2.6 fl. oz.), or a #10 disher (3.2 fl. oz.), evenly space 6 scoops of dough on the lined baking sheet. Sprinkle each cookie with a bit of kosher salt, and bake for 15-20 minutes. You're looking for the cookies to be golden brown around the edges but still a bit soft in the center.
Remove the baking sheet from the oven and place on a wire rack for approximately 10 minutes (so the cookies can solidify). Then transfer them directly to the wire rack to finish cooling. If you have a second baking sheet prepped, you can get a second batch in the oven while the first batch is cooling.
Yield is roughly 18-24 cookies, depending on which size scoop was used.