I'm trying to find my voice – my writing voice, that is. I think it's hiding in there, under years of engineering training and technical communication. But I don't know how to dig it out. Even my husband has warned me that I "write like an engineer". I know this has very little to do with food, but it's been on my mind for the past couple weeks. Since I haven't come up with a method for exposing the "voice", I'll cook instead. Twice this week, I've had the great pleasure of making Chocolate Chile Bread Pudding.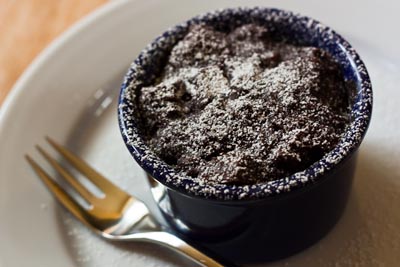 I adore bread pudding. I know it sounds dull on paper, but the warm pudding with its luscious custard-meets-bread texture and numerous variations makes it unexpectedly interesting. This particular bread pudding has quickly become a hit in our house. For one, it's really fast to put together. If the right ingredients were laying around (and I'd bet that most of them are), you could almost produce this on a whim. Second, it has facets that each of us enjoy. As mentioned, I'm a big fan of bread pudding. My spouse is a freak for chocolate. And we both find desserts that incorporate the "heat" of chiles to be excellent culinary treats.
The recipe, which I found in an old issue of Gourmet magazine, was meant to serve one. I've adapted it for two below. I've no doubt that I'll make this again (and again and again), and next time, this brown-black lily is getting gilded with some Mexican vanilla crème anglaise. Hopefully, this little number will have voice enough for the both of us.
Chocolate Chile Bread Pudding
_adapted from [Gourmet](http://www.gourmet.com/recipes/2000s/2005/02/chocolatebreadpudding)_
1 ½ tablespoons unsalted butter (plus additional for greasing the ramekins)
½ cup heavy cream
3 oz bittersweet chocolate, chopped (I used chocolate chips)
2 teaspoons sugar
1 teaspoon vanilla
½ teaspoon cinnamon
⅛ to ¼ teaspoon cayenne pepper(depending on how spicy you like your chocolate)
a pinch of salt
1 large egg, lightly beaten
2 cups cubed firm white sandwich bread (½-inch cubes)
Preheat oven to 350 degrees (F). Butter two 6-oz ramekins and set aside.
Add the 1 ½ tablespoons butter, cream, chocolate, sugar, vanilla, cinnamon, cayenne, and a pinch of salt to a small, heavy saucepan. Stir constantly over low heat just until the chocolate and butter are melted and the mixture is smooth.
Remove the pan from the heat and quickly beat in the egg until completely combined. Fold in the bread cubes and let the mixture sit for about 5 minutes to allow the bread to soak up the chocolate mixture.
Fill the ramekins with the bread and chocolate mixture and bake until firm and set around the edge but still moist in the center, 15 to 20 minutes.
Allow bread puddings to cool 5 minutes before serving. Can be topped with powdered sugar, cinnamon sugar, ice cream, or crème anglaise.