If you're on the fence about whether to join a CSA, summer would definitely be a good time to find out. Gone are the dreary greens and root vegetables (generally anyway) which I had been struggling to use. Instead, our early June box was absolutely brimming with gorgeous spring and summer produce. I had fun showing Sean our bounty once I had returned from picking up our goodies. (Our CSA, Johnson's Backyard Garden, is now on Twitter and Facebook, by the way.)
![summer CSA veggies](/images/summerveggiescsa_small.jpg)
Box Contents:
huge bunch of basil, over half a pound
beets
about a pound of green beans
about a pound and a half of cucumbers
about a pound of zucchini
a 6-ounce summer squash
a 9-ounce bag of broccoli
a 2-pound bag of assorted onions
a 2-pound bag of small red potatoes
not quite a pound and a half of tomatoes
2 big leeks
a head of garlic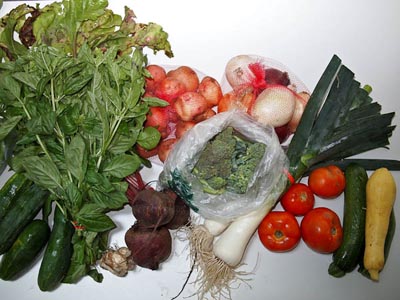 I roasted the broccoli for Sean the same way I always do. Important note: wash your produce! I picked off a ridiculous number of perfectly broccoli-colored worms in the process of cleaning our broccoli. Since I usually wash produce as I use it, those little suckers managed to live in the crisper drawer of the refrigerator for about three days before being unceremoniously washed down the drain.
The basil has made its way into any number of things. There were basil mojitos. I used some of it with the tomatoes and some garlic and chili pepper to make a simple pasta sauce. It turns out that strawberry and basil are made for each other, flavor-wise. I made strawberry-basil lemonade, which was lovely. One of my favorite things was making strawberry-basil popsicles (or ice pops, I guess). All this only got me about half-way through the basil, I had plans to either freeze the rest of make pesto and freeze that, but I let time get away from me and my lovely basil blackened.
Strawberry Basil Lemonade - Basic Method:
Step one, macerate some strawberries.
Step two, make simple syrup of 1 cup water: 1 cup sugar … heat and stir till sugar is dissolved, then remove from heat and chuck in about a packed cup of basil leaves to steep for 15-20 mins then strain out basil leaves.
Step three, juice enough lemons for about a cup of juice and add to the basil-infused syrup.
Step four, dilute the basil-lemon mixture with about 3 cups of ice water
Step finally, mash up some macerated berries in the bottom of a glass and fill with basil-lemonade.
With some of the cucumber, I made tzatziki sauce to go with the homemade falafel and homemade pitas I put together for dinner one night. With the rest of them, I put up a few pints of Alton Brown's Kinda Sorta Sours, a lovely pickle that perfectly straddles the line between sweet and sour (though to be honest I've halved the sugar for mine).
The potatoes went into a Creole potato salad, recipe courtesy of Simply Recipes. We took it to a dinner with friends, and everyone seemed to love it. This is currently my go-to potato salad recipe (sans green bell peppers).
With the green beans, I attempted a Sichuan green bean recipe from Cooking Light. It was all right, but I'm still on the hunt for a better recipe (suggestions welcome).
I turned the leeks into potato-leek soup. I tried a random recipe from the internet, but Sean was not completely sold, so we'll try a different one next time.
The garlic and onion, I just sort of used as I needed. These are pantry staples for me (and everyone else too, I'm guessing), so we made our way through them pretty quickly.
We made a quick lunch-time pasta dish with the summer squash. I had smoked some chicken-basil-tomato sausage last week, so I tossed some of that with some lightly sauteed garlic and summer squash and a bit of olive oil, salt, and pepper with some whole wheat penne. I topped it with some freshly grated parmesan cheese and all was right with the world.
I'm kinda tired of beets, so I'm pickling them for later enjoyment, however, I've gotten to try beet hummus, and I tell you, it's delicious (and the color is gorgeous).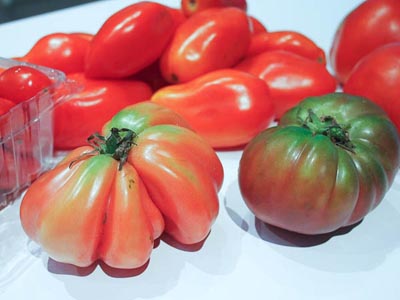 In other news, as mentioned above JBG is now on Facebook and Twitter. They'll be running weekly contests with all kinds of delicious freebies. I recently entered their tractor-naming contest and was one of the winners. Look at all the pretty tomatoes I got!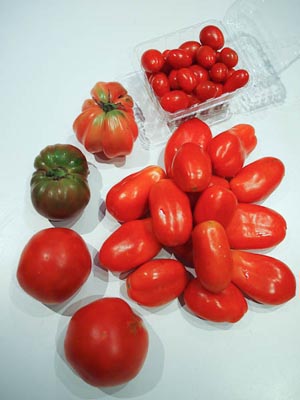 Fetching those tomatoes took us to the downtown farmers market this past weekend. The bounty was impressive, and I couldn't help but share some of Sean's beautiful photos from our visit: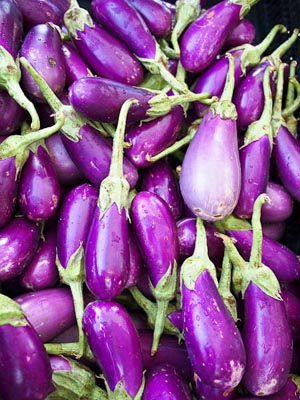 Pretty purple eggplant, speckled with water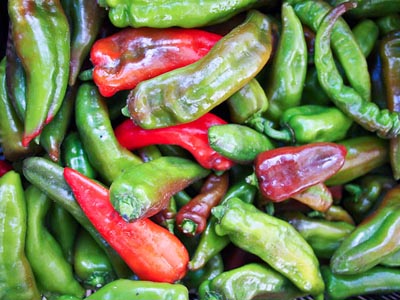 Baskets of peppers working their way from green to red
It's worth braving the oppressive heat for a shot at this colorful selection of produce