We've been eating a lot of greens lately. There are gobs to choose from (kale, mustard, collard, etc.), and generally speaking they're very nutritious and reasonably cost effective. They can be a bit of a challenge to enjoy however. It takes some time and effort to clean and prep them, and often a fair amount of time is required to cook them to their tender, flavorful best. However, when given enough time and some flavorful sidekicks, greens make for excellent vegetable dishes.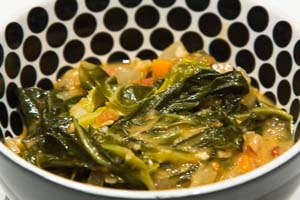 Yesterday evening's dinner included this excellent recipe for collards from the Homesick Texan: Not your grandma's collard greens. Flavorful and healthful, this recipe doesn't call for any of the pork products one would normally use to flavor collards. Instead, considerable flavor is derived from the addition of chipotle chiles and peanut butter to the mix. After about an hour's worth of cooking, the greens were pleasantly tender while still maintaining a bit of structure, and all those heady flavors were wonderfully melded into a delicious and soul-warming whole. We served them with plenty of dark rice to soak up the extra spicy peanut-buttery liquid. Also featured was a very simply cooked chicken in Julia Child's "Brown Sauce" with braised pistachios (thank you Top Chef for that idea - they're delicious!) sprinkled about.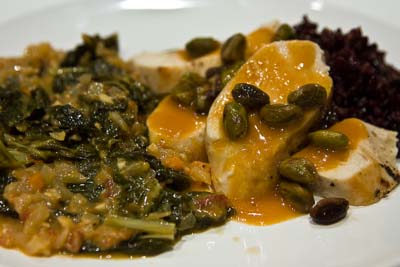 Last week, we tried an older recipe from Orangette for Braised Winter Greens with Chickpeas, Onions, and Garlic (I used lacinato kale which is sometimes labeled lacinto kale or dino kale). This recipe couldn't be easier. It has just a few simple ingredients, and they're all very good for you. You cook up your prepared kale some sauted onions with chickpeas (aka garbanzo beans) in a covered pan till tender, then perk them up a bit at the end with some lemon juice. Seriously, try this – you'll be surprised how much flavor can be pulled from such simple and healthful ingredients.
My very favorite greens are actually chard. We routinely purchase ruby chard or rainbow chard, and prepare them very simply. I begin by sauteing up some finely diced onion and a bit of finely diced chard stem (because I like the color) in olive oil. I prep the leaves by cutting them in half, and then cutting each half into roughly 1-inch-wide strips horizontally (but larger wouldn't be bad). Once the onions and stem are softened, I add a bit of minced garlic and stir it for 30-60 seconds. Then I add the chard and toss it gently till it's bright green and tender. Seasoned with a bit of salt and pepper that wonderful almost buttery chard flavor comes out. And while the prep is similar to any other greens, the cooking time is relatively short.